IT all started with Zorro apparently. As a small boy, Joe was transfixed by this mysterious, crime fighting Spanish caped crusader. Joe decided to live a life embracing all things Spanish and to fight crimes against bad tapas. His fascination grew and he became an accomplished flamenco guitar player and started importing and selling high quality Spanish foodstuffs.
I'm happy to return many more times spinning the debate into a long protracted discussion and tasting session, preferably in a bath filled with Gambas pil pil.
The reason I know all this is because I finally got to spend some quality time asking him about it rather than snatching bits of conversation over steaming vats of paella at busy festivals or being jostled for the jamon at his market stall.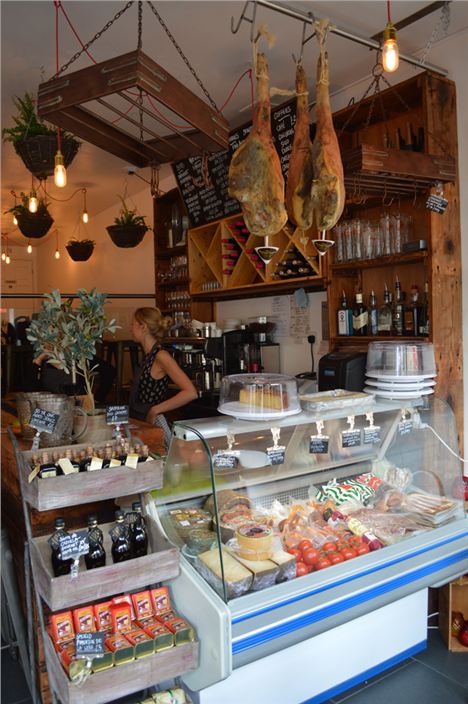 Levanter deli part
Joe and Fiona (his Mrs) have given up the wandering mercantile life and have recently set up a more permanent operation. Levanter Fine Foods is now a tapas bar and deli serving authentic Spanish dishes alongside a range of delicious wines and sherries. By sourcing their special cured meats and cheeses from small, rural artisan producers they've brought a bit of Las Ramblas to Ramsbottom.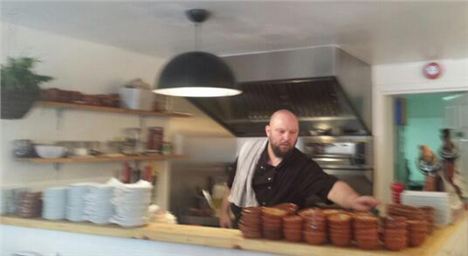 Joe in action
As part of my belief that teaching children to appreciate good food is part of their education, we brought our kids who giggled in the back of the car all the way towards a place called 'Rams Bottom'. (It's always been a joke name. Music hall question: 'What's Ramsbottom like?' Whole audience reply: 'Wet and windy'. Ed)
Levanter is on a side street off the main road. Joe told us that he and his dad did the fit out themselves, but they've invested so much attention to detail it wouldn't look out of place in the city centre. They've gone for a contemporary monochrome look softened by timbers reclaimed from a local mill and rustic touches like wooden barrel tables. Obviously no tapas bar would be compete without giant cured pig legs and other more unusually shaped porcine products hanging from the ceiling.
Bar area with hanging hams
The daily menu depends on available ingredients, along with regular classics. Aware they are in a town which embraces independent businesses and is a food lovers destination, they source fresh fish, vegetables and other (non-Spanish) ingredients from trusted local suppliers.
The Levanter is an easterly wind that blows in the western Mediterranean causing heavy swells. Joe's version had a similar effect on my stomach as I tried to work my way steadily through the menu.
There'll probably be no-one reading this who doesn't already know, but for those sat at the very back, tapas are small plates of food designed for sharing and accompanying some kind of alcoholic beverage. I say that because I had to explain it to my eight year old who wanted to know why we were nicking her prawns.
Gambas pil pil (£5.50) were swimming in a flavoured olive oil so multi-dimensional it took me a while to identify the layers of sherry, lemon, chilli and garlic. My daughter hasn't adapted to spicy food but she loved these and shouted over to Joe, next to us in the upstairs open kitchen that he must have used 'children's chilli'. He replied that the special dried Spanish pimentos offer a mellower, more rounded heat. The infused oil was so good we went through a couple of baskets of bread sponging it all up.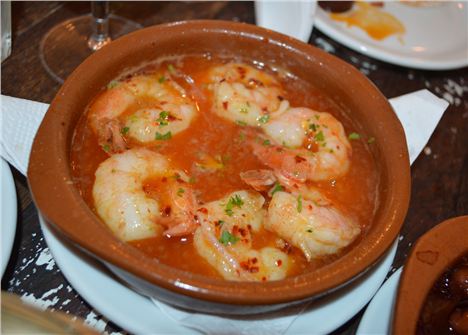 Gambas
My son's favourite dish was chorizo in red wine (£5.50), chunks of flavoursome smoked paprika sausage which arrived still bubbling away in a ruby red liquor of wine, garlic and garbanzas (small Spanish chick peas).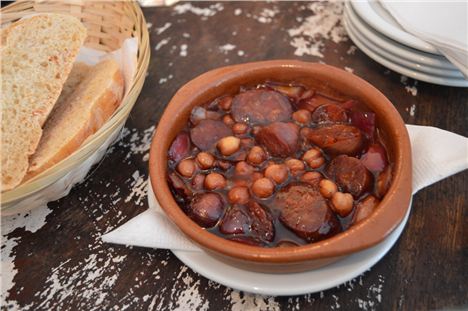 Chorizo and booze for boys
Malaga fried fish (£5) included red snapper, calamares and king prawns dusted with cornmeal and lightly fried. It was accompanied by a garlic mayonnaise so thick and creamy I would happily slather it all over my face and call it vampire repellent night cream.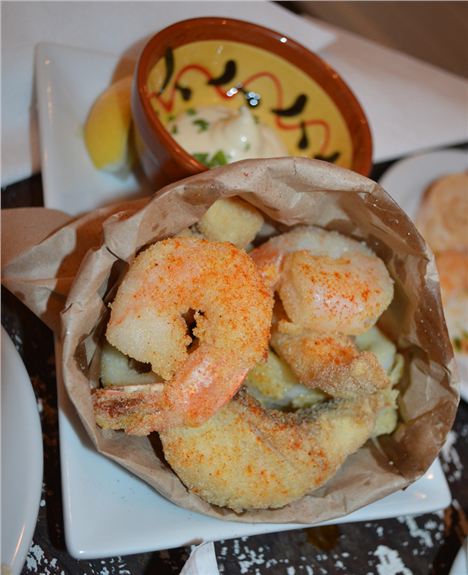 Malaga fried fish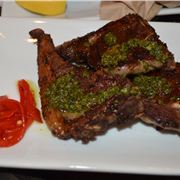 Not the best looking dish..It wasn't easy choosing what to have next but lamb cutlets with salsa verde (£6) was another winner. Lamb fat is a funny thing, when it's good it's very, very good, but when it's not, it's horrid. This fat was spot on, especially sweet with perfectly crusty bits.
We decided to splash out on a plate of four year matured jamon Iberico De Bellota (£10). Thin slices of very special slow cured ham from acorn fed black Iberian pigs. We moved the plate out of reach of the small boy and threw bits at him to stop him stuffing his face with the good stuff.
We needed some vegetable matter. Tomato salad (£4.50) was a multicoloured mixture of seasonal heritage tomatoes and thinly sliced red onion lightly dressed with pure Spanish single estate olive oil.
Before we finished we decided to order croquettas del dia (£4.50) which that day were seafood. Joe received our extra order with the same look a father gets when someone compliments their child. I am not normally keen on these balls of deep fried béchamel and see them as a bit of a kitchen clearout but at Levanter they are miniature works of art.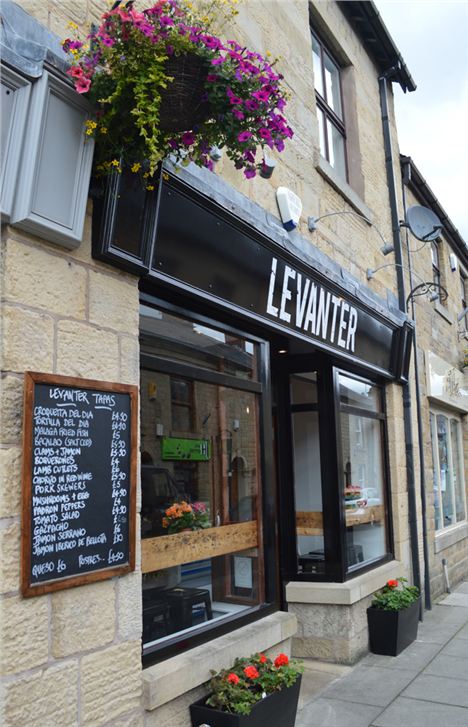 The outside from a giddy angle
To finish we enjoyed a slice of Joe's mum's deliciously light orange and almond cake (£4.50)
We washed all this down with a cold glass of dry Albariño (£6) and a couple of glasses of pale sherry (£7). We couldn't agree whether the Fino or the Manzanilla was drier or which one we preferred but I'm happy to return many more times spinning the debate into a long protracted discussion and tasting session, preferably in a bath filled with Gambas pil pil.
You can follow Deanna Thomas on Twitter @deannathomas
ALL SCORED CONFIDENTIAL REVIEWS ARE IMPARTIAL AND PAID FOR BY THE MAGAZINE.
Levanter Fine Foods, 10 Square Street, Ramsbottom, Lancashire. BL0 9BE. 01706 55 1530
Rating: 15.5/20 (remember venues are rated against the best examples of their type - see yellow box below)
Food: 8.5/10 (Fried fish 8, gambas 9.5, lamb 8.5, chorizo 9.5, tomato salad 8, croquettas 8.5, orange cake 8)
Service: 3.5/5
Ambience: 3.5/5
PLEASE NOTE: Venues are rated against the best examples of their kind: fine dining against the best fine dining, cafes against the best cafes. Following on from this the scores represent: 1-5 saw your leg off and eat it, 6-9 get a DVD, 10-11 if you must, 12-13 if you're passing,14-15 worth a trip,16-17 very good, 17-18 exceptional, 19 pure quality, 20 perfect. More than 20, we get carried away.