PROMOTION
EVERYTHING became clear by 6pm.
As I looked into the distance and read posters advertising shows at the Lowry arts complex, I thought about the peculiar human trait of rapidly forgetting any discomfort once you're out the other side. "This has been so worthwhile," I said.
The discomfort had worn off so I went with my partner Sharon to MediaCityUK at The Quays and sat in the Dockyard Bar and watched as the sun set (this was earlier in the year so it was darker for longer).
The sharp aluminium crest of the Imperial War Museum stood etched against the sky, its high-level red neon viewing gallery as crisply defined as the edges of an envelope.
MediaCityUK is where thousands of BBC folk have moved north to Salford, Manchester. As I supped a pint I'd chosen from the blackboard above the bar I watched as the creative types started to leave for home, some dressed exotically, some dressed down - probably scruffy radio presenters.
Gary Lineker, the presenter of Match of the Day hurried past. The trams moved in and out of the gardens on the quayside to the station and back. I could see the word 'Piccadilly', the destination in the city centre, displayed boldly on the front of vehicles sixty metres away.
The delight not the devil was in the detail.
The individual words I could read at distance, the sharpness of the museum's roofline, the expressions on people's faces; they were all a sort of wonder.
For the first time in almost thirty years I didn't need glasses. I had laser eyes. I'd been zapped. I was bionic.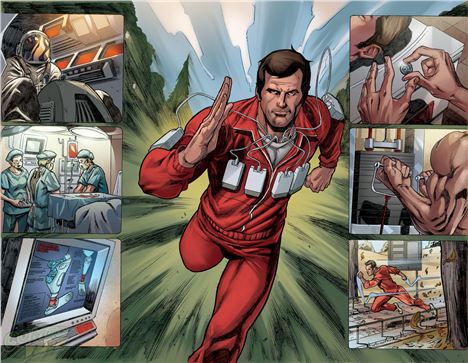 I was bionic, like the Six Million Dollar Man
Not that I have a problem with glasses, they are magic things, preserving accurate sight, practical and with their own aesthetic. And you grow to suit them. They, in a sense, become you. Almost you become unimaginable without them – for others that is.
But having come late to specs, in my twenties, and still playing a lot of sport, they've never sat quite right with me - nor my nose.
Laser treatment when offered seemed a remedy for this. And anyway what the hell, it'd be fun. Of the thousands of treatments the number of times things go wrong seemed rare and were getting rarer.
"Both eyes at once?" people said to me.
"It's all or nothing," I joked and honestly felt no concern at all.
My surgery was Optical Express on handsome St John Street in central Manchester which has been home to medical practitioners of one sort or another for two hundred years. I found that comforting.
I'll be writing further about the types of treatments available but it was all smiles, kindness and courteousness through the various tests. Then the day dawned.
Dr Laser for me was a gentle giant of a Spaniard called Mr Antonio Uceda-Montanes from Seville. He told me what to expect very carefully and very clearly. I nodded. I understood.
Ah, I thought, as I lay back on a dentist type chair with anaesthetic drops in my eyes, the moment of truth. Nurses moved about.
Two machines were involved in my treatment, expertly operated by Antonio.
There's no point beating about the bush about what happened next because it wasn't pleasant, it's surgery after all which is never a skip through bluebell laden woods. This is visceral and raw work, but fortunately brief. I was in and out in about ten minutes, it felt like less, it might have been a little longer.
During the first part of the procedure the eye is held wide open. Then a battleship grey machine the size of a small frigate fixes onto your eye and creates a flap in the cornea. The same is repeated for the next eye.
This is the worst part of the operation, the point at which you understand why you've had to sign all those forms about claustrophobia. The scale of the machine and the discomfort may fill you with an urge to slip from under it and run.
I combated the panic with visions of the Rochdale moors. I grew up close to the Pennines and I traced my declining eye sight in my late teens and early twenties by the increasing blurring of the Heaton Park telecommunications tower eight miles away.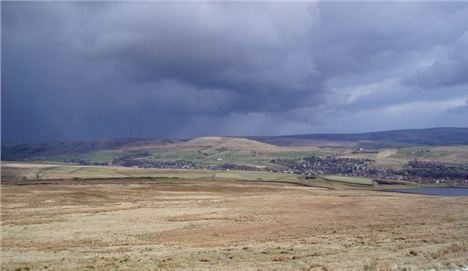 Up on the Moors
As I lay squashed – for only a few minutes - under that throbbing and grumbling machine, I imagined the tower coming back into focus and how sweet that might be. I imagined tennis and football unencumbered.
After the flaps were made in the corneas I confess I felt truly helpless for one of the very few times in my life. I was mid-procedure, everything a blur. The preciousness of sight became very apparent. Thank God there wasn't a fire alarm and me stuck in that limbo.
I didn't have long to muse on this, as the second machine appeared. I was told to concentrate on a light in the dark and as Antonio did his work the light narrowed from diffuse to a sharp point. This was repeated for the other eye accompanied both times by a smell.
I thought this was the smell of my own eye burning. Indeed, until I fell back on that old journalistic nonsense of actually doing some research I told everybody I knew this juicy detail.
I was wrong. The odour came from harmless machine emissions. 
What is true is Antonio quickly corrected my prescription and drew a line under my thirty year old myopia with his laser dexterity. 
Captain Kirk is not qualified for this procedure
I was out moments later, shaking the man's hand, and the nurse was telling me how to get through the day and how I might feel discomfort when the anaesthetic wore off. My vision was blurred but I could already see distances previously unimaginable. I was given drops.
Then it was sunglasses on for the taxi journey home and sleep. 
And then no sleep.
As the anaesthetic wears off I'd been told I might have mild, intermediate or high discomfort.
I feel I am physically tough, but the discomfort I was in for three hours was intense. My eyes watered too much to keep them open and they watered too much to keep them closed. I feared I walked round the house, curtains drawn, moaning audibly.
Then the pain started to wear off. It wore off fairly rapidly and by 6pm everything became clear.
I gazed at the bright evening at The Quays. I looked into the distance and read posters advertising shows at the Lowry arts complex, I thought about the peculiar human trait of rapidly forgetting any discomfort once you're out the other side.
"This has been so worthwhile," I said. "Look there's a seagull on top of that building over there."
"Are you going to point out every single thing you can see?" came the amused response.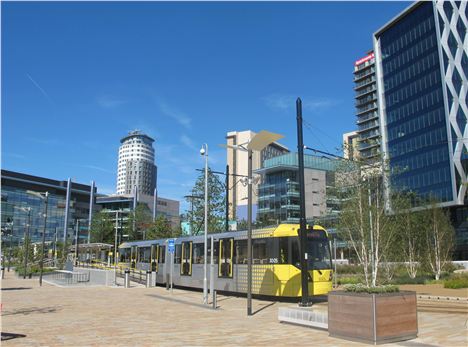 The Quays and MediaCityUk - crystal clear
You can follow Jonathan Schofield on Twitter here @JonathSchofield or connect via Google+ 
Main eye picture above from rikravado, my eye is more 'lived in' than that. 
Optical Express is the UK's number one provider of laser eye surgery, performing more procedures than any other provider. LASIK surgery starts from £595 per eye. Optical Express offer a range of treatments at two clinics in Manchester. Trafford Centre: 0800 555 8182, St. John Street: 0800 023 2020.