MENTION kettlebells and most people will grimace at the memory of one particularly difficult gym session or heart rate raising class. Very few will be enthusiastic or, dare say it, happy when the weighted apparatus is spoken of. One person, and one of the minority, who will light up is Steve Dawson.
"Everyone always hates them and the classes but they always come back, even if they're aching the next day." 
Dawson is a qualified personal trainer working around the city centre. He's also an avid kettlebell fan. Personal trainers with a fondness for inflicting pain and sweat via kettlebells are not hard to find, but Dawson is a step above your usual sportswear clad gym lurker. He wants us to compete with kettlebells, not just burn calories.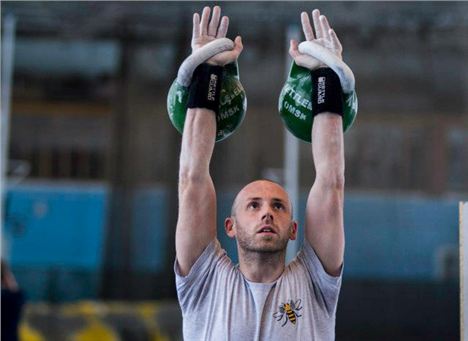 Steve Dawson kettlebelling in Omsk
"Kettlebells have been around for years but they've only been in gyms recently. A few years ago if you'd asked for a kettlebell they'd have looked at you like you were mad," says Dawson. In fairness most of us still look at personal trainers and gym instructors like they're mad if they hand us one.
"I've been training for years, since my early twenties. I started having problems with my knees which was mainly from running. It was absolute agony and physios were unsure what to do or what it was exactly," explains Dawson.
Running, whilst healthy exercise, is typically one of the most injury laden activities. Bad knees, shin splits, weak ankles and worn away cartilage are all risks for runners. So many risks that it's almost a better idea not to start.
"I started to change up my gym routine, and introduced basic kettlebell exercises of swings and squats. From that I started training and did courses so I knew what I was doing and it just went from there.
"I went back to running recently and I was completely fine. It was a problem with my glutes that had taken some beating from years of running, and kettlebells strengthened it.
"The back of the body is a weak point for everyone and kettlebells corrects it. Everyone always hates them and the classes but they always come back, even if they're aching the next day."
Clearly we are all gluttons (or glute-ons) for punishment. How else can we explain the birth of not just kettlebell classes but kettlemix and kettlepump too? Whether you like the little buggers or not, kettlebells are here to stay.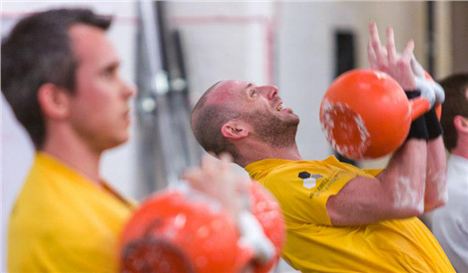 Blood, sweat and tears as Dawson competed at last year's event in Manchester
"Celebs and fitness DVDs have helped get people into kettlebells, but they're completely different to the sport. They've still helped but there's only so much you can do in classes and gym routines," states Dawson.
True, there are only so many squats, swings and lifts that one kettlebell session can cover. "It's totally different to what you do in the gym. It's a totally different style. Classes are usually planned around a time-slot and you'll complete different circuits within, say, a one-hour time slot. Sports stuff is more specific."
So kettlemix and kettlepump classes and all that aside, kettlebells as a sport and championships are entirely different. The championships are much like weightlifting as a sport, with competitors split by body weight and then by the weight of their kettlebells.
So at least you know if you're a tiny thing thrusting your kettlebell above your head then you won't be competing against a six foot four swinging and squatting giant. "Women use 8kg, 12kg, 16kg, 20kg and 24kg. Men use 16kg, 20kg, 24kg and 32kg to compete, the 32kg is a professional weightlifting class."
But how do you compete? How do you turn what most of us see as a gym instrument of torture into a competitive sport?
Dawson describes it on his own website as "one of the newest, most absolutely brutal sports in the UK", which doesn't exactly entice. "There are two events in the championships; the Biathalon and the Long Cycle," explains Dawson as though they are a breeze to complete.
The Biathalon involves the jerk and snatch. Two kettlebells for men in the jerk and one for women. Jerk involves lifting the kettlebells overhead with knees bent, and the snatch is using the hips to drive the kettlebell up and over the head.
Competitors are allowed a minimum of 30 minutes to rest between the two events, and their score is a combination of their performance in both events. The Longcycle involves the kettlebell being jerked above the head and then swung beneath the legs.
Again though, how is this competitive? Athletes must complete as many reps in ten minutes without putting the kettlebell down. Most of us struggle to lift a kettlebell for a full 60 seconds without begging for respite, ten minutes is (as Dawson would describe it) brutal.
This year's English Championships are to be held in Manchester, in Castlefield to be exact, after the success of last year.
"This will be the biggest event we've had. It's getting bigger and more popular and we've almost doubled the amount of competitors since last year," Dawson enthuses.
"Last year we had 70 athletes competing in Manchester, this year we have 130. They're coming from all over too; we have athletes from Scotland, Wales, Ireland, Norway, America and even a full team competing from Andorra.
"We're hoping to attract the best in the world to the UK. It's a Russian sport originally and they're the champions. We've been over to Omsk and studied with them and they really are the best."
So with just over two weeks to go until the English Championships on 26 April, Dawson and other atheletes are busy kettlebelling and training. For those who want to know more or are just curious, Dawson urges them to come down and watch. "If you're interested, just turn up and see what's going on. It's completely free."
The GSU English Kettlebell Championships 2014 will be held on 26 April at Train Manchester, 6 Arundel Street, Castlefield, Manchester, M15 4JZ.
To contact Steve Dawson, visit his website: www.kettlebelltraining.org.uk
Or follow him on Twitter: @stevedawsonckt
Follow Niamh Spence at @missnspence