CAN Karen Millen offer more than just party dresses?
A new brighter and far more inviting store, has made room for a casual collection...
This was the big question on the lips of Manchester's discerning fashion bloggers as the fashion house unveiled its new modernised store within the Trafford Centre last week.
It's the first store outside of London to be refurbished in line with the brand's flagships in New York and Knightsbridge, and this time they're attempting to entice a new customer base with a 'lighter' more 'relaxed' aesthetic.
While the British brand has been a constant power player on the high-street for more than twenty years, it had become synonymous with occasionware - from your pretty wedding outfits to an appropriate dress to meet your boyfriend's parents. When it comes to your everyday casual essentials, Karen Millen had fallen low on the shopping list.
Following the relaunch, gone is the moody, low-lit shop, in favour of a slicked-back, minimalist shopping haven.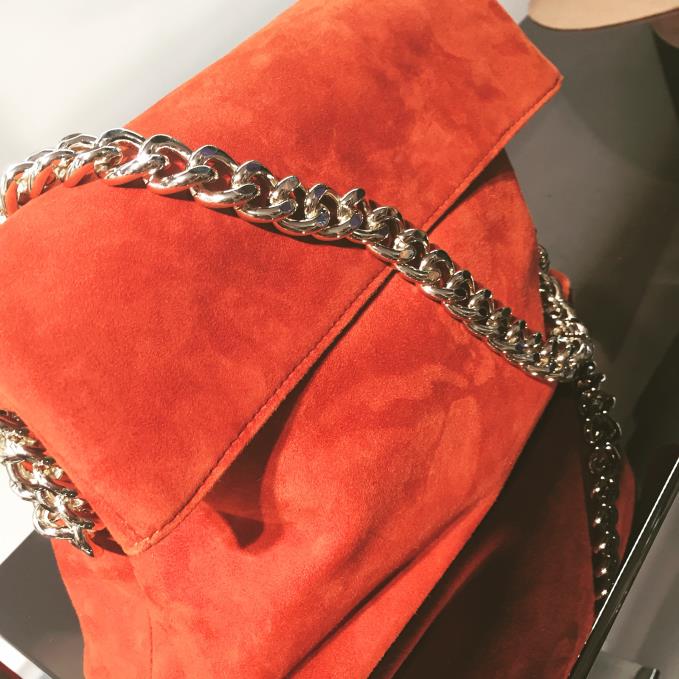 New Purse
A new brighter and far more inviting store has made room for a casual collection of matt finishes and muted tones for the coming Autumn/Winter season.
The store opens as Karen Millen launches its Autumn Winter 15 campaign; a series of twelve portraits starring Jamie Bochert, Rosie Lowe and Quentin Jones styled by Cathy Kasterine and shot by Yelena Yemchuk in South East London.
The inspiration for the collection is summed up as 'desirabillity', 'confidence' and 'ease', and revolves around effortless style, be it with a touch of bohemia and a hint of vintage or tailoring that speaks to the modern woman.
Body Confidential was given a sneak peak of the new 'modernist meets bohemia' collection, which focuses around glorious statement knitwear, vintage-inspired lace blouses and print dresses that fall below the knee in swingy pleats or swishes above-knee in micro-detailed rivulets of pleats and lace. Most importantly for the coming season, tjere's ultra-luxurious coats in bubbly shearling or smoothly tailored in camel, toffee, caramel and the occasional burst of spicy red, all with a nod to the 1970s. Just add a skinny polo neck, long boots and a soft suede bag with chunky chain strap or a long strapped midi-purse tassled in chocolate.
Shop our Top 5 buys from the Karen Millen Autumn Winter collection:
WOOL LONGLINE CAMEL TRENCH COAT - £350