THERE comes an age where it's no longer socially acceptable to board a bouncy castle.
Most would agree that age to be around nine-years-old. Shame really.
Not only is bouncing aimlessly like a hyperactive infant extremely fun, it's also an excellent way of keeping fit. You've seen the kids at birthday parties. Sugar-crazed, red-faced, clammy little devils following three hours of back to back bouncing. And then of course there's the trampoline scene we all know and love from the 80s film Big.
Suitable for men and women of all ages and sizes, as you'll see in the video, Kangoo Jumps draw on the best qualities in children, allowing even the most reserved adults to be spontaneous, unselfconscious, and joyful.

Yet as adults, when it comes to exercise we don't half take ourselves seriously, what with all the laborious spinning classes, marathons and boot camps. It's little wonder most of us end up sat in front of the telly with a double chocolate Magnum, thumbing Twitter all night for our pleasure.
If there was a way to channel your inner child and get fit in the process, we'd all surely jump at it?
Nineties fitness craze Kangoo Jumps provides a source of entertainment and exercise for everyone, which participants do jump at in the literal sense.
A form of 'rebound exercise' Kangoo Jumps are springy boots that were originally developed for athletes recovering from injuries due to the fact they're so easy on the joints (half the impact of running in fact).
The bouncy nature of the boots reduces the impact to the body by up to 80 per cent and provides efficient protection to your ankles, knees, shins, hips, lower back and spine. They also help tone all muscles in the body faster and burn more calories, while offering a quick and easy aerobic effect to the body, especially the heart.
Despite these impressive fitness facts, few gyms and studios offer Kangoo Jumps classes. In fact in Manchester the only place we're aware of is a little known gym called Hexercize Health Club in Blackley. Martina Magill and Sharon Cooney run Kangoo Jumps classes, among many other types of classes, at Hexercize.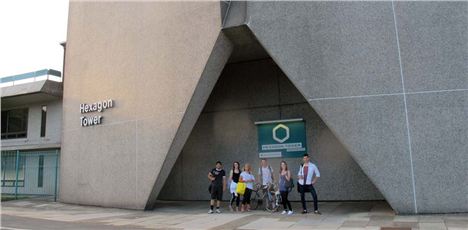 Kangoo Class at Hexercize Health Club, Manchester
Formerly a corporate gym designed for those working in the businesses located in Hexagon Tower only, both the gym and the classes have now been opened up to the general public but still at the low corporate rates thankfully. It's only £15 per month for membership to the gym with classes or £4 per class (no additional charge for boot hire) for those not wishing to commit.
In need of a way to shake off the 9-5 office stiffness, the Confidential team were more than ready to spring into action.
Getting booted up was easy. Hexercize stocks a range of boot sizes and the boots are as easy to click into place as ski boots. In fact the overall feel of them is not too dissimilar to ski boots and it's also advised that you wear thick socks to prevent them rubbing at first too.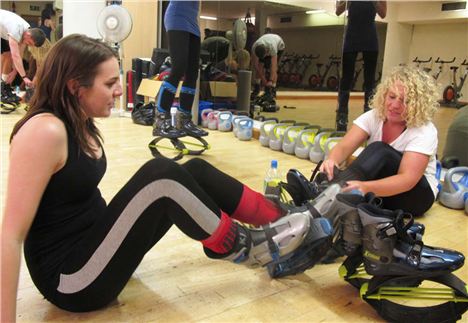 Team Confidential gets booted up
Once up on your new feet, you can't help but think of Paralympic sprinters who wear prosthetics. While we can't possibly imagine the real feeling of the prosthetic limbs used by the athletes, there are definitely some similarities between Kangoo Jumps and the Flex Foot Cheetah Blades as worn by some Paralympians.
The famous blade runner blades store kinetic energy from the wearer's steps as potential energy, like a spring, allowing the wearer to run and jump. Kangoo Jumps appear to be from the same family, as we were about to find out.
It's almost impossible to stand stationary in Kangoo Jumps which means you're constantly moving and working out. Suitable for men and women of all ages and sizes, as you'll see in the video below, Kangoo Jumps draw on the best qualities in children, allowing even the most reserved adults to be spontaneous, unselfconscious, and joyful. None more so than the lovely Martina and Sharon who run the classes.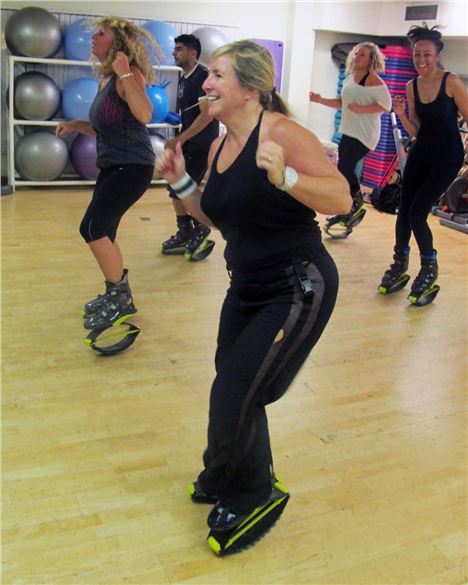 Martina demonstrates how to 'Kangoo'
Straight into the spirit of things, our session began with a quick run through of how to get the boots on and start springing, followed by lots of freestyle bouncing around, which was probably the most fun as we giggled at our new found freedom.
Once we'd got the hang of balancing in the boots, which after initially feeling like an unstable toddler is pretty straightforward, Martina and Sharon taught us to push down on every bounce to spring higher and harder. This simple movement was then used in a variety of standard aerobics sequences such as grapevine, star jumps and high kicks.
Within ten minutes we were well on our way. It's also very noticeable how Kangoo Jumps promote better posture and as Martina explained, over time they can also help with supination and pronation.
Look at the soles of your shoes if you're not sure what that is. If the inner side is more worn, you pronate. If it is the outside portion, you supinate. When running, supination or pronation creates a rotation movement in your ankles and knees, which can become painful and create lesions. Kangoo Jumps can help correct both conditions.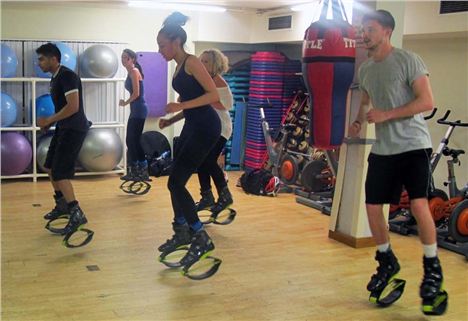 Kangoo Jumps class at Hexercize Health Club
Each boot weighs 1kg, so leg kicks, heel kicks and sidekicks all act as resistance exercises, toning the legs, bum and strengthening the all important core.
The session also included a bit of floor work at the end which again adds a weight training element to the cardio session. And what's probably the most impressive part is you do not ache the day after due to the reduced impact and enhanced recovery caused by the inherent action of harmonising the muscles and the central nervous system on every bounce, believe it or not.
As you'll see from the video, everyone had a good go at every single move. It doesn't matter if you're in rhythm or in stitches, so long as you're bouncing you're safe in the knowledge you're benefiting your body. Child's play really.
After the hour was up our legs felt like lead weights as we walked to the changing room in comparison to the freeing, flying feeling we'd had with the Kangoo Jumps.
They were instantly missed. But there's no doubt we'll be bouncing back very soon...
Follow Lynda on Twitter @lyndamoyo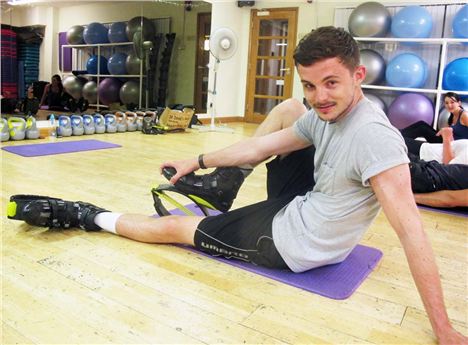 David Blake is a Kangoo convert
For more information on Kangoo Jumps classes at Hexercise Health Club please visit the Hexercize Health Club Facebook page.
Class times are flexible and Martina and Sharon will respond according to demand.
If, like us crazy Confidential kids, you'd like to gather a group of friends or colleagues for a go at Kangoo Jumps ring Martina on 07711 286 020 or email mart_mag@yahoo.co.uk.
Prices are £4 per person, per session or £15 per month which includes gym membership and all classes.
Hexercize Health Club
Hexagon Tower
Blackley
Manchester
M9 8ZS