VINTAGE is old tack. Literally. Anything older than a few years has seemingly been gathered under the umbrella term of vintage.
"You'd pay a fortune for that in Topshop and then it's here for thirty or forty quid."
Not only does it refer to items from past decades, but the term has become increasingly overused. Vintage fashion rose to the limelight a few years ago and has since slowly slipped back under the radar. As fashion evolves and changes, vintage fashion seems to have been left behind.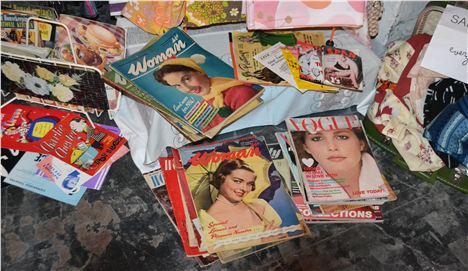 Vintage Vogues for those after something other than clothes and furniture
But here to make sure we don't forget about why vintage goods are so great is 'The Social' at the Victoria Warehouse Hotel with Judy's Affordable Vintage Fair. With traders from all over the place, it's a huge collection of goods ranging from converted record players, old telephones, fur coats, rare sportswear to vintage magazines.
"We're the biggest of our kind," explains Judy Berger,the founder of the fair that has graced the pages of Elle, The Telegraph, Marie Claire and Vogue. "It's always great because you get such a mix of stuff. There's sellers who go to private auction houses in places like Paris and come back with amazing items. Or there's sellers who have customised vintage items like cutting up a vintage dress into a little top and skirt. You'd pay a fortune for that in Topshop and then it's here for thirty or forty quid."
For a look at the varied items on sale from sellers such as MySteamLady, Belissimo and Tallula who come from all across the UK to showcase at Judy's, have a look at our gallery below.
Follow Niamh Spence on Twitter at @missnspence
Victoria Warehouse Hotel, Trafford Wharf, Stretford Road, Manchester, M17 1AB.
For more information visit the website: www.judysvintagefair.co.uk
or follow them on Twitter: @JudyVintageFair