FROM interstellar tram journeys to lunar astrophysics and 'science friction', Space has played a key role in this year's Science in the City celebrations. Mesmerising and mind-boggling in equal measure, it's an area that remains relatively unexplored - yet that holds some tantalising prospects. Are we really alone in the universe? How was the solar system created? What secrets are held in those starry galaxies and crystallised diamond planets that beckon, light years, eons away?
It was arguably Jean Michel Jarre that stole the show, with his meteoric brand of audio-visual spectacle
Of course, much of what we do know can be attributed to Jodrell Bank and its pioneering work in radio astronomy. When Sir Bernard Lovell found his research on cosmic rays disrupted by electrical interference from Manchester tram lines in 1945, he moved operations to what was then an outstation of Manchester University's Department of Botany. Four years later, having successfully detected radio waves from the Andromeda Galaxy, Lovell decided (as you do) to construct a 250-foot steerable telescope; using, amongst other things, recycled gun turret mechanisms from retired battleships.
Serious debt gave way to successive triumphs and the 3200-tonne structure ultimately became a 'space race' forerunner - even playing a discreet warning role during the Cuban Missile Crisis. The world's largest when it opened in 1957, Lovell Telescope is now a Grade I listed scientific icon; with its Jodrell Bank home ultimately set to receive UNESCO World Heritage status.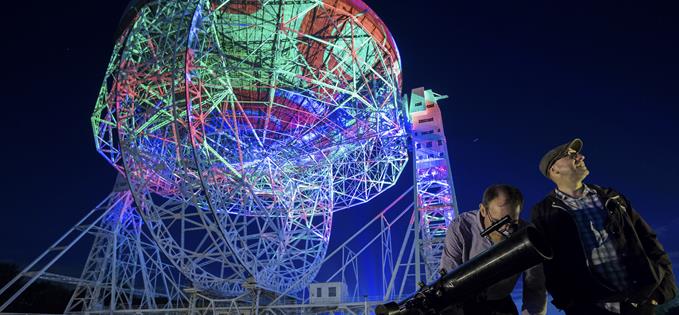 Stargazing by the Lovell Telescope
Teresa Anderson, Director of the site's Discovery Centre, now welcomes 160,000 visitors per year, including over 20,000 school children. Impossibly down to earth (excuse the pun), despite her doctorate in engineering, she's keen to further break down perceived barriers in science and, during a Bluedot talk on local writer Alan Garner, stressed that science and culture - whether literature, architecture, music or art - are deeply entwined.
Along with fellow Director Tim O'Brien, Anderson was awarded in 2014 for an innovative public engagement programme which demonstrates just that. Initiatives during her decade at the helm have included the 'Jodcast' podcast, along with events like Jodrell Bank Live: a rock concert comprising the likes of The Flaming Lips, Alice Gold and British Sea Power. Concerts since have included Elbow and the Halle Orchestra, whilst Public Service Broadcasting even filmed a music video there; based on the Lovell Telescope's first major success in tracking the launch of the Sputnik artificial satellite.
Bluedot, which takes its name from Carl Sagan's Pale Blue Dot, is arguably the most ambitious project yet. A unique fusion of art and science, the inaugural three-day festival took place last weekend and - much like figurehead Brian Cox's Infinite Monkey Cage - boasted universal appeal, appealing to adolescents and adults alike. It's hence no surprise that the sell-out event launched with a resoundingly Big Bang on Friday 22, welcoming 7000 revellers (some apparently dressed as mushrooms...)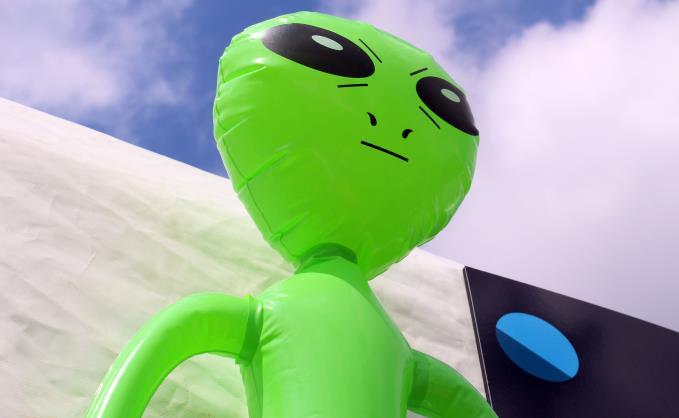 Set across several themed sites, the programme spanned late-night concerts to daytime family activities and talks from leading scientists. From carnivorous plants and carrot clarinets in the Star Field to immersive demonstrations in the Space Pavilion and beloved children's characters The Clangers in Mission Control, young curiosity seekers were well rewarded. Kids could also enjoy an arboretum playground, stunning visuals in the Planetarium and galactic performances from the likes of Highly Strung and The Outer Space.
Over in the Contact tent, speakers included James Veitch with his humorous Dot Con account of what happened when he replied to his spam emails, and comedian Helen Keen with It's Rocket Science. Gamers, meanwhile, could participate in Wi-Fi Wars via a special app. Dot talks were also a festival staple, bringing together leading scientists on subjects as diverse as genetically-modified babies to why Buzz Aldrin hallucinated in Space. Ever wanted to know how to build a Mars rover, bounce a guitar riff off the moon or create music from computer code? They covered that too.
Elsewhere, an inflatable luminarium encouraged reflection and Science & Industry sated thirst with its cosmic cocktails. Whist the G'Astronomy village stayed too true to its name, with prices indeed astronomical, Aiden Byrne's 'Restaurant at the End of the Universe' gave an alternative for diners craving more than the typical festival preserve of overpriced burgers and hotdogs. CAMRA, meanwhile, provided the pints; accompanied by tasting sessions and talks on the science of brewing.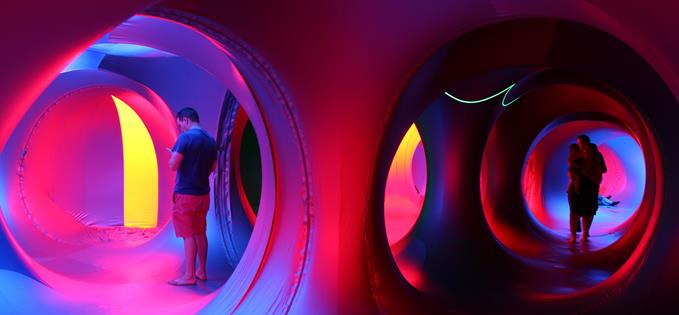 The Luminarium featured labyrinthine tunnels and radiant colour
Music was perhaps the biggest draw, with an eclectic line-up spread across four stages: Lovell, Orbit, Nebula and Roots. Wacky names abounded with the likes of Plastic Mermaids, Cabbage and Be-One (whose soundtrack involves 40,000 bees) whilst headliners like Caribou and Underworld commanded vast crowds under an illuminated Lovell telescope - also the canvas for Brian Eno's iconic artwork.
It was arguably Jean Michel Jarre that stole the show, however, rounding off Saturday with his meteoric brand of audio-visual spectacle. Having thrice broke his own record for the world's biggest outdoor audience (Moscow's 3.5m earning him a Guinness World Record), the 'laser harp Lord' is a powerful demonstration of how - as with Bluedot - a little imagination goes a long way.
The next Bluedot will take place 21-23 July 2017, with earlybird tickets available in the coming weeks. More info at discoverthebluedot.com