FOLLOWING the recent excitement surrounding Allied London's £1.5bn St John's and Trinity Islands masterplan - including the promise of two new 50-storey skyscrapers (which at up to 165m could make them only three metres short of the mighty Beetham) - the Smart Alecs on urban development forum Skyscrapercity.com have imagined Manchester city centre's lofty future skyline.
Manchester's future skyline looks more Detroit than Deansgate
Utilising Google Earth's 3D function, forum contributors Ed Howe (VDB) and Izaak Sabo (iamtheSTIG) have imported a comprehensive number of Manchester's prospective skyscrapers, from those already under-construction to those, like St John's, which are yet to receive official planning approval.
The results, although crude by nature, are mind-boggling.
With 27 new skyscrapers ranging from a proposed 20-storey hotel on Salford's Chapel Street to a whopping 58-floor tower for Great Jackson Street - Manchester's future skyline looks more Detroit than Deansgate.
Of course, it's wide-eyed to think all 27 of these towers will go up (especially when thirteen haven't received planning approval), but let's for a minute dream big dreams, mighty dreams of a soaring Manchester in which we all live in 'Vertical Village' skyscrapers made of graphene nanotubes and powered by algae.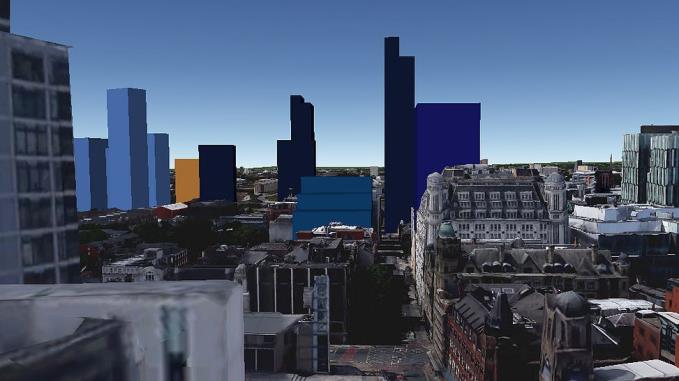 View from the Radisson down Quay Street: Allied London's Trinity Islands (light blue), St John's (dark blue) and No 1 Spinningfields (mid-blue, centre right), also Astley & Byrom House (other blue, centre left) and Wilburn Street development (gold) - credit Ed Howe
Here's the developments (above 20 floors) and renders that comprise the Manchester skyline of the future...maybe:
(Please note: renders use a standard apartment height of 3.3m)
UNDER-CONSTRUCTION
Greengate One | two towers | 21 and 31 floors | Ask Developments and Carillion | first block completed in 2016
Cambridge Street | two towers | 21 and 29 floors | Renaker | no completion date
Wilburn Street | one tower | 21 floors | WB Developments | no completion date
Water Street | one tower | 28 floors | LQ Developments | no completion date
APPROVED
Axis Tower | one tower | 27 floors | Property Alliance Group and Development Securities | late-2016
Middlewood Locks | one towers | 25 floors | Scarborough International | 2018
Angel Gardens | one tower | 36 floors | The Co-op | 2017
X1 Media City phase one | one tower | 26 floors | X1 Developments and Knight Knox | 2017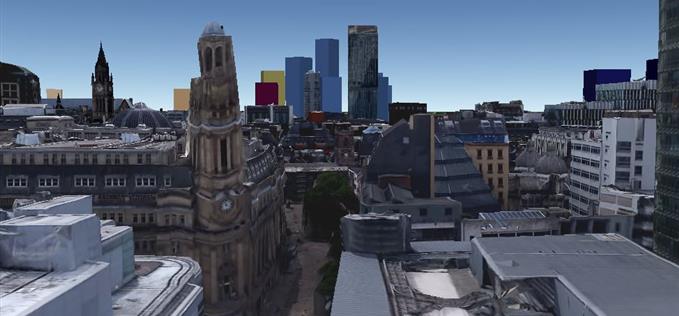 The view over St Anne's Square: note Beetham Tower with the proposed Great Jackson Street development (blue and gold) and Axis (red) - (credit: Ed Howe)
HOLDING-PLANNING APPLICATION
X1 Media City phase two, three and four | three towers | 26 floors | X1 Developments and Knight Knox | no completion date
Gore Street Hotel | one tower | 20 floors | ECP Holdings | no completion date
NO PLANNING APPLICATIONS (YET)
St John's Quarter | four towers | 25, 25, 40 and 55 floors | Allied London | complete by 2022
Trinity Islands | four towers | 25, 30, 30 and 46 | Alled London | no completion date
Great Jackson Street | five towers | 35, 35, 40, 48, 58 floors | no completion date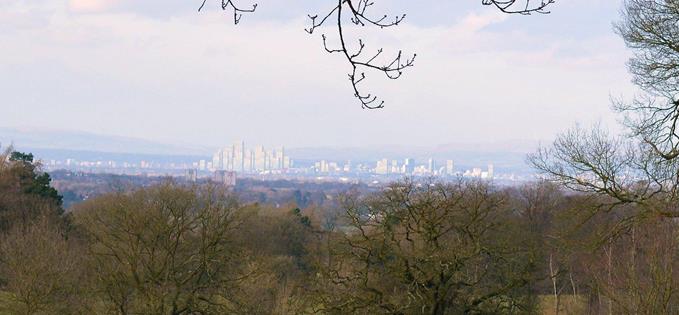 Is This Manchester's Future Skyline? (credit: Izaak Sabo)