MANCHESTER is guilty of catering to the sentimental type; the character whose version of living in the moment seems to be pretending to live in the past.
The fashionably nostalgic guy or gal, who prefers vinyl to MP3, and their digital photographs unenhanced with a grainy film; it all seems to say, I have lived and this is how it was then in my day. (Despite the photo being taken just moments ago.)
 "There's the cluttered chaos you'd expect and want from any archetypal vintage store. You have to look on top of shelves, look towards the ceiling for chandeliers, bend down and look underneath tables. You can even purchase said table."
I'm not talking about Manchester's Market Street or The Trafford Centre, that provide us with shiny new things, but our famous peripheral areas, corners and back streets packed full with restaurants, bars and vintage stores that refuse to grow young, as it were.
The classic burger-diner feel has been embraced tenfold.
Vintage emporium, Insitu Architectural Salvage, is one of those places that supply the look and ambience to our nostalgic generation.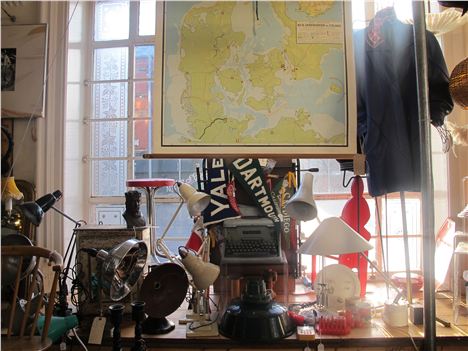 Nearly 30 years old, Insitu has been responsible for supplying the period features and occasionally quirky token gimmicks to over 40 bars in Manchester such as the Deaf Institute, Takk, Blue Pig, Odder and more.
Based on Chester Road, Hulme, the three-storey former pub isn't hard to miss, but given its closest surroundings are a garage and a few takeaways you might be more likely to stumble upon it by accident.
The sort of accident that happens if you head out of town to dine at the Banyan Tree and go too far, or if you've ever wondered lost after accidentally getting off at Cornbrook Tram stop, or if you're a tourist who has ambitiously decided to walk to Old Trafford Stadium but found that venturing any further down Chester Road would mean you die on a dual carriageway. 
Yet Insitu is a great store to stumble upon. It's a treasure trove of 'architectural salvage' such as timber flooring, cast iron radiators, stained glass windows, chandeliers and fireplaces.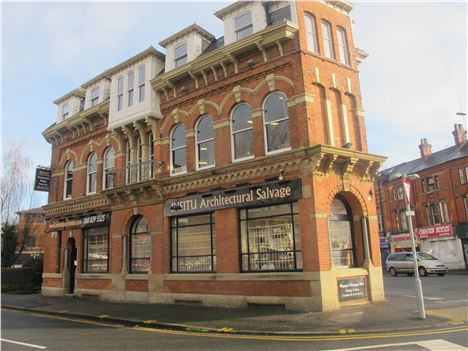 Insitu the former Turville pub
But it's also home to vintage seller Planet Vintage Girl where you can find 20th century antique homewares, accessories, art, vintage clothes and taxidermy - for those into that sort of thing.
This is one of the best vintage stores you'll find not just for its size but the quality and diversity of things to discover.
Once inside you continue to stumble, or if you're me, trip up upon rare and distinctive items.
That's the beauty of the vintage shopping experience at Insitu; there's the artful chaos you'd expect and want from any archetypal vintage store. You have to look on top of shelves, look towards the ceiling for chandeliers, bend down and look underneath tables. You can even purchase the table.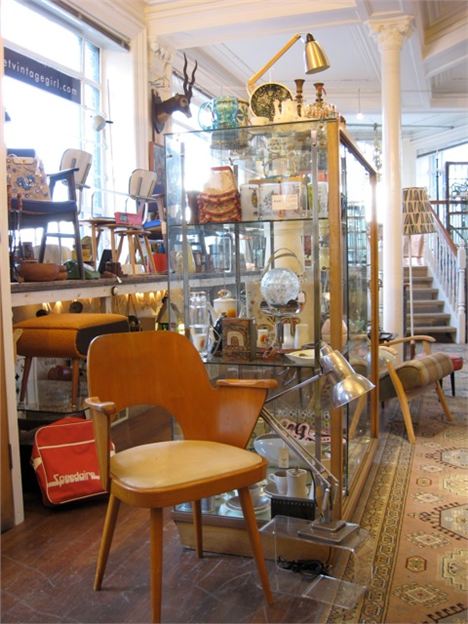 Planet Vintage Girl at Insitu
Owned by Laurence Green but assisted by Planet Vintage Girl manager, Laura Gaither, the two knowledgably and passionately source goods from all over the world - hand-picking items anything in the region of £2500 to £1.
"Laurence thinks big, I'm more interested in the small things," laughed Laura.
Originally from America, Laura, who has a background in vintage furnishing and a love of classic design, has been in Manchester for almost a decade and has witnessed Manchester re-embrace its Victorian roots.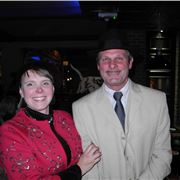 Laura and LaurenceIn otherwords, Laura believes vintage fashion is having a moment.
She explained, "There's always going to be cycles in fashion. For instance, 'space pop', is on its way out - no more bright red plastic furniture. Recently there's been a return to a folky aesthetic– such as the crotchet throws we sell. Everything feels like a Mumford and Sons song."
Laura and colleague Emily have seen an increase of people resisting the temptation of one-size-fits-all Ikea flat-packed homes and have opted for Insitu to inject some personality.
"People have become far more educated about vintage furniture, antiques and clothes and we've seen a great mix of people come into store and embrace 'shabby chic'," said Emily.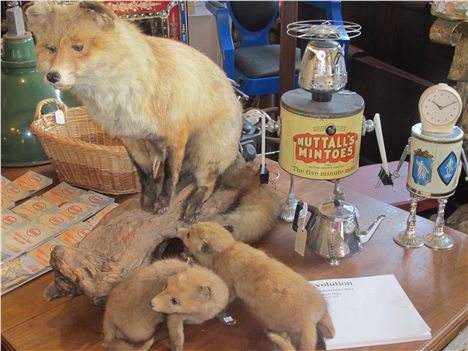 Taxidermy, if you're in to that sort of thing
Laura said: "We have a lot of students and young professionals buying for their first flat and looking for their first coffee table. Those are the customers we hope to see come back when they are ready to furnish their first house.
"Then we have the fashionable students that come for the clothes and people looking for quirky gifts. One customer came in looking for an original gift for friend and left with a door-knocker."
Yet it's not a novelty vintage store. "Insitu  is not 'twee,"explained Laura.
Indeed, you can find a lot more than a China tea set and 1950s pin-up poster.
Most can venture inside Insitu without any idea of what they want and eventually find something. Taxidermy may not be your thing now but stay in Insitu long enough and you never know.
It's a store for the adventurous and those with a magpie eye to spot hidden shiny valuable things.
Insitu Architectural Salvage, 252 Chester Road, Manchester, England M15 4EX. Monday - Saturday 10am -5:30pm
Follow @LOreal_b on Twitter