I CALL it the hen party effect - when women, armed with pink cowboy hats and giant inflatable penises feel liberated enough to transform into pink cocktail guzzling, sex-crazed fiends willing to pluck a male stripper's G-string and twerk on bar tables.
People tend to go for the furry handcuffs and the feathers – yes, a lot of people like to be tickled during sex
Away from the raucousness of the hen party crowd (and when a little more sober), social deocorum dictates that we should act, or at least pretend to be, a little more sheepish when it comes to sex - especially when it comes to discussing the things that go buzz in the night.
Yet as Valentine's night looms and the subject of sex and all its apparatus keeps popping up like, well, a dildo in an Ann Summer's store, it feels only right to start asking some frank questions.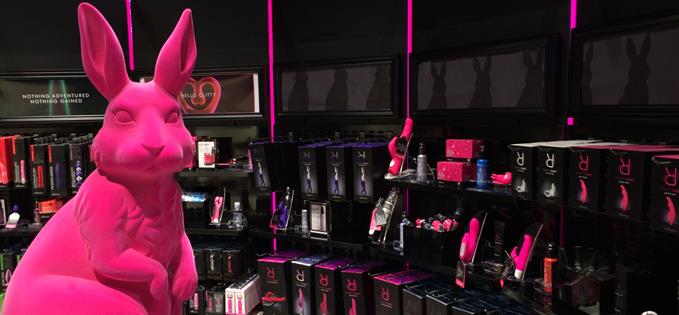 Ann Summer stores have an annual turnover of £150m
After all, Ann Summers is Britain's most successful lingerie and sex toy store and has an annual turnover of more than £150m. Evidently, there's a lot of people buying, using and satisfying themselves with the company's 'rampant' products. Ann Summers was built on being frank about sex.
But, for the more bashful few, venturing down to Ann Summers (where, in Manchester, there's a sign that reads 'Head Here' and a peep hole in the changing room doors) and talking sex to a stranger can be intimidating.
Without the need to call in an Ann Summers party host or wait until hen party time rolls in, I venture to the pits of Manchester's Ann Summers sex stores and ask all the rude questions so you don't have to...
Can I talk to any of the Ann Summer's staff about sex toys?
"When you come into store we've already determined if you're nervous, curious or an experienced customer while you're browsing so we tailor our approach to you. We're all very open here as we have to be. You'd be surprised by the questions we get asked but we're discreet and we'll try and help where we can."
Which tend to be the most popular products each Valentine's Day?
"People tend to go for the furry handcuffs and the feathers – yes, a lot of people like to be tickled during sex. Our bondage kits are really popular with customers. You have to try the door sling where you place your partners in a hoist. Currently we mainly get asked about recreating the main sex scene from 50 Shades Of Grey. When the movie came out the team was encouraged to watch it so we could learn how to recreate the S&M scenes from the movie: we're constantly asked about it.
What are the best products for curious customers just experimenting?
"I'd definitely suggest trying some of Ann Summers lubricants and massage oils."
What are the main hesitations you get from women wanting to try a vibrator?
"You'd be surprised how many women are worried about the size of the Rabbits. Most think it'll hurt or be uncomfortable but there's only so far they can go."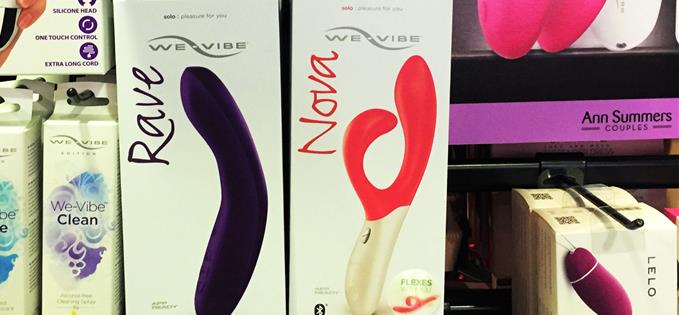 We Vibe
So which vibrator would you suggest? There's a lot of them…
It depends, we do have a lot. The Rampant Rabbit is obviously one of our most well known sex toys. The We Vibe vibrators are also bestsellers and are great for couples."
What's the difference between a vibrator, rabbit and a dildo?
"The range is so wide. You can have shaft vibrators that work to stimulate your G-spot or ones which focus on just clitoral stimulation – they're very small and discreet. Rampant Rabbits act like a vibrating dildo while the bunny ears stimulate the clitoris. Dildos are for people who aren't really into the vibrating thing and they look a little more like the real thing, of course."
...well, some are bright purple. Why is the Rabbit so popular?
"You have to try them, they're just really versatile. There are different speeds and pulse settings. Some rotate, some are bendy… for a first vibrator I'd suggest buying one of the vibrating bullets, or mini vibrators, as they're best for clitoral stimulation.
We also have new 'moregasm' vibrators, which we like to demonstrate in water as it's great example of seeing how the vibrator responds the more turned on you get. There are three speeds and three pulse settings. They're excellent, honestly. "
How should I use a Rabbit vibrator?
"There are so many ways and you can incorporate them into your favourite positions. With a partner you can use vibrators as a massager to stimulate. For G-spot stimulation, I suggest using with a lube. You'd be surprised how many ways you can incorporate vibrators into your sex lives."
What is the most popular lingerie men tend to buy when they're buying for their partners?
"Men tend to buy the lace bodystockings for their partners as there's no chance of getting the size wrong. A lot of them come crotchless, which has its obvious benefits."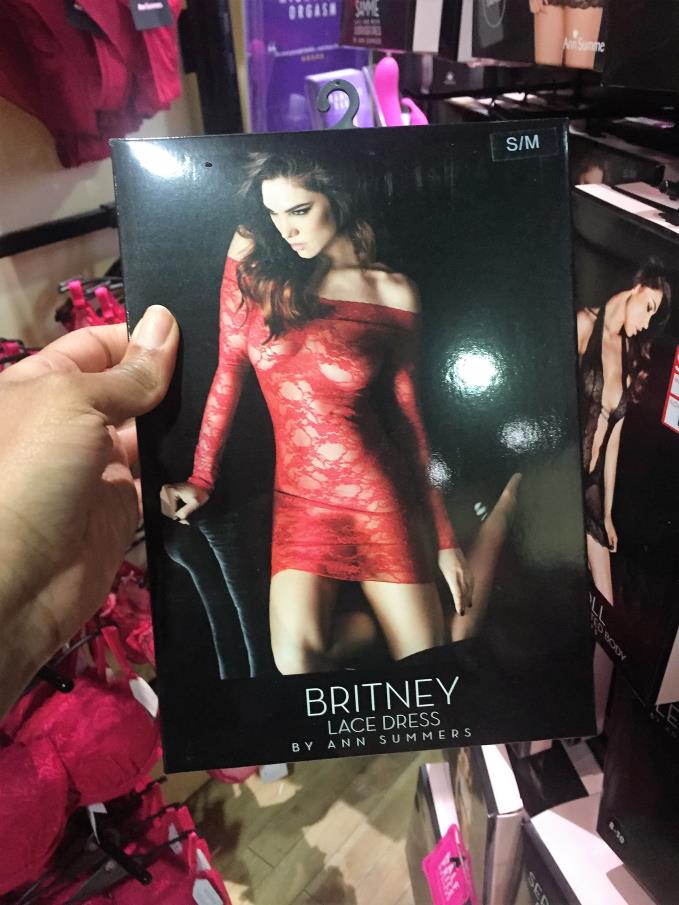 Ann Summers - Men tend to buy bodystockings for their partners
And what about Ann Summers' lingerie, what styles are the most erotic?
"Crotchless and open bras are some of our most erotic but we really do cater for everyone – whether you really like to dress up or prefer something a little more classic."
Which sex toys would you recommend for partners?
"I'd start with the cock rings, which are also a brilliant option for gay couples. I would also work up to using the We Vibe vibrators: they also do great sex toys for long distant couples – you can use one that works alongside an app, with your partner controlling the speed and intensity, which is really cool."
Find Ann Summers online and on the High Street.