NOSTALGIA was what it was all about.
Confident cities celebrate themselves. Cities in retreat become mired in (often false) memories of better times
Manchester's vigour had drained away as the flood of closures in manufacturing had been followed by inner populations hollowing out. Those with the wherewithal fled to the Pennine hills or the flatter plusher southern suburbs. Then they looked back.
So when I first started coming into Manchester in the 1980s the representational artworks I found reflected this. The city, it seemed, was imagined in private galleries by paintings of modest size, saccharine sentimentality and rank nostalgia.
Typically there'd be pictures of Albert Square, Piccadilly Gardens, St Ann's Square with crowds of people, probably set in some perceived golden age years before. The familiar tropes would be trooped out, rain, umbrellas. Yawn. They tended to be both utterly mundane, and for the young person I was at the time, depressing. Especially depressing, I thought, was LS Lowry, an artist that had morphed into a tea-towel staple in heritage centres.
It was the same with the single row of books on the shelves of bookshops. These seemed badly printed, amateurish. There was no general history of Manchester available, but you could purchase lots of volumes about what your street looked like before it had been demolished.
The mood has changed.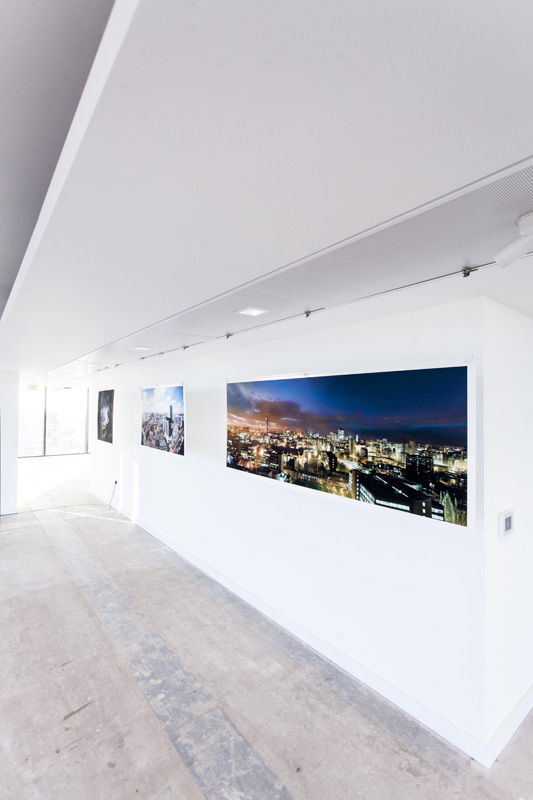 Celebrations of the city from Andrew Brooks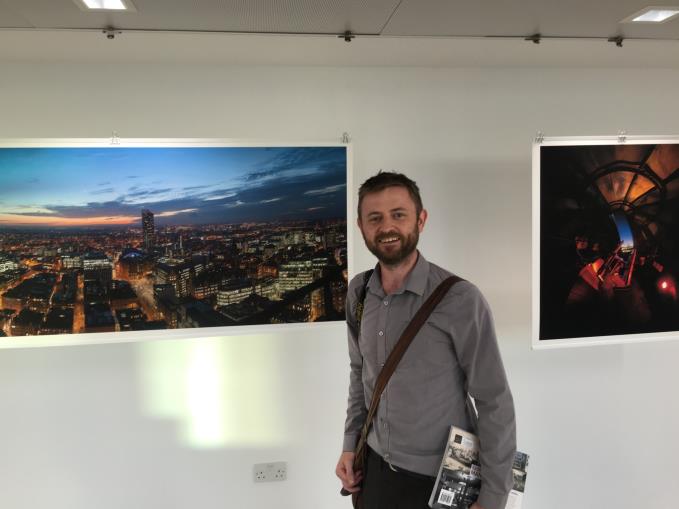 Brooks next to one of his works
There are twenty times more books in the shops (I should know I wrote three of them) and many artists and photographers seem to want to celebrate the city as they find it today. In the popular imagination this started with Liam Spencer's startlingly brilliant cityscapes which were the antithesis of the drab palate of Lowry.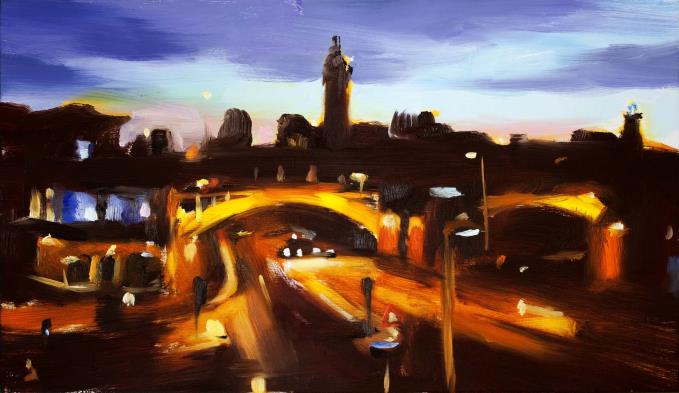 Liam Spencer's 'Deansgate - Whitworth Street'
The change in mood was evident high above Portland Street earlier this year. On the tenth floor of the fine Bank Chambers tower you could find Andrew Brooks and his photographs. The building had been designed by Fitzroy Robinson & Partners in 1971 and is now undergoing refurbishment by Bruntwood. There were views out across the city and there were views on the walls from Brooks.
Brooks' images of the city have no truck with nostalgia, they capture the city now and they give it glamour and scale. Your eye wanders over the surface capturing detail and soaking it up.
"This picture is made up of over seventy images stitched together to form this single image," Brooks told me about Manchester from City Tower. "It takes many hours work, but produces something, I hope, a little different from the traditional panoramic views, one that captures the buildings but also the movement between them of people and traffic."
He succeeds perfectly. You want to jump into these pictures, wingsuit down to those people through those buildings as they stand in suspended animation. Manchester from City Tower has this quality and also includes a crisp crescent moon which adds the elemental to the image.
One of the works in Brooks' exhibition is Walking, in which Brooks has removed all detail except the striding people. The effect is strangely moving, atomised individuals pulling in all directions, human Brownian Motion.

Manchester from City Tower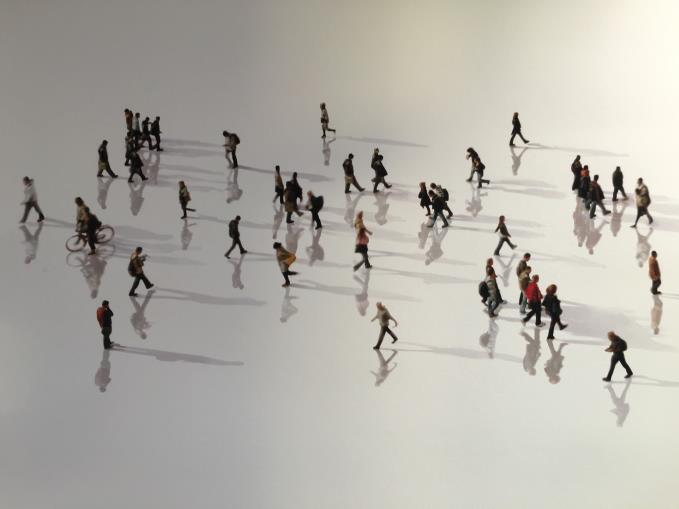 'Walking' by Brooks
Brooks' other technique of exploding the view is seen in Planets and shows Beetham Tower through the telescope hatch in the University of Manchester's beautiful Godlee Observatory, high above Whitworth Street. Here Brooks stitches together images to represent what we see in our peripheral vision as well as the object upon which we directly focus. A technique he used with previous success in the Great Northern Tunnel underneath Manchester Central.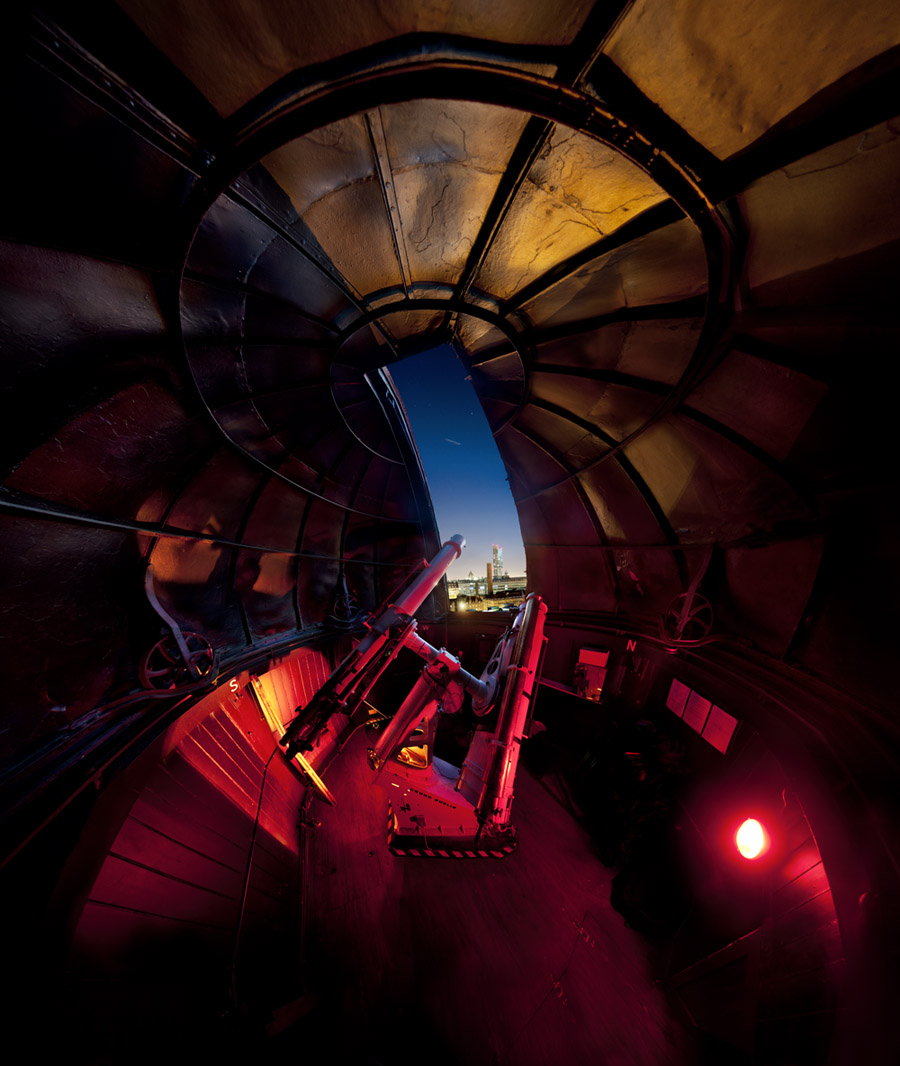 Planets
In the same vein of celebrating the city, there's the Manchester Sketchbook published by Mancunian Books. This features artists Liz Ackerley, Len Grant, Caroline Johnson, David Lowther, Alistair Price and Simone Ridyard. The book is a celebration of the city but it has grit too, with some images depicting the less heroic side of the city plus the keynote buildings.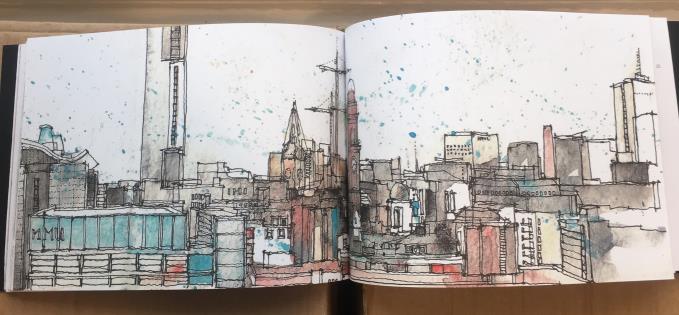 Simone Ridyard's Manchester skyline from the MMU buildings
All the artists offer something. Lowther's Royal Exchange boils with colour while his Parsonage Gardens are tropical under a bright sky. Johnson ducks under the Castlefield viaducts in lush aquamarine. Ridyard captures the epic Brutalism of Piccadilly Plaza in a wash that underlines its heroic scale but with a purity of form (she and Lowther are the most disciplined of the sketchers) you also find in the Trinity Bridge double-page. Ackerley's images combine text with street scenes and carry a hint of an urban Alfred Wainwright. Grant's images such as the Bridgewater Hall or All Saints are exuberant and gleeful with something of the illustrator Charles Keeping about him.
It's a lovely book and a fine gift for city-dwellers and those who love Manchester. The book follows on from Manchester hosting the International Urban Sketchers Symposium this year. There's been a sweet display of them amidst skateboarders at the Co-op's new Sadler's Yard and the indie and damn good Pilcrow bar. Of course there are glimpses of the city's darker reality in this book, especially with Len Grant's work.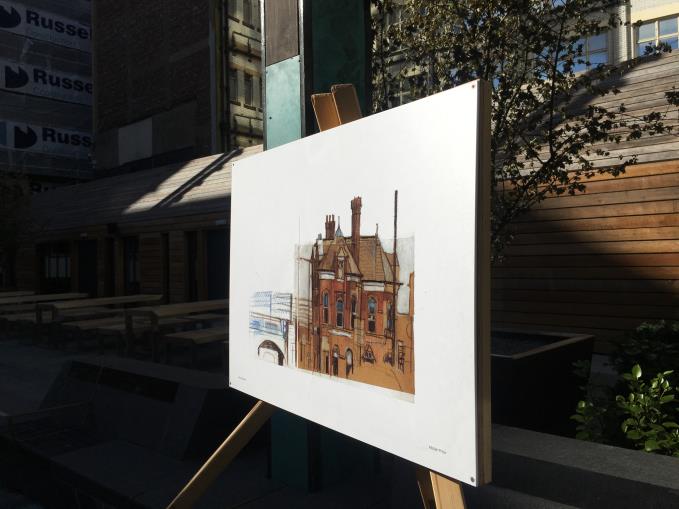 Sketchers on display, with a work by Alistair Price at Sadler's Yard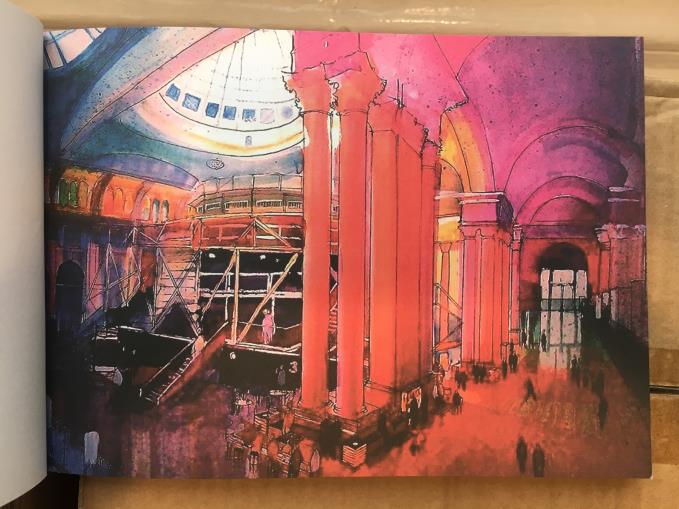 David Lowther's Royal Exchange from the Manchester Sketchbook
Of course we can't ignore the fact there is this darker edge to the city. Tim Garner's work, for instance, at Artzu, shows both old and new, and the changes warts and all. These excellently crafted paintings hint at that darker edge, the nervousness, the shifting duality of any city between uplifting and sinister.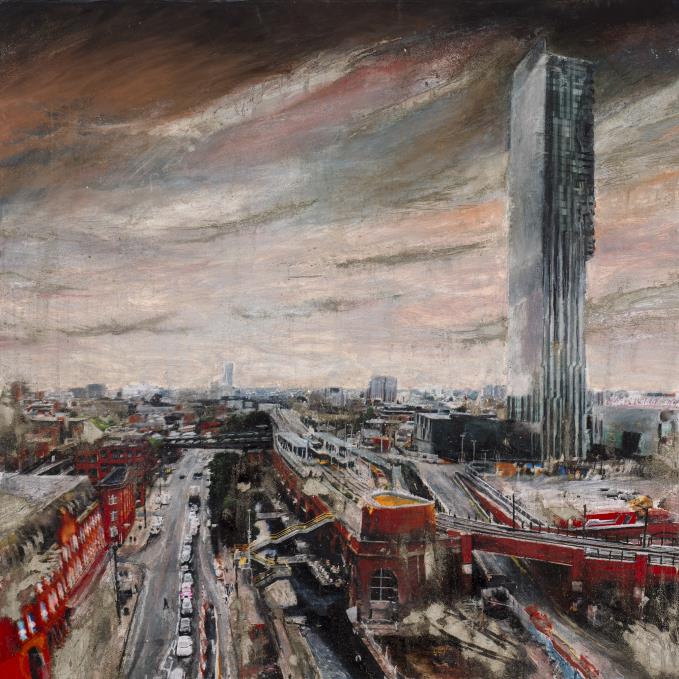 Tim Garner's 'Fac512' referring to the viewpoint from the Hacienda apartments: the Hacienda on the Factory Records numbering system was Fac51
Confident cities celebrate themselves. Cities in retreat become mired in (often false) memories of better times. The Manchester mood change in the last couple of decades is gratifying. The city has changed beyond recognition, despite the problems and internal debates cities will always have within themselves. Like all cities we can be hell on earth, like all cities we can be a little patch of heaven, and like all cities we face an uncertain future.
The new works reveal an untypical urban sensibility in the British, one that's been maturing for a couple of decades and is taking place outside London. Deferential country views pinned by stately homes are all very well, but it's time to celebrate the vigour of cities, their contradictions of growth and decay, their mercurial beauty. In 2016 Manchester need not be obsessed with nostalgia, indeed should shun it and replace it with reverence for the past, but never sentimentality (and that includes all the eighties music stuff). The new direction shows how we can look forward, critically but optimistically, to the city as a place of opportunity, adventure and wonder.
Andrew Brooks' images are available at andrewbrooksphotography.com with some good zoomable images here.
The Manchester Sketchbook is available at Mancunian Books here or in outlets across the city centre such as HOME and the People's History Museum.
Tim Garner's work can be found in Artzu Gallery on Quay Street in the city centre. www.artzu.co.uk