A YOUNG woman cries alone at the bottom of Market Street; she's homeless and sat cross-legged outside a SPAR, her sleeping bag and belongings balled up in the doorway. I'm one of the many women of a similar age who have been flittering away money in Zara just across the street. Our lives couldn't be further apart. I drop all the change in my pocket into her paper cup. She continues to cry, ignoring me. I feel my gesture is empty but I don't ask any questions. I walk away. But I continue to think about it; the painful anonymity of homelessness and the difficult plight of being a woman on the streets.
We need to talk about periods, period.
Manchester's esclalating issue with homelessness (official 2015 figures stated that the number of rough sleepers in Greater Manchester had risen by 50% over the course of the year) continues to add pressure on Manchester City Council to find some solution to this city-wide problem.
We've recently seen The Homeless Charter introduced, led by local homeless charity Mustard Tree, to 'outline the principles that establish how people experiencing homelessness should be treated and how the city intends to deal with the problem'.
Yet there's been little public discourse on the impact homelessness could have specifically on women. Given women only make up 26% of UK's overall homeless figures, services have predominantly been 'developed by and for men'. This unfortunately means valuable female specific homeless services can get overlooked. After all, you don't stop being a woman when you're forced to sleep on the streets. You can't stop your period. So how on earth are you meant to cope with a monthly cycle when you're living hand to mouth, day to day?
"I read an article at the food banks in Darlington that goes into quite descriptive detail about how some homeless women have been forced to cope with their periods while living on the street," explains Christina Ward, a twenty two-year-old university student currently finishing her dissertation. She's also juggling a part-time job along with charitable efforts with her campaign, The Monthly Gift, a scheme which encourages donations of sanitary products for homeless women.
"The article talked of women using socks, tissues and even newspapers because they're too embarrassed to ask for tampons. Even reusable sanitary products are an issue when there's no access to proper disposal and sanitation," she adds.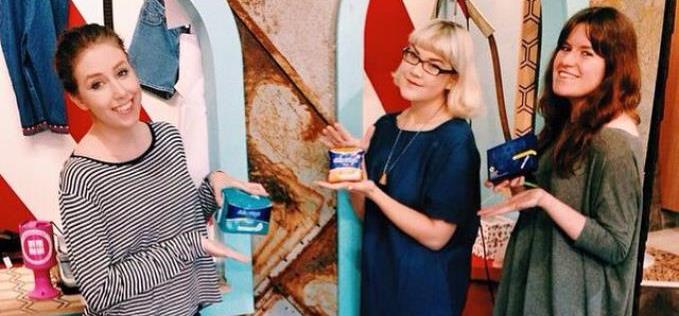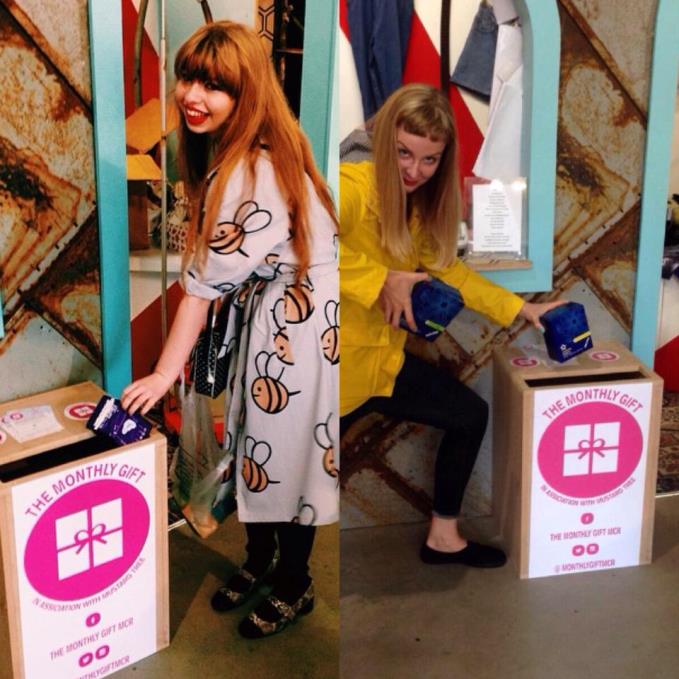 The Monthly Gift has drop-off donations points at COW Manchester
It's a horrifying and demeaning picture of homelessness, one that Ward aims to tackle in Manchester. Her aim is for no woman in the city to have to beg for tampons.
"When I returned to Manchester last year it felt as if I'd counted three homeless people per street in the city centre. And it was only after a relatively light conversation about the cost of living as a woman - such as buying tampons each month - that it crossed my mind that there would be so many homeless women having incredible difficulty finding proper sanitary products. That's why I decided to set up the Monthly Gift," says Ward.
The Monthly Gift works in association with The Mustard Tree homeless charity and has seen donations from schools, businesses and generous shoppers at city centre drop-off points such as Northern Quarter vintage store COW, Tea Hive, Night and Day Café and RCNQ.
"It started off as a month-long campaign in July last year and finished with a fundraising gig at Night and Day Café. It was incredibly well received, but I soon realised that this needed to be an ongoing campaign."
It's such a simple yet extremely thoughtful idea, yet one that would have evaded many people's minds.
"There's definitely still a taboo when it comes to talking about periods and women in general have been conditioned to keep our periods and the subject of periods hidden," says Ward. "This can't have helped the women that have needed sanitary provisions and have wanted to speak up and ask for this kind of help."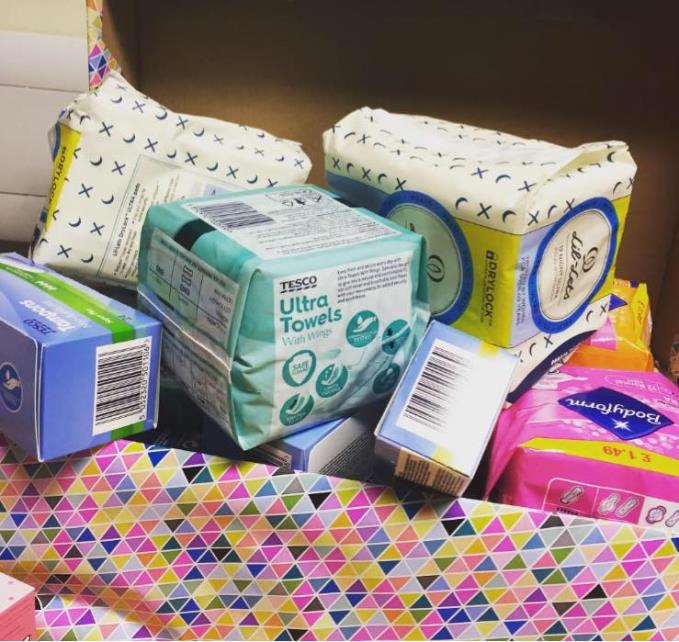 Sanitary towels and tampon donations welcome
The Monthly Gift, and similar campaigns such as Time Of The Month Manchester, Flow Aid in London and The Homeless Period Petition, have not only helped to ensure far fewer homeless women have to beg for sanitary products but are also contributing to a wider conversation about period taboos. The core message: we need to talk about periods, period.
Menstruation should no longer be a mute subject in public spheres, especially when staying hush-hush may have meant vulnerable women have not had access to what is a basic, fundamental women's right.
There have been some improvements of course. We all remember the endless petitioning, deliberations and the very public dressing down of a crimson-faced MP forced to say 'tampon' in the House Of Commons before the five percent tax on tampons and sanitary towels was finally scrapped earlier this year. It was conceded that tampons are not in fact luxury items according to European Law but necessities that should be afforded to every single woman. (You know, just like zero percent tax on razor blades and, er, Jaffa Cakes).
This necessity should extend to vulnerable women too and that's where The Monthly Gift comes in.
"What's been great is the amount of young women and teenagers who have wanted to donate and expressed an interest in social action. And also, the great support we've had from men too, the ones who have come to the gigs and made donations," shares Ward. "We've seen donations from local schools – hundreds of products, and so many people are sharing support."
Ward adds: "While I haven't met women I've helped directly, I do receive great messages on Facebook from people who say the campaign has really helped them. And that's been really rewarding."
I can't help but think again of the young woman crying on the street and whether she has benefitted from The Monthly Gift's generosity. I sign the Homeless Period Petition - now in the region of 110,000 signatures - to call for tampons and towels to be made available through homeless shelters, the same way the government provides condoms. A simple request for a very fundamental need. No woman should have to beg for tampons.
Find out more about The Monthly Gift on Facebook and on Twitter.
Powered by Wakelet