"WE DON'T just source clothes for footballers, there are only a few of them. My business could not survive if we only kept footballers in mind," laughed Oscar Pinto-Hervia, owner and creative director of twenty-year-old boutique, Hervia Bazaar.
Hervia Bazaar was named one of the finest designer stores in the UK by Vogue.
Venture into the boutique on 40 Spring Gardens (access via Market Street) and you're immediately met with a slick succession of black garments. Not just any black, mind: luxury black in leather, suede, velvet and knits. A black that manages to suggest you're a person that takes fashion seriously, and aren't fazed by price tags when it comes to investing in personal style (yes, I got all that from 'black').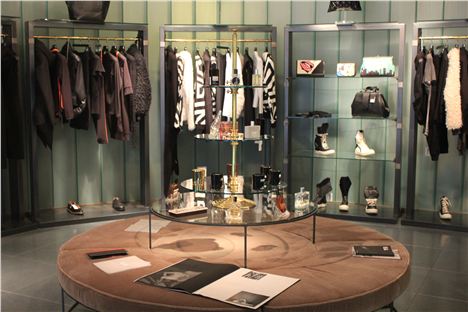 Luxury black at Hervia
At Hervia Bazaar both high fashion and street style is celebrated with a specially cultivated collection of designer menswear, womenswear and jewellery. "There's a lot of sports-luxe," explained Pinto as he took me through the store's Autumn Winter offering.
A widely acclaimed Manchester raised fashion expert, Pinto was, according to the website, one of 'first to stock debut collections from the late Alexander McQueen, as well as Helmut Lang and Hussein Chalayan.' Hervia Bazaar was also named as one of the finest designer stores in UK by Vogue.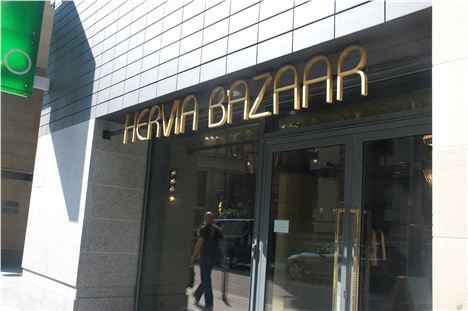 Hervia Bazaar
He now lives in London where he runs a flagship Adidas Y-3 store and the e-tail business, but travels to Manchester every week. In his time Pinto has witnessed many of Manchester's independent fashion boutiques disappear off the radar.
"King Street and the neighbouring area used to be great for independent boutiques – but where are they now?" he asked. Although, Pinto is sure of the reason why Manchester's boutiques struggle.
"Rents," said Pinto-Hervia with certainty. "The rents are really high in Manchester. You could say the city has swapped its boutiques in favour of independent bars which open up every week. I guess it's easier for restaurants and bars to survive in the city. I love Manchester, it has a clear fashion identity but some designers don't really have many outlets outside of London, which is where we come in."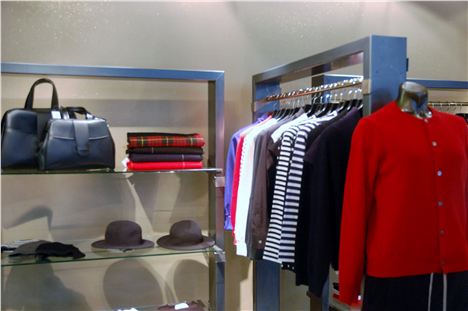 Hervia Bazaar
So how has Hervia Bazaar kept its doors open for so long (The first store at Manchester's Royal Exchange was destroyed in the 1996 IRA bombing)?
"A few years ago I'd say our custom was around 70% in store, 30% online. Now it has completely switched the other way. When it comes to online people like the security of the less strict returns policy. People come into store to try on the clothes and then wait to buy online," said Pinto.
Throughout the gold adorned store, designers Rick Owens, Yohji Yamamoto, Issy Miyake, Raf Simons, Gareth Pugh and more live on and prosper in the north with high end 'out there and edgy' garments. For a brief and fleeting moment I wished I were a Kardashian with enough mula to go on an indulgent shopping spree.
As expected the price-points at Hervia Bazaar are high and Pinto teases me with a Gareth Pugh jacket that tips the boat at £1,565.
"We have a lot of Chinese visitors who shop here and these are women that don't shop in Topshop," said Pinto frankly. "Men shop here more than women and are more likely to buy designer."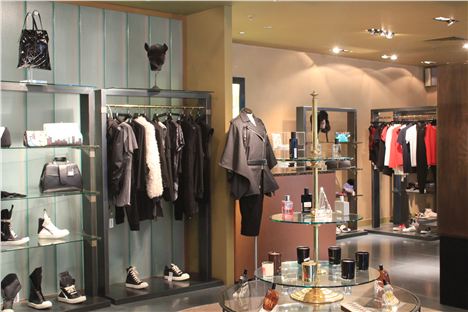 Hervia Bazaar
"Women's fashion is saturated with choice," he added. "Women have hundreds of magazines offering cheaper alternatives to designer clothes, and it all seems to say 'why buy one designer item when you can buy one hundred things for the same price?'.
"Yet the problem with fast-fashion is that it's throwaway - you don't care for items that you can just throw away."
It's the common designer versus high street argument. Designer clothes are made to last with expensive luxury materials and Central St Martin's qualified skills, where the bought-on-a-whim Primark purchase has a lifespan of around six months. If you're lucky.
Still, some high street stores such as Zara have been championed for their affordable yet well-made clobber. Why then should we splash the cash on clothes that, in some cases at Hervia Bazaar, are more than the average shopper's monthly income?
"We now have Facebook and our pictures are immortalised - we've all looked back at these pictures and been horrified at our old fashion choices. You want to buy clothes that will stay cool forever because these pictures are forever," said Pinto.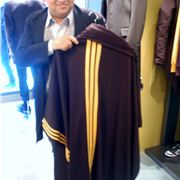 Adidas numberUndeniably, Oscar Pinto has, much like the old cliché, a passion for fashion and encourages those who shop in his store to experiment with the stand-out designs on offer.
He pulled on a curious poncho with Adidas striped sleeves that looked like an XXXL sports jacket – one of the more bizarre items at Hervia Bazaar.
"This is really fun," he said while pulling himself into one of the sleeves and throwing the other around his neck like a scarf. "This is actually one of our best selling items. We like have to have fun items in store. When you're feeling boring you dress boring."
Far from boring, the clothes at Hervia Bazaar are sure to get you noticed. One of the sales assistants wears trousers with one leg shorter than the other - but oddly, pulls it off with effortless cool.
Do you have to be an exhibitionist to wear these clothes?
"Fashion should make you feel confident," says Pinto. "Confidence can come as a result of wearing a strong piece. That's what fashion and style is about."
Find out more about Hervia Bazaar on its website.
Follow @LOreal_B on Twitter.