AFTER all the grief they've taken over their proposed St Michael's neighbourhood property scheme, it's perhaps little surprise that Gary Neville and Ryan Giggs are in need of a drink or two… Moët, preferably: a magnum, served in a giant clam with flower petals, fireworks and a gaggle of wannabe WAGS circling the table like hyenas.
Careful now Giggsy.
Neville has also revealed plans to add two sky bars to the development - one of which could be given over to Mahiki
This is the news that the footballers-turned-property moguls have forged plans to bring London A-list celeb haunt Mahiki – a favourite of Prince Harry, One Direction and every footballer to have ever stepped foot in Mayfair - to Manchester, with a deal for a prime spot within the St Michael's complex on Bootle Street.
Neville had revealed the duo's intention, during a recent property conference at The Lowry Hotel, to open a new nightclub in Manchester and add to their growing portfolio of business interests; which include Hotel Football, Salford City FC and the renovation of the former Stock Exchange building on Norfolk Street.
The former England defender and Valencia boss let slip which club the pair were in talks with when he posted this photo – showing Mahiki's signature Sea Pearl cocktail - on Instagram earlier this week.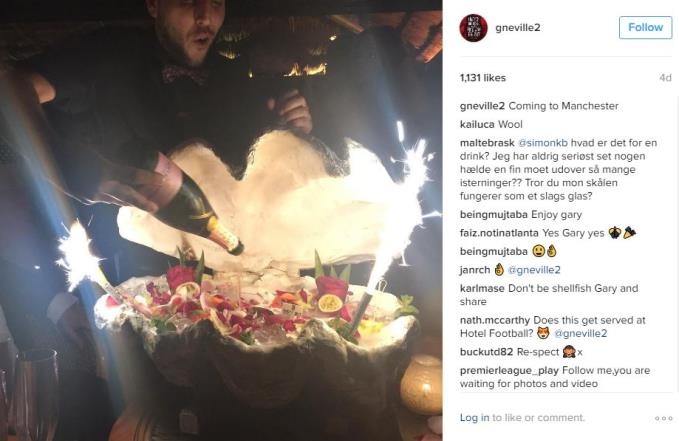 Neville's Instagram post of a massive clam
Controversial plans for the £140m Make Architects-designed St Michael's scheme – which includes the demolition of the Bootle Street Police Station (1937), the Reformed Synagogue (1953) and the Sir Ralph Abercromby Pub to make way for two bulky, black-clad towers and a luxury hotel – are expected to go before the council in the next few weeks.
Speaking exclusively to Confidential earlier this year, Neville said of St Michael's: "As a developer who lives in the city, I have to be comfortable in my own mind that what we are putting there is better than what we have already and that it delivers a good return for the investors and for the citizens."
READ: Interview - Gary Neville on St Michael's and Motivation
READ: Heritage Group Attempts To Block Giggs & Neville Towers
St Michael's will also bring 153 'high end' new apartments, 13,000 square metres of office space and a 2,800 square metre multi-level food, drink and retail plaza to the plot adjacent to Albert Square.
Neville has previously revealed plans to add two sky bars to the development - one of which could be given over to Mahiki.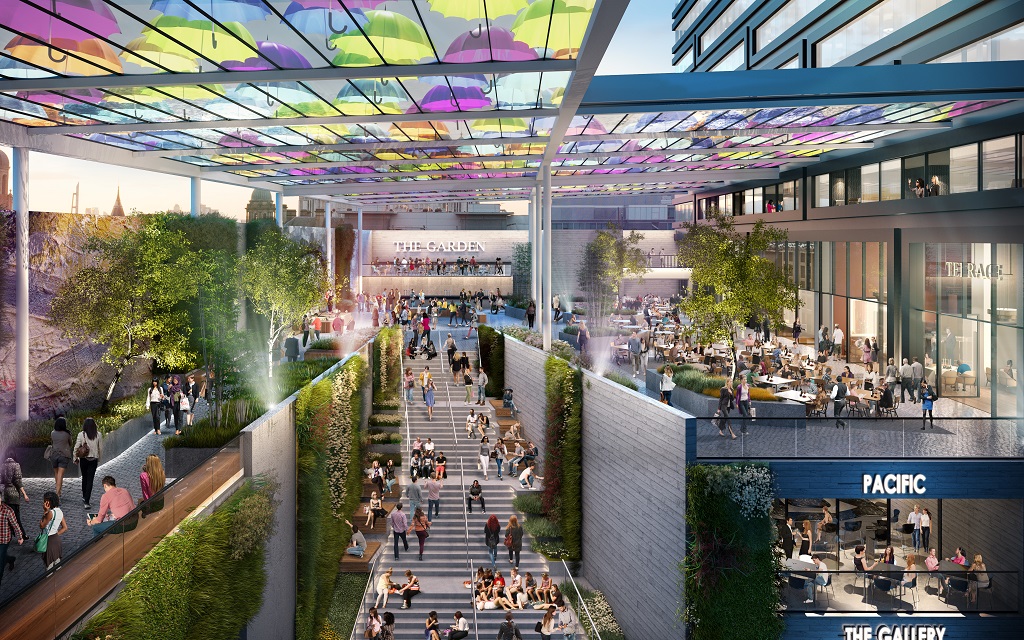 CGI of St Michael's plaza
Elsewhere, the pair have signed up the Michelin-star winning chef of the Man Behind The Curtain restaurant in Leeds, Michael O'Hare, to help them launch four new restaurants in the city; three in their Stock Exchange project and 'space age' Asian restaurant, Rabbit On The Moon, on the top floor of the National Football Museum.
Speaking of rabbits, will somebody take that bottle off Giggsy...
Powered by Wakelet