Promotion
FAR TOO often, the fashion industry gets caught up (or held up) when it comes to catering to the needs of the average woman - the widely coined 'real woman'.
The 'real' beauty campaigns revolve around both disguising and celebrating womanly lumps and bumps, while the needs of the average man, or 'real man', seems to remain an afterthought. 
"The t-shirts, for instance, may fit tight to the arms, but will skim your stomach"

Manchester menswear line, Ruver, has kept the 'real man' in mind. A recently established online retailer, it sells t-shirts, jumpers, hoodies, outdoor apparel and accessories to fit and flatter the everyday guy yet still remain modern (this is by no means an offshoot of big man brand, Jacamo).
"The t-shirts, for instance, may fit tight to the arms, but will skim your stomach," said the brand's director Andy Golpys. "The clothes are comfortable and also look good."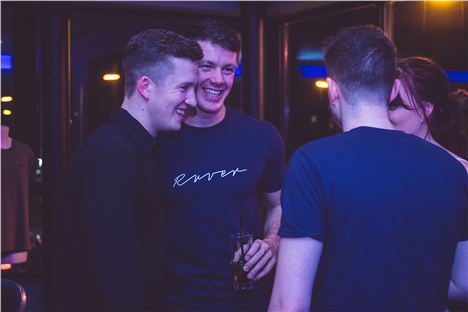 Ruver
The concept for Ruver started in the way many good ideas start in these modern times; after an in-depth Twitter conversation and on a whim.
Today, Ruver's aim is to produce simple and stylish apparel that makes its customers feel good about themselves.
For Ruver, comfortable and wearable clothes must be able to be worn wherever their customers feel it suits; whether it's out in town, in the gym, around the house, out shopping or just going to see your gran for a cup of tea.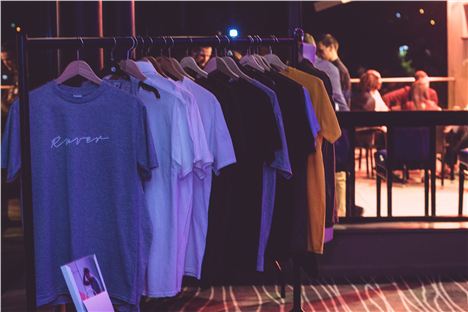 Ruver clothes
The team were keen to point out that Ruver is committed to producing lasting, well manufactured clothes. The t-shirts, for instance, are made with 100% cotton and prices range from £26 - £35 depending on weight. While pricier than your average high-street tee, the clothes are constructed to last longer than a few wears - as we know, 'real men' like to get more for their buck.
They've kept to a simple, neutral colour palette (deep blues, greys, whites) and all clothes are adorned with the Ruver logos. The result is easy-to-wear, 'throw on with your jeans' good looking clothes.
Ruver's four man team launched the brand at Albert's Restaurant and Bar in Worsley, taking full advantage of the upstairs Ellesmere Room with its floor-to-ceiling windows, private heated and covered patio area, and private bar. A contemporary, design-led space, it was the perfect setting for Ruver to introduce their 'baby' - a project that has begun to make a name for itself as a great up-and-comer.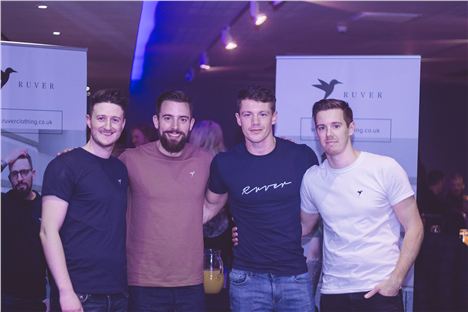 Ruver team
The night allowed Ruver's friends, family and associates to explore the line, with a chance to win one of the brand's signature t-shirts. We were introduced to the brand's bearded model, Manchester-established photographers and the proud Mancunian team behind the entire production; local real men enjoying real success.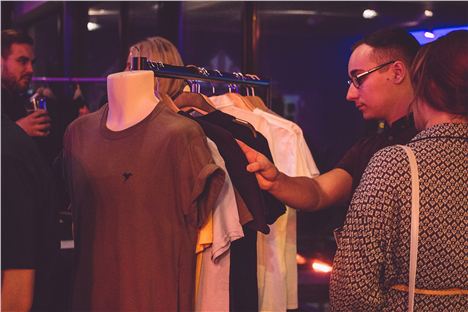 Browsing the Ruver line
With drinks flowing and music playing, the evening drew to a close in Worsley village with guests leaving more acquainted with the new brand and after a browse, with a couple of new purchases.
Can we expect more of the average Manchester man in Ruver apparel in months to come? It certainly looks that way.
Browse the Ruver clothing line on the website.
For more information about Albert's Restaurant and Bar function room see here.
Hold Your Event at Albert's Worsley
For events that make an impact, Albert's Worsley always delivers. From fashion shows to conferences, from weddings to birthdays, Albert's will make your occasion a success.
Two private hire events spaces for 20-200 guests
Your own private bar, terrace and entrance
Excellent Albert's cuisine from our acclaimed restaurant
Dedicated event planners
A friendly, professional team on the day
A choice of packages or a tailormade approach
Close to the M62 and M61 motorways and Manchester city centre
Ample free private parking
Find out more about Events at Albert's Worsley.
To make an enquiry about holding an event at Albert's Worsley, please call Karen Hackett on 0161 839 8656 or email karen@thecastlefieldrooms.com