CITY CENTRE health spa retreat, City Spa Escapes, celebrated the launch of its bigger and brighter home with pampering, Prosecco and a suited and booted pooch. 
Visitors to the spa were treated to a file and polish, back, neck and shoulder massage, hand and arm massage, reiki and angel card readings. 
Best known for specialising in intimate waxing and massages, City Spa Escapes recently moved to Old Granada Studios to expand its health and beauty range and now includes a relaxation room and a dedicated space for couples treatments.
Guests on the evening included Coronation Street's Cath Tyldesley, a regular at the spa. Also in tow was celebrity make-up artist, Armand Beasley and the resident spa dog, Dexter, who came suitably dressed in a tuxedo.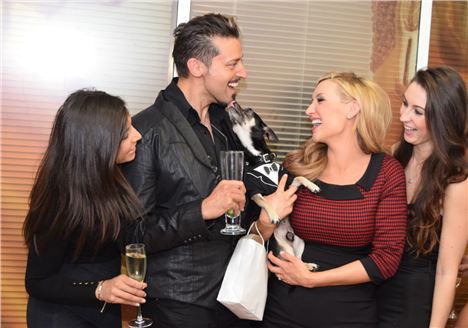 Catherine Tyldesley (middle right) at City Spa Escapes with spa owner Ashley Guthrie (far right)
Spread across each of the treatment rooms, visitors to the spa were treated to a file and polish, massages, reiki and angel card readings. 
The team from Spinningfields bar and restaurant, The Alchemist, were on hand to show guests how to create some of their signature cocktails, from French Martinis to a Passionfruit Mojito.
Before the launch, entrepreneur and spa director Ashleigh Gutherie, talked about the inspiration behind her new health retreat.
"When people come to City Spa Escapes they forget it's in the city centre – it's a retreat. We cater for the five senses, the smells upon entering, sorbets to taste, the relaxing environment, gentle music and of course the tailored treatments."
@CitySpaEscapes | Old Granada Studios | Floor 1  HQ Building | 2 Atherton Street | Manchester | M3 3GS
Photo Credit: Ben Harrison from MCR Studios