"Please don't handle those shears," exclaimed Ben Dean, the manager, mild panic playing across his features. "If David Levine, the shirt-cutter, finds out he'll demand a new pair and they cost well over a hundred pounds."
"I don't understand people wishing their lives away in jobs and hoping for the weekend to come. I suppose I'm lucky."  
"But how would he know?" I asked.
"The balance will be altered. Shears become like another limb for an expert. David can cut a curve on material within a few thousands of an inch just by eye. He needs to be working almost as a single machine with the shears and the material to do this."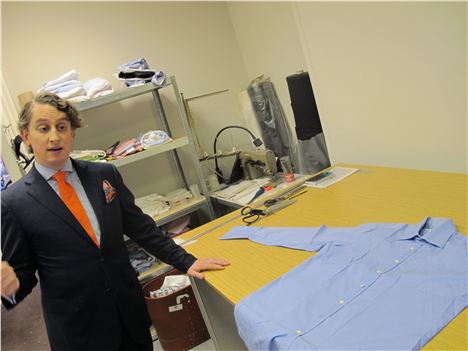 Ben Dean cautiously places himself between the shears and me in the cutting room
To find craftsmanship alive and well and pursued with enthusiasm is always attractive.
Frank Rostron on Princess Street is a place addled with crafty enthusiasm. The place looks like it should be located just off Savile Row, rolls of material in a myriad colours, shirts and suits galore, radiant ties, heavy wooden fittings, stately home settees and leather brogues.
Plus a musket.
Not sure why that's there, maybe some of the neighbours get uppity.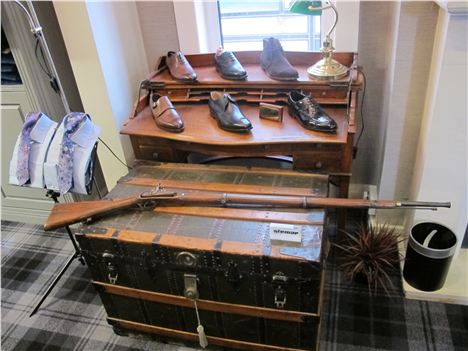 Bang bang with brogues
I was at Frank Rostron Bespoke Shirtmakers as part of a challenge. Could the shop measure me up and fashion a tailored shirt, monogrammed and beautifully finished, between 9.30am and 3pm on a single day?
Of course they could. They managed it with time to spare - after all if it's an emergency they can turn a bespoke shirt in two hours.
There was to be no branding on my shirt of course, because, "it's not our shirt it's yours."
There were questions.
"Do you want Italian slim, British slim, or American slim which isn't slim?" asked one of tailors.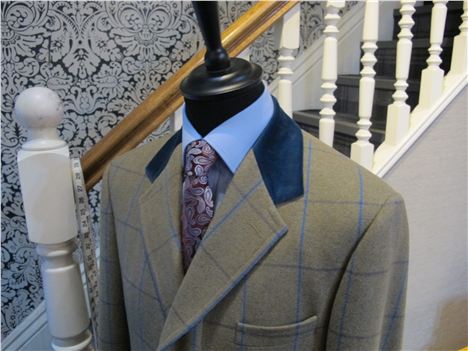 Frank Rostron
I was measured back, cuffs, waist, chest, neck and various other places I forget. I was asked whether I would be wearing cufflinks. It was pretty clear saying no would be the equivalent to pushing an elderly charity worker under a tram, just not done.
There were so many collars to choose from it was bewildering so I followed advice and went for the voguish man-about-town cut away collar. Collars, I learnt, are the hardest part of the shirt to construct, consisting of ten to twelve pieces. I went for a nice bright shade of blue, like a sea over a coral coast.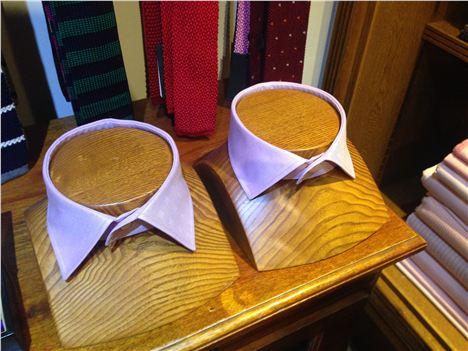 Not the easiest thing to assemble
Measurements done and material chosen, it was down to David with his shears and Kath, the seamstress, to put it all together, twelve pieces of collar and all. Both of these good folk have been working in textiles for four decades or more. This is an issue.
"One of the problems, is getting younger people who are qualified and talented enough to take over when the time is right," said Dean. 
In the sewing room I nosed around and found shirts about to be despatched to renowned 1980s rock stars and presidents of American film corporations. I'm not allowed to name any of these people as discretion is the better part of valour in the tailoring game.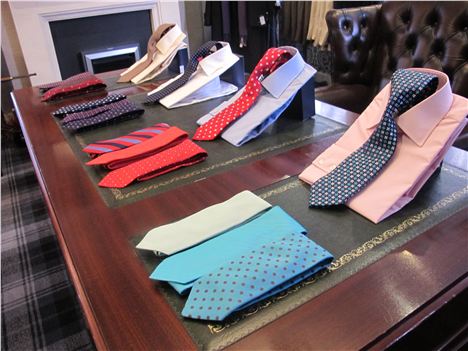 Frank Rostron
The shop opened in 1968 on Chapel Walks off Cross Street, spent time on Bridge Street, before settling on Princess Street. The eponymous Frank Rostron the founder of the business defined the phrase 'a proper character'. 
He once told me, "I worked with George Best for a while but gave it up. I told him, "George, you've got no business head, you're a lovely fella, but not with business."
So Frank went his own way and became a regular face around town. I remember him hailing me from one of his Jags, a glam lady in the passenger seat, a number plate spelling 'Shirts1'.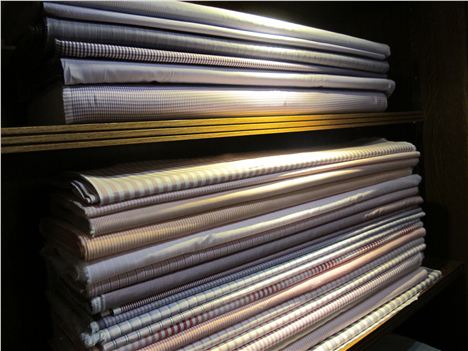 Shirt fabric bonanza
It was Frank who came up with the method by which the Frank Rostron team makes the majority of the sales. Tailors mooch down to London or to the US in cities such as Boston and New York, book a handsome apartment or hotel suite and open up. They also make office calls.
It's hard graft but works well. On one occasion an American business chap ordered £18k of kit, shirts and suits, in a matter of minutes.
But what keeps the attention talking to the staff is the passion for the craft. 
For example, fascinated by the trade, Dean, as a 17-year-old, travelled down from Burnley, came into Frank Roston and asked if he could watch a shirt being made. Shortly after he started working on Saturdays commuting from Burnley on the bus.
Then it was university and a job as a loss adjuster, but "I couldn't keep away and I'd work here when I could and be paid in shirts".
Dean eventually started full-time four years ago and now divides his days commuting to London and back where his wife also works in fashion. So it's weeks here, weekends there and several weeks away measuring and selling half way to heaven in American skyscrapers.
He still loves it despite the punishing travelling schedule. As do the staff he works with, Kath, David, Helen, Aaron and the other tailors.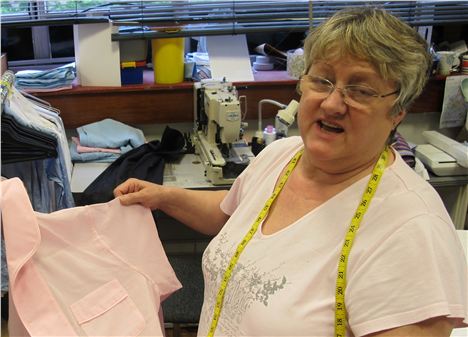 Kath, a proper seamstress
"I don't understand people wishing their lives away in jobs and hoping for the weekend to come. I suppose I'm lucky," said Kath.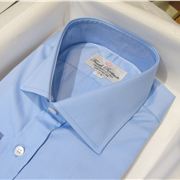 I adored my shirt by the way, a perfect fit in a beautiful material sourced from Italy, although Britain still weaves excellent cotton which the company uses, indeed there is a still a factory in Oldham which produces stock for Frank Rostron.
I also picked out an off-the-peg suit which was altered to fit like a glove in the same time frame as getting my shirt made up.
 You can take the plunge in Frank Rostron for a bespoke suit as well, although they are stitched elsewhere.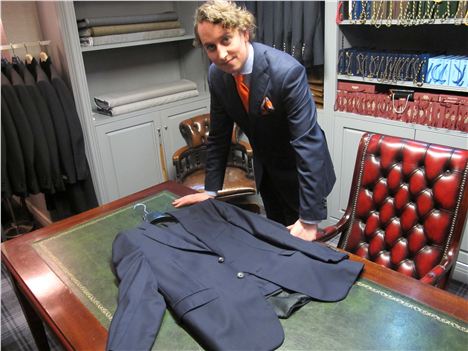 The right type of suit
"How long does one of your shirts last?" I ask Dean.
"We have people who get the collars and cuffs replaced on their shirts," says Dean. "Our handmade shirts start at around £160, but you can get cuffs and collars replaced for around £45. That's part of the joy, producing a garment that is really appreciated, is beautiful and is good value in terms of how much use you get out it. We have customers who are very loyal and have been with us from the beginning because of the quality of what we do. Getting it right is an ego boost."
Frank Rostron Bespoke Shirtmakers is at 29 Princess Street, City Centrre. M2 4FN. 0161 236 5379. Click here for website.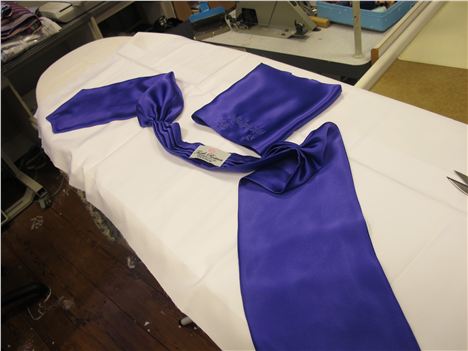 Lovely raw materials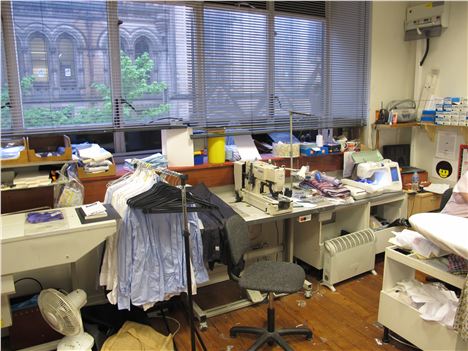 The business end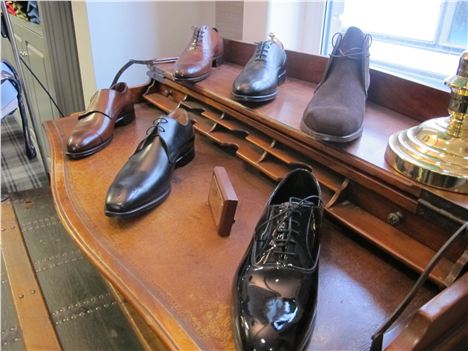 Shoes galore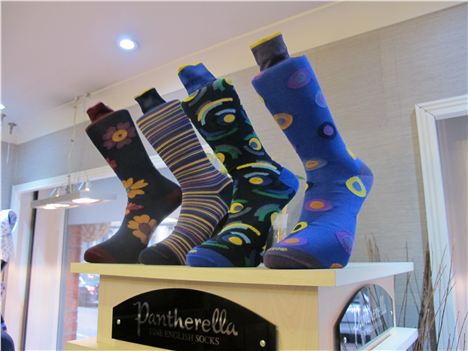 Socks too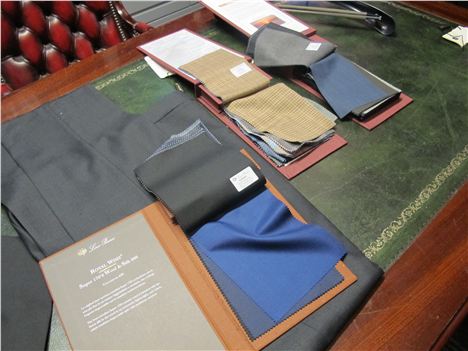 The material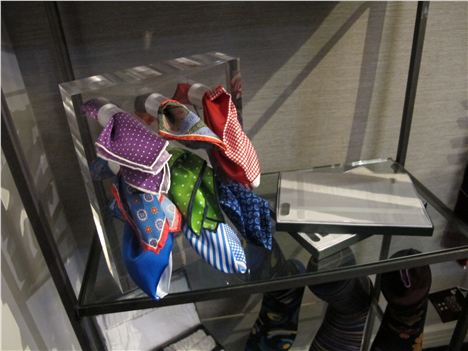 Elegant hankies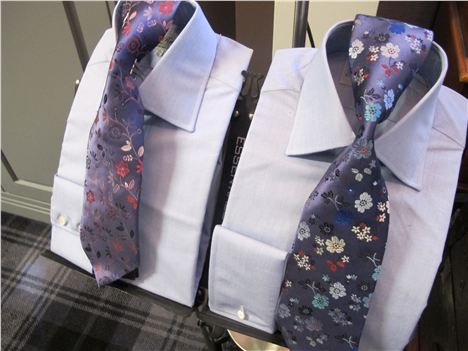 Classic menswear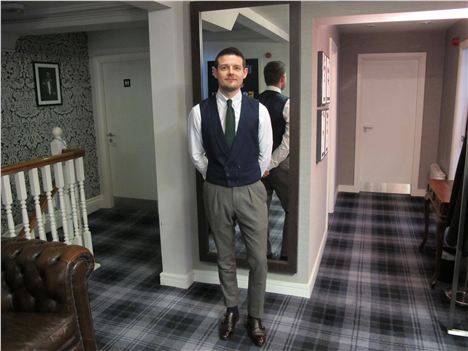 Dapper staff member Aaron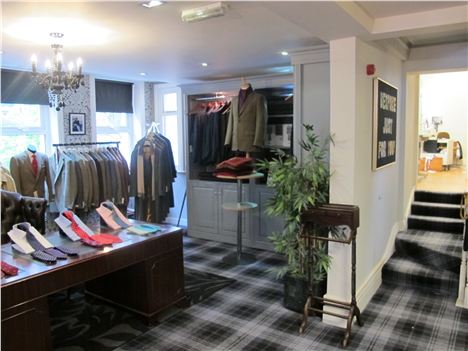 Frank Rostron: the shop interior