THE tables were turned on Manchester's top food critics on Monday, as Fazenda played host to the Too Many Critics dinner in aid of Action Against Hunger. Confidential's Gordo was joined by Bill Knott (Financial Times), Emily Heward (Manchester Evening News) and Ruth Allan (Manchester Confidential and Manchester Wire).
The challenge? To create their own meat marinade and serve it up in traditional Brazilian passador style. With 150 of Manchester's most discerning chefs and restaurateurs as guests, that's no easy feat, particularly when wielding large knives and a skewer...
The night was a testament to the generosity of the North
Competing for a meat hamper delivered monthly to their door for the next year, the pressure was on but it was ultimately Ruth Allan that emerged victorious, with her chicken Ethiopian Doro Wat marinade. This will be available at Fazenda for two weeks, with all proceeds going to Action Against Hunger.
BBC's food and drink presenter Nigel Barden hosted the evening, whilst a series of live auctions encouraged guests to dig deep for prizes spanning weekend escapes to signed football merchandise. Coupled with silent auctions and donations, this raised total proceeds to £18,773, which Fazenda rounded up to £19,000: an amount the charity estimates would save the lives of 452 severely malnourished children around the world.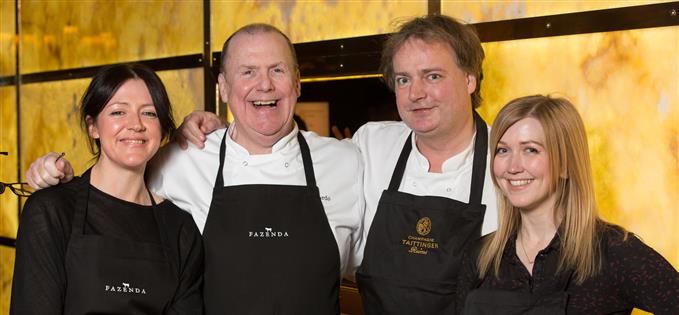 L-R: Ruth Allan, Mark Gordo Garner, Bill Knott and Emily Heward
Caroline Dyer, Fundraising Campaigns Manager, said: "The night was an absolute testament to the generosity of the North. Thank you to all those that came and helped us raise vital funds for our projects all around the world.
"Action Against Hunger works with a clear mission - to end child hunger - and, thanks to events like Too Many Critics and all the support we receive from the Northern food and drink industry, we are one step closer to achieving that."
The event was held in conjunction with Thom Hetherington's Northern Restaurant and Bar Show, the original incentive for bringing Too Many Critics up north.
Tomas Maunier, Fazenda's sales and marketing director, was pleased to be able to host the evening: "We are so glad we were able to host this year's Too Many Critics. It is a fantastic event which brings the city's food and restaurant community together for an incredible cause.
"My South American routes have made me very aware of how lucky we are in England, but also how generous we can be when it comes to helping others. We're very proud to team up with Action Against Hunger and be able to fund life-saving projects."