WE all welcome a good bargain, but how low would you go? How about £3.68?
It's no coincidence that £3.68 is in fact the national minimum hourly wage. Online fashion retailer, Shelikes.com has designed a dress called the minimum wage dress with this figure in mind.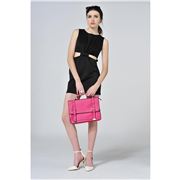 The MWDNick Puri, director at SheLikes.com, said: "Thousands of women, who are struggling to make ends meet, are constantly on the lookout for gorgeous outfits that make them look and feel a million dollars, without costing them that at the checkout. We wanted to offer all of those women an on-trend summer dress that they could buy, guilt-free, as we understand the pressures on women's wallets, as well as their wardrobes.
"SheLikes.com came up with the idea of the little MWD after speaking to our regular customers, who said they were always looking for affordable ways to stay on top of the latest trends, no matter what pay scale they're on. One hour's work equals one new dress with multiple ways to wear it."
The MWD is available in three colours: neon green, pink and black. A limited number are available from today (Thursday 20 June).