SMELLS can unlock forgotten memories. Some good, some bad.
For me, the smell of perming solution serves as a reminder of unspent youth, waiting for the painstaking process of my mother's hair being slathered with that stench and then wrapped up in a thousand tiny rollers. After marinating for what seemed like an eternity, the worst part was she was never happy with the result.
The Momoko Digital Curl offers the perfect solution for women who spend time curling with tongs, wands or rollers. 
"It just needs a few days to 'drop'" she would say while rushing me back to the car hoping no one would see her poodle do.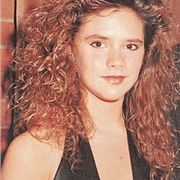 Victoria Beckham's 1980s PermAt the time it was difficult to see why she even bothered. In fact it was only when the 80s permed look phased out in the 90s that I finally began to get it.
When it comes to beauty, most of us, at some point, want what is virtually impossible for us to achieve. When your hair is poker straight and unable to hold a heat manipulated curl for more than a few minutes, it's no wonder people went for the failsafe approach.
Shame really, that back then there was no middle ground for curls like there is now.
A digital perm is the modern day take on the traditional perm. To create a more natural looking wave on straight hair, the process involves using bigger rollers for a tousled effect.
Popular in South Korea and Japan, Trevor Sorbie recently invested in The Momoko Digital Curl products and equipment to bring this technology to their UK salons, including Spring Gardens in Manchester.
Drafting in my very straight haired colleague Helen Downing to try a digital perm didn't take much persuasion. With my coarse, dry afro hair it's always astonished me how people with silky smooth straight hair would try and fight against it, but for Helen it's more to do with having options.
She said: "My hair is totally straight and lacks any volume. No matter how hard I try when styling it, it'll be flat as a pancake within 15 minutes. I find it hard to believe that my stubbornly straight hair will cooperate for this challenge, but I'm willing to give it ago to get the beach waves I've always wanted. "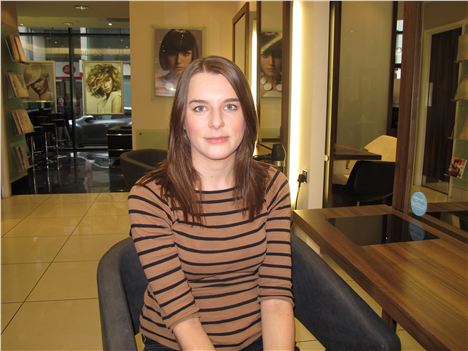 Helen's straight hair, before the digital perm
The process, as with any treatment involving chemicals, begins with a consultation.
It's important for Trevor Sorbie stylists to understand the history of the hair including if and when it has last been dyed before deciding if a digital perm will be suitable. That said, one of the great things about this particular brand and method, is it contains proteins and ceramides to maintain strength and condition, there's even a version with no alkali so causes no damage to the hair's cuticle, meaning for the first time it can actually be used on bleached hair in some cases.
Nathan Walker, Technical Director at Trevor Sorbie, travelled to Japan to train with the pioneers of the techniques and said: "The Momoko Digital Curl offers the perfect solution for women who spend time curling with tongs, wands or rollers. While this isn't a wash and go style, it'll drastically reduce the amount of time you spend styling and ensure your finished style doesn't drop out."
Music to Helen's ears.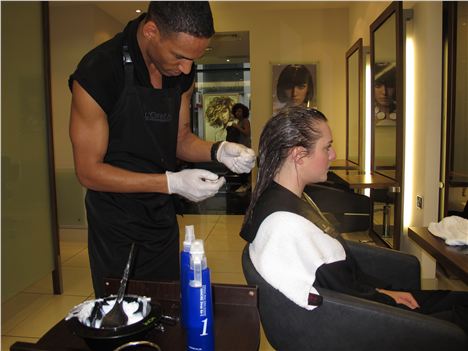 Ben tests the elasticity of Helen's hair after applying the perming solution
Arriving to her appointment, the process began with a good shampooing to make sure her hair was free of any dirt or products. Her stylist, Ben, then applied the perming solution to Helen's hair in sections, starting at the nape.
Once applied, Ben then monitored the hair by pulling it to test its elasticity at intervals. When the hair showed signs of stretching, after about 15 minutes, this meant the perming solution had worked and it was time to rinse off.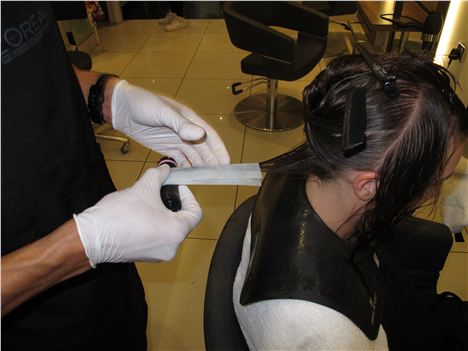 Helen's hair is rolled into big rollers
One thing to be noted about the products used is that they don't smell half as bad as those old fashioned perming products. Plus unlike years gone by, the solution is rinsed off before the hair is put into rollers, making it less harsh on the hair.
Once rinsed off thoroughly and followed by treatments that protect the hair and make it stronger, big rollers were placed over the entire head. In order to protect the head from heat, heat resistant pads were then positioned in the gaps.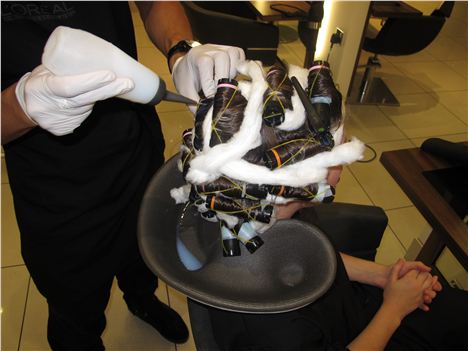 Helen's hair protected from the heat
Then came the fun part.
For the next 15 minutes, Helen resembled a mad scientist.
Once cooled, a drizzle of fixing lotion to secure the brand new bonds and to keep the shape.
Helen's rollers are heated up using the digital perm technology
Ben removed the rollers to reveal part-dried, loose waves. To finish off the process, he applied a light curl defining crème before blow drying with a diffuser and manipulating the waves with his fingers and a rather nifty cone attachment on the hair dryer.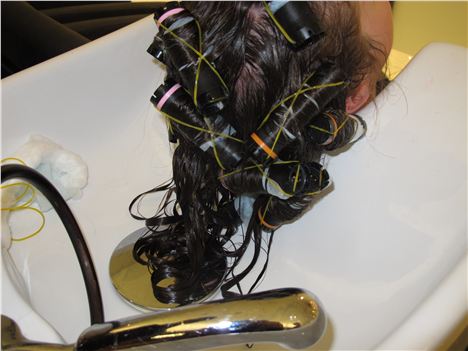 Ben removed the rollers to reveal Helen's tousled hair
The result? Beachy waves that Helen can enjoy 3-6 months with minimal styling.
Helen said: "After the rollers came out I could already noticed a difference to my hair. Styling then made it even more wavy and it also appeared thicker and voluminous. It did drop out a bit by the time I got home, having walked in the wind and rain, but waking up the  next morning it only took a spritz of salt spray to achieve a lovely subtle wave which held well all day.
"I'm a bit nervous about learning how to style it myself over the next few months but excited that I can try out new products and actually use a diffuser for the first time in my life."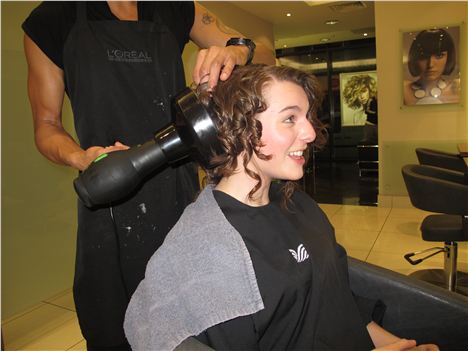 Ben dries Helen's hair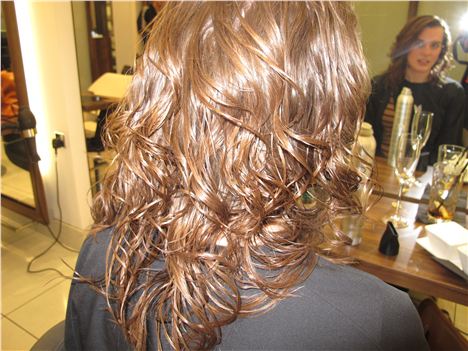 The finished wavy look
The Momoko Digital Curl costs £250 at Trevor Sorbie Manchester.
Trevor Sorbie Manchester is currently offering Body Confidential readers digital perms at the discounted price of £200.
To take advantage of this offer, simply quote 'Body Confidential digital perm' when booking your appointment.
This offer is available until Monday 14 October 2013.