HAVE you ever tried watching The Real Housewives of Cheshire? No? I watch it for anthropological research. Honest.
I'd be experiencing the same marvelling bit of science used to destroy cancer cells and restore injured athletes to fighting fit
It's riveting what goes on in the North West's 'golden triangle'. In one particularly bonkers episode, two cast members hopped into a cryotherapy body chamber for three minutes while freezing liquid nitrogen shocked their body 'slim'.
"I'm a sucker, I'll try any of these things," said the most Cheshire of the elite Cheshire set.
"They do say where there's no brain there's no feeling," she continues, "you could wrap me up in tinfoil and pop me in the oven for two hours if I came out looking good."
I'm not so much of a sucker, in that respect, but to try the now highly publicised 'freeze weight loss treatment' seemed as if it would take balls (then if I had balls they might freeze right off).
And how cold is cold? Well, according to some reports cryotherapy treatments can drop to around -160°C.
Ouch. Let's put that into perspective; the average fridge freezer is -18°C; Antarctica, the coldest climate on earth, once dropped to -93.2°C; while dry ice, those crystals dropped into fancy cocktails, are somewhere around -103°C.
Cryotherapy, it seems, is even colder than falling out of Bijou nightclub on New Year's Day wearing nothing but a strapless bodycon dress and peep toe heels.
"You'll be suprised. A cryotherapy treatment can actually be an enjoyable experience. Your endorphins levels will rise, you'll look great, lose inches and cellulite," explained Kelly Holmes, therapist at Cryotherapy UK - one of the UK's first dedicated clinics based within Spinningfields' Nicky Clarke salon.
"There's different types of cryotherapy techniques. Unlike the body chambers, we use a localised treatment on specific body parts as we've seen much better results."
The cryo team would be targeting my wobbly thighs over six sessions... after a little persuasion.
They claim clients can burn up to 800 calories in one session, reduce cellulite, boost metabolism, reduce fine lines and wrinkles, heal injuries and so on. It's a far easier alternative than the frankly fear-inducing body chamber (tragically a Nevada spa worker recently died after locking herself in a chamber) and all I'd need to do is lie down.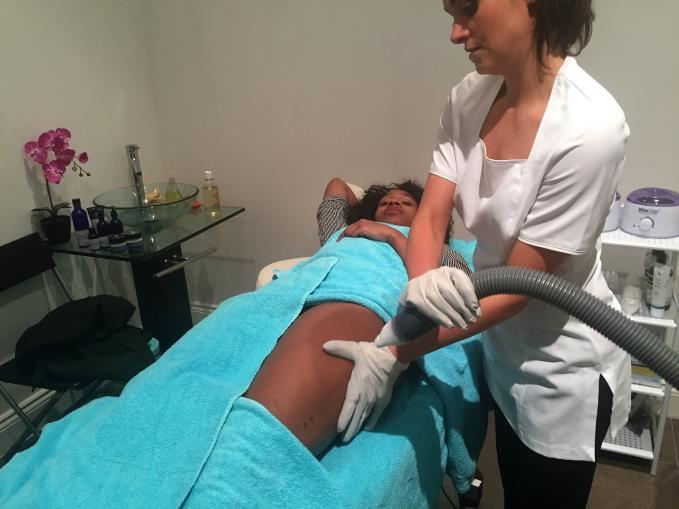 L'Oréal tries Cryotherapy
WATCH:
Freeze therapy costs a hefty £110 per treatment (£550 for six), but I'd be experiencing the same marvelling bit of science used to destroy cancer cells, restore injured athletes, ease painful arthritis, improve sleep and release endorphins.
So how does it work?
A liquid nitrogen tank pumps out a freezing cold vapour while a trained therapist, Kelly, massaged my legs to keep skin warm during the 30 minute treatment.
The sub-zero temperatures send signals back and forth to the brain, these messengers tell the brain if there is damage to the tissues or bone. If there are excessive fat cells and cellulite (which I certainly have), the fat cells will 'collapse' reducing the density of fat giving the desired loss in body density and dress sizes, I'm told.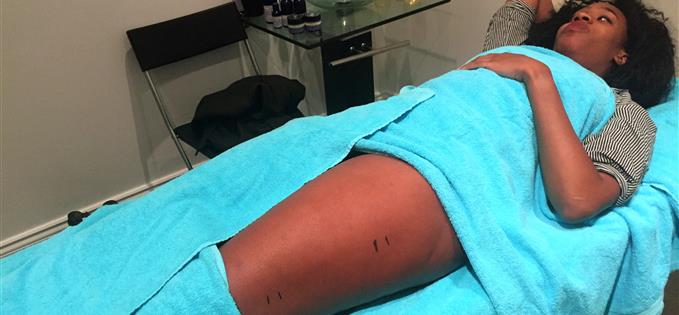 L'Oréal's first session of Cryotherapy
So what does it feel like?
Cold, obviously, but not unbearably so. At first it feels as though you're parking your rear end into a fridge freezer. The more numb your legs become, the more relaxing it becomes.
With each session I did experience lost inches. On my first session I lost 7.5 inches... then gained them all back again. Still, by the last session I had lost eight inches in total (see results below).
I'm delighted - inches lost is always good news.
Though, at first it did take some convincing that my thighs looked slimmer (I've had mum inspect my bum for dimple improvements), because it's certainly not a drastic change. After £550 worth I'm unsure 'a bit' of difference is entirely worth the expense.
"You will always see improvements after each session but maintenance is key. If you follow each session with alcohol and pizza then you'll gain the inches back," explained my lovely therapist. "A good diet, lots of water and exercise is important if you want the results to last."
Herein lies the issue - 'maintenance'.
To assess whether this has really worked for me, lifestyle has to come into consideration.
Before cryotherapy I'd gained a stone. With all Manchester's new bar and restaurants openings my diet had become rich and laced with white wine. While the 'freezing treatment' could potentially fix my cellulite it could never fix my bad habits.
So I've been going to the gym and paying more attention to my diet - couldn't this be the reason my thighs are slimming?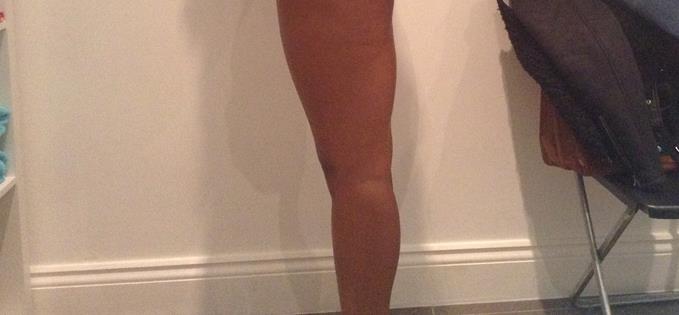 L'Oréal's thighs after all Cryotherapy treatments - cellulite visibly improved, eight inches lost
Overall, cryotherapy testomonials are glowing and 'the science' has long proved cryotherapy has a multitude of health benefits. One Cryotherapy UK customer claims to have lost seventeen inches from her stomach in eight sessions.
While my thighs have certainly improved I will have to spend a little longer in sub-zero temperatures before they look like Naomi Campbell's pins.
Still, one thing's for sure, from now on 'freezing my ass off' will take on a whole new meaning.
| | |
| --- | --- |
| Session Date | Total Inches Lost |
| 1 (22/9) | 7.5 |
| 2 (7/10) | 4.5 |
| 3 (14/10) | 5 |
| 4 (27/10) | 3.5 |
| 5 (28/10) | 2 |
| 6 (4/11) | 4.5 |
Find out more about Cryotherapy UK on the website or call 0330 111 4077 to book.
Prices start at £110 per treatment.
Follow @LOreal_B on Twitter