FINDING a foundation that matches your complexion is pretty complex. Most women find it a task to be endured and I'm no stranger to the struggle.
I am brown. Yet you'd be surprised how many browns there are.
I am the colour of varnished wood floors;  a warm almond, or a milky coffee colour, if you will.
Swivelling me round to face the mirror, I was stunned by the reflection looking back at me. Six months foundation free and I was now a matte, ceramic mannequin.
With such a specific hue, you may not be surprised that I've not yet found the perfect shade of foundation. At nearly 25-years-old, it's been a decade of trial and error.
My first foundation was 'stolen' from my mother's vanity case. It was a very old liquid foundation with no brand name, in what looked like a medicine bottle. It poured out with a thick, gooey consistency that looked like something you'd use to fill in the cracks of a wall with.
On the day of my school prom I slathered it on with eager enthusiasm.  My pimples successfully covered under a heavy layer of brown cream. It slid on like camomile lotion for chicken pox.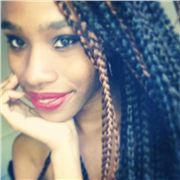 L'Oreal BlackettWhen my prom photos came back, I was horrified to see I looked like a Japanese Geisha –with an incredibly pale face and dark body. The flash of the camera showed I was sporting a grey mask  and highlighted the tide marks of  my unskilled fingers, dragging this cheap make-up across my greasy, acne-riddled skin.  The photos have been securely hidden away. 
I've since become far more dextrous when it comes to applying makeup yet I still struggle to get the colour of my foundation just right. Recently I gave up completely and I've actually been foundation free since January.
Yet with big cosmetic brands forever trying to perfect the hues and tones of their foundations to make sure every woman is catered for, lately I've been tempted to give it another try.
So, with possibly the most awkward shade on the Dulux colour charts,  I set some of Manchester's makeup counters the challenge to find me the correct foundation. Completely unbeknown to them I was noting their sales pitch for this article...
---
Black UP, Debenhams Manchester, 123 Market Street, M60 1TA
"Black UP? As in Black face? As in incredibly inappropriate?", I muttered under my breath as I approached the counter. 
What possibly could 'Black UP' mean? It was a question that was going to remain unanswered.
"It's a Parisian line." I was told.  That didn't clear up my confusion with the name, but I was still intrigued to try the brand.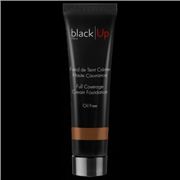 Black UPBlack UP is one of the growing number of skin tone specific brands introduced to help tailor makeup to individual client needs – much like Girls Aloud's Nicola Roberts and her beauty range for fair skin, Dainty Doll. 
So surely, as a specialist in darker skin types, my search for the foundation match should start and end with Black UP? My hopes were high and quickly dashed.
With a suitable amount of Parisian nonchalance , the beautifully dolled-up makeup artist tucked me under the counter and began lathering my face with a cold moisturiser without so much of a warning. Picking a brand from the liquid foundation line, she began working on my face.
Blacking me up.
Swivelling me round to face the mirror, I was stunned by the reflection looking back at me. Six months foundation free and I was now a matte, ceramic mannequin. Gone were the acne scars of my teenage years, yet now I looked like I didn't have a soul.
There is such a thing as having too perfect skin, it seems...
Taking my sample and a face wipe, I bid her adieu and au revoir.
Pick: Full coverage cream foundation:05
Price: £26
Match: 2/5
Customer Service:  2/5
Overall Experience: 4/10
---
Benefit, Debenhams Manchester, 123 Market Street, M60 1TA 
Spotting a smiley lady with immaculate dewy skin and architecturally arched eyebrows, I asked whether Benefit could recreate the look on myself.
Looking back at me with a mixture of guilt and shame, she apologised profusely as Benefit didn't have anything for my skin tone.
Whilst I reassured her that it was okay, apparently not one to give a half-hearted service she told me that another 'woman of colour brand' would be a better fit and better yet she would take me.
Half expecting her to take me by the hand, she led me over to the 'Fashion Fair' counter...
I appreciated her will to go the extra mile and mentally noted 10 points for customer service.
Pick: none
Price: N/A
Match: 0/5
Customer Service: 4/5
Overall Experience: 4/10
---
Fashion Fair, Debenhams Manchester, 123 Market Street, M60 1TA
Fashion isn't always fair, apparently.
Tagging behind the helpful Benefit sales assistant, I was left in the hands of yet another 'women of colour' cosmetic brand.
"We're going now" they said as they hastily packed away their beauty tools.
"What time do you close?" I asked the Benefit  sales assistant.
"Well Benefit are open here until 8pm", she said, again with that wide eyed apologetic look. It was only 6.15pm.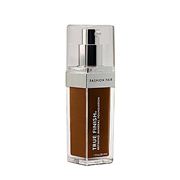 Fashion FairMaybe it was a little late in the evening.  Maybe the shop was quiet for a Saturday evening. Maybe these ladies had somewhere else more important to be. Maybe.
Yet with two hours until Debenham's official closing time, maybe these ladies could have helped me out.
Fashion Fair's head sales woman, in a weak attempt to not lose a customer, quickly sight tested me.
"She's a 'Tender  Brown'" she ordered to the Benefit sales woman from the other side of the counter. Then she hurriedly handed me a cue-tip with a blob of brown foundation that looked exactly like what you would find after a thorough clean-out of your ears.
With the Fashion Fair ladies in a rush to go home, Benefit's sales assistant, who was going above and beyond her station now, stepped in to try and colour match me with the 'Tender Brown'.
It didn't match. Not that the Fashion Fair's ladies noticed, they were busy making moves by this point.
Unimpressed, I handed back the cue-tip, thanked the Benefit sales assistant for her help and went on my way.
I know when I'm not wanted.
Pick: Tender Brown
Price: £23
Match: 1/5
Customer Service: 1/5
Overall Experience: 2/10
---
MAC, Selfridges & Co, 1 Exchange Square Central, M3 1BD
Walking up to MAC counter in Selfridges feels a lot like trying to mingle and infiltrate the cool clique in high school. You feel awkward, shy and extremely aware of yourself and what you're wearing.
It's one of the biggest makeup counters in Selfridges, with one of the largest sales teams who 'rock' a quirky style, wearing nifty tool-kit belts for their makeup brushes.
Alternating between checking their own makeup, talking to customers and what can only be described as 'jujjing' their hair in the many mirrors that surround the MAC counters, one of the makeup artists spotted me browsing their foundation display.
Sitting me down in one of their director style chairs, I was asked what I wanted. I said a foundation.
"But what kind of foundation?" she urged with a smile.
That's because there's a lot of choice. And with MAC you are really spoiled for choice.
To get matched to a foundation, you must first reel off your skin care history, your likes and dislikes and your makeup hopes and dreams.
Do I have oily skin, dry or normal? Did I want a powder or liquid? Do I want to be natural or was I veering to the more 'Towie' heavy faced, partying at the SugarHut look?
I told her I wanted to look like me, but better.

MAC
Unfazed by my ambiguous request, she began testing the Studio Fix Line against my skin. Apparently it was thick enough to hide my blemishes but not likely to make me look like a lady of the night.
Talking me through the colour match process, she explained MAC's quite sophisticated foundation range. It's not just a case of shade, they acknowledge the different underlying tones of clients' skin.
NC – are for yellowy tones and NWs are warmer made specifically brown skin with underlying pink and red skin tones, she explained.
I'm an NC and with that finding, she 'swatched' two possible matches on my face and handed me a mirror so I could compare the two looks. Choosing the one that blended in with my skin the closest, she made up just one side of my face.  
Comparing my un-made face to my now done up side, I felt like the 'Two-Face villain' from the Batman chronicles. The naked side of my face just felt rubbish next to the new blemish free 'better me' side.  As the first foundation that I'd found that closely matched, I felt I had to have it.
At that moment, I understood why my friends say "MAC is crack."
Pick: Match Studio Fix Fluidline foundation NC:45
Price: £20.50
Match:  4/5
Customer Service: 4/5
Overall Experience: 8/10
---
SmashBox, Boots, 32 Market St, M1 1PL
When choosing a foundation, I always inspect the makeup artist's handy work on their own face first. After all, you wouldn't take personal training sessions from someone who wasn't rippling with a six pack.
Smashbox's girls seemed to be going for that aggressive marker pen eye browed, party-time slap and jarring David Bowie blusher look. So I approached tentatively.
Aggressive eyebrows aside, I was greeted by a cheery, lovely girl who was confident that Smashbox had the perfect shade for me. But aren't they all confident?
Smashbox has a far more modest counter than the rest of the store and was far less intimidating than in the big department shops.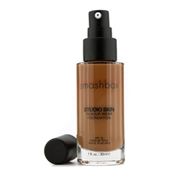 SmashboxTalking me through the foundation range, the sales advisor picked out Smashbox's Long Wear foundation that she assured would last up to 15 hours. I don't know what I would be doing for that long but her eagerness had me convinced that a durable and long lasting foundation was just what I needed. Believe me I would put it to the test.
The finish of the foundation was a very full and dramatic coverage as expected for a foundation that was expected to last all day.  Importantly it did somewhat match my skin, yet with the amount of foundation on my face I was thankful I wasn't wearing white. It would be pretty dangerous to get near a man with a crisp white shirt.
It would need to be air kisses for the next 15 hours.
Pick: Studio Skin: Long Wear Foundation
Price: £27.50
Match: 3/5
Customer Service: 3/5
Overall Experience: 6/10
---
Chanel, Boots, 32 Market St, M1 1PL 
Bounding up to the Chanel counter, the tired sales advisor who greeted me already seemed a little defeated.
I was offered no seat and as the assistant chose a very deep dark maroon shade from Chanel's liquid foundation range, I could tell that this wasn't going to go very well.
As she stroked foundation across my jaw line, I hoped that she had something I could take it off with.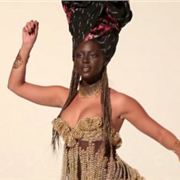 Beyonce Does Black FaceAs opposed to the Geisha look, this was going to be Beyoncé in that scandalous Black face editorial spread look.
Once again, I was given the now all too familiar look of uncertainty and guilt for her employer's lack of range. Reassuring me that it looked nice, I was unsure whether it was me or her who had the bad eyes.
Sure, not every brand is going to produce a match-perfect foundation for me, but I had hoped Chanel would come up with the goods.
The foundation itself felt lovely, light and much like the brand, a bit of luxury.
I've coveted the Chanel bag, the Chanel jacket and I'll still be coveting a Chanel foundation that matches my skin tone unfortunately.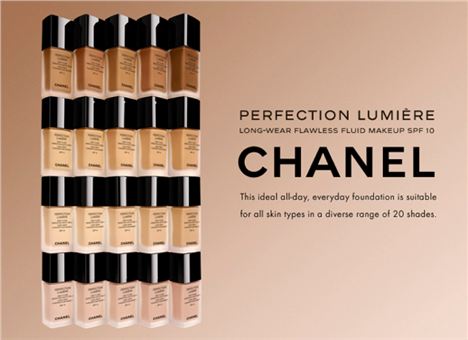 Chanel
Pick: Chanel Perfection Lumieré
Price: £36
Match: 2/5
Customer Service: 2/5
Overall Experience: 4/10
---
Bobbi Brown, Trafford Centre, M17 8AA
For the second time, I had to peel a sales assistant away from  'jujjing' her hair in the mirror.
Jumping at the sight of me lurking behind her, she sat me down and told me she would be right back.
She never came back.
Noticing me waiting impatiently, a far more helpful assistant appeared armed with a tool kit of brushes.
Now this was a girl who knew what she was doing.
Speaking with an airy voice reminiscent of a Swedish masseuse and/or yoga instructor, she talked me through the Bobbi Brown natural makeup philosophy. Bobbi's aim was the same as my own demand; Bobbi wants her clients look like themselves, but better.
First stripping my skin of makeup, I was asked whether I used a primer. I told her I used mere old moisturiser and I didn't think I needed one. She smiled and shook her head at my apparent rookie mistake.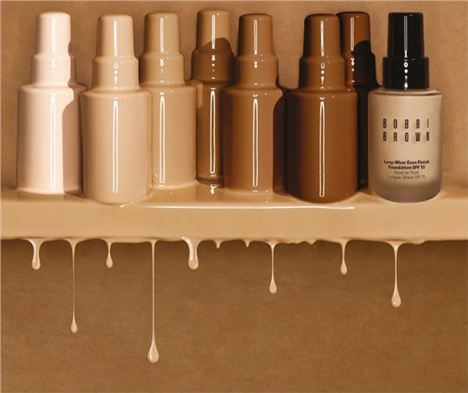 Bobbi Brown
A primer, I was told, was a type of moisturiser and  the only way I could keep the foundation on my face for long, give my foundation the perfect base and moisturise my skin at the same time. It smelt pretty and had a light, velvety consistency, yet I was still unconvinced I needed it underneath a foundation.
She was trying to up-sell, of course.  I knew her game and it was a game well played.  
It's easy to get caught up in all the makeup jargon in department stores. In the space of a few minutes I was told I needed, alongside my foundation, a primer, finishing powder and concealer – just to look natural.
Looking like myself was going to be expensive.
Applying three swatches on my face, she whittled it down to two shades: a 6 and a 6.5. Believe me, that 0.5 degree makes a world of difference. Finishing my full face with a light powder, I was delighted to see that the result was a very natural, matte finish as promised.  
Again, another big win for a big brand.
Pick: Foundation Skin 6 (Golden)
Price: £30
Match: 4/5
Customer Service: 5/5
Overall Experience: 9/10
---
Tom Ford, Trafford Centre, M17 8AA
I was greeted by the most immaculate man I've ever seen.
Dressed in a uniform of a waistcoat and white shirt, he reminded me of a waiter from an old black and white movie.
Sitting me down at what felt like a girl's dream dressing table, he gently rolled out a set of red make-up brushes and I half expected him to whip me up a Martini.
With his manicured hands he tended to my skin with such care, I felt precious.
He raised my chin with the very tips of his fingers to face the light, dabbed primer on my face with the softest part of his hand, he even wiped my brow.
It was pretty evident; Tom Ford is all about luxury grooming. And I loved it.
Every so often, my makeup artist would refer to the elusive Tom Ford. "Tom Ford doesn't want to hide skin but bring it out. Tom Ford is all about the drama."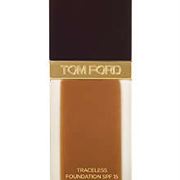 Tom FordTom Ford is my kind of guy.
A light and dewy foundation was picked and again tested between two shades along my jawline, ensuring that my face matched my neck and chest.
In between brush strokes with what was the lightest foundation brush that has ever graced my face, I was showered with compliments, which apparently for me, is a sure-fire way to butter me up and make me part with my money.
It was a case of sit back and let Tom Ford's beautician work magic.
On the big reveal, I was pleasantly surprised. The foundation matched very closely, plus I was glistening. The foundation gave me a subtle shimmer that made me look as if we in Manchester actually have summer.
Refusing to stop at just my foundation, he added a blusher, purple lipstick, and lipgloss.
So how much would this wonderful foundation cost? £60. More than double the price of all foundations mentioned.
Oh Tom Ford, why do you tease?
Pick: Traceless Foundation 10 Praline
Price: £60
Match: 4/5
Customer Service: 5/5
Overall: 9/10
---
Final thoughts...
Coming home with a purse full of testers, I was pleasantly surprised at the amount of range some current big brands had on offer.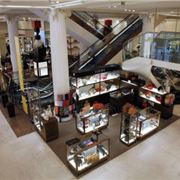 Browsing through the vast amount of golden, almonds and maroon shades, it felt fantastic to finally have a wide choice and 7/10 times there was a darker skin range,which is a massive improvement  from the cosmetic companies.
When it came to choosing a brand though, it was the sales staff that helped secure the final choice. Makeup isn't cheap and it's likely when picking my foundation I'll stay loyal to it for a long while to come.
All in all, maybe there isn't an entirely perfect match, but this week I came pretty close to finding one.
Follow L'Oreal on Twitter @loreal_b