FOR the first time in recent memory, the big news in Manchester food and booze this past month has not been that of new openings, rather a recent succession of closures.
...perhaps it's most telling that many of the vacated sites have quickly been snapped up again
Three more city centre-based restaurants – Burger & Lobster, Urban Cookhouse and Bourbon & Black – have each announced either a downsize or departure in the past week, less than a month after Manchester lost four restaurants - Quill, Splendid Kitchen, Grinch and Khan Baba – in the space of seven days (read here).
To some, such as Urban Cookhouse owner Tim Coulston, the recent string of closures marks the end of the city's restaurant boom.
"Following the volume of restaurant openings in Manchester over the last twelve months, the 'restaurant bubble' is beginning to burst," says Coulston. "It seems there just aren't enough people living in the city centre to fill all these new openings."
The folks behind Burger & Lobster, meanwhile, said the issue was not so much the size of the city, more the size of their venue.
"We're looking to either split the existing site in half and work with two concepts, or relocate to a smaller venue." says the group's Head of Marketing, Maisie Denning.
Elsewhere, the owners of Splendid Kitchen and Grinch laid blame for their closures at the feet of Transport for Greater Manchester and their three-year long Second City Crossing (2CC) project - which has largely written off Cross Street since works began in January 2014.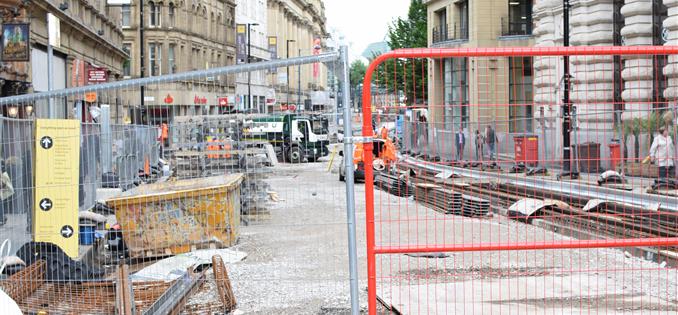 Owners of Splendid Kitchen and Grinch blamed Metrolink's 2CC project
Quill also bit the dust last month
But can you really argue that seven closures, amongst a staggering number of new openings (see here and here), truly represents a restaurant recession? Ignoring for a moment the inherent risk of the restaurant game (which could alone account for the losses), are we not simply witnessing a straight-up survival of the fittest - an unfortunate but inevitable outcome of poor decisions, poor concepts, poor locations and, sadly, poor quality?
Let's take a look at Burger & Lobster (main image), a Russian-owned restaurant group with bags of cash which less than a year ago dropped a vast 250-cover venue in Manchester based solely on the back of its success in London - a megalopolis with a largely transient population and over 30 million visitors a year. As a colleague points out, 'Manchester's tourism industry is growing, but compared to London it's still a pinprick on the arse of an elephant'. The two cities are incomparable. They were simply never going to fill it.
Or Quill, whose combination of extravagant tasting menus and 'true exclusivity' failed to strike a chord within an increasingly casual dining market. Or Urban Cookhouse, a self styled 'New York eatery' whose offer of nachos, ribs and pulled pork felt oddly placed and years too late. We could go on, but the loss of a business is pain enough.
Perhaps what's most telling though is that many of the vacated sites have quickly been snapped up again. My Thai has already opened in the old Splendid Kitchen site, Mace is about to launch in the former Khan Baba place on Liverpool Road, whilst we understand a deal has already been struck on Quill's King Street site.
"And what about Rudy's?" says an industry pal. "They opened a bare-bones pizza parlour on a budget of about three quid in a totally untested site in Ancoats far removed from anywhere considered a prime spot... and you can't even get in the bloody door!"
They have a point. Recent research by industry consultants CGA Peach revealed that small, independent operators now account for 40% of restaurants in regional cities such as Manchester - up from 34% five years ago. Good news then, and a counterpoint to the perceived march of the big London bully chains strangling Manchester's noble indies.
As competition intensifies, those restaurants which refuse to adapt and pull their socks up could close, of course they could. But many more will open, with the likes of D&D and Volta at The Refuge, alongside chefs such as Gary Usher and Michael O'Hare widening the offering and driving up standards. And that can only be a good thing for the punter.
So why did these restaurants close during a supposed restaurant boom? I'm sorry, but the truth is there were better places to be.
Follow @David8Blake on Twitter.
Powered by Wakelet