WE found luxury health clubs with lengthy month-long waiting lists, top-of-the-range gyms unwilling to reveal their high prices (looking at you David Lloyd), and gyms who wanted to lure us in and then hit us with committed contracts longer than the average marriage. These gyms didn't make the list because, well, who has the time? Come 1 January, when our stomachs are round and cheeks fat (all cheeks), we need to be ready to hit the ground running wearing our new expensive Fit-bit and glow in the dark trainers.
So, to set you off on your journey to a far less hedonistic and gluttonous 2017 (well, give or take a few glasses of Prosecco and the occasional five-course slap up meal), we've compiled a list of the cheapest and dearest gyms in Manchester in 2017. From the sweat-boxes stuffed with top-heavy protein shake guzzlers, to the yoga havens that will have you contorting your legs around your face in no time.
(All listed prices are for peak monthly memeberships and were correct at the time of publishing. Please contact the individual gym for full T&Cs)
DEAREST (MONTHLY MEMBERSHIP OVER £40)
ULTIMATE PERFORMANCE FITNESS | £399 6 week semi-private personal training program
Old Granada Studios, Quay Street, Manchester M3 4P
After carving a name for themselves in London, Singapore, Hong Kong and Marbella, UP Fitness launched their Manchester branch earlier this year and have been transforming bodies ever since. The before and after results are near unbelievable at UP Fitness: rippling abs, chiselled bodies - basically a whole new person than the last. In six weeks, UP Fitness aim to get you the body you've always wanted – and for £399 for a six-week fat burning program, you'll make sure to work for it. You may have gathered that this is not your typical gym, UP is all about personal training – so you can't just rock up and work out. They've developed a unique six-week fat loss / fat burning workout programme to help you build muscle, get a six pack and burn body fat in a short space of time (willpower is always required, though). The personal training programs take place in their shiny new gym at Old Granada Studios, soon moving to Spinningfields XYZ building.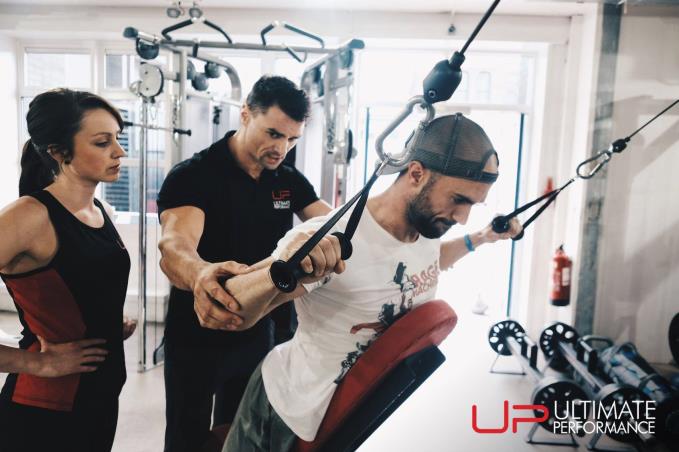 UP Fitness
TRAIN MANCHESTER | £75 membership, unlimited access
6 Arundel Street, Manchester M15 4JZ
Squat, press, push, row and run - the key CrossFit techniques to get that enviably strong CrossFit body (great quads and even greater glutes). And there'll be no hanging about at Train Manchester as these strong guys and gals mean business. Spread across three Manchester locations, Train Manchester and its team of coaches focus primarily on the sport of CrossFit and teach varying workouts day-to-day known as 'WODS' or 'workout of the day' which combine elements of cardio, weight lifting, gymnastics, core training and more to give you a well-rounded session. With the £75 monthly all-inclusive membership, Train also offer a number of additional strength classes including gymnastics, weightlifting and conditioning, with the benefit of motivating hands-on coaches. Most importantly, they tell us it's a social community which supports members to reach goals.
SIENNA SPA AND HEALTH CLUB | Premier: from £65 (monthly) – Anytime: from £49 monthly
Radisson Blu Edwardian, Free Trade Hall, Peter St, M2 5GP
Under the listed arches of the Radisson Blu, Free Trade Hall you can sweat it out in luxurious surroundings. We'd suggest buying a smart Nike gym-set and leave the baggy sweatpant and oversized t-shirt at home. Premier packages can reach up to £1,100 annually for couples or £65 monthly and include one monthly spa treatment. For the simple anytime membership, you pay £49 per month if you sign up for a 12-month membership.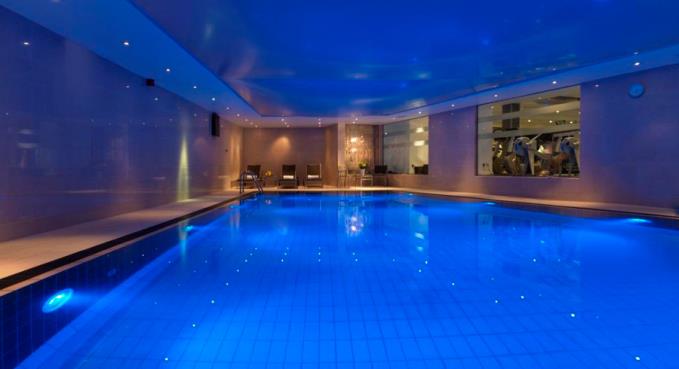 Sienna Spa
NUFFIELD HEALTH | £46 Monthly, 12-month committed contract
Printworks, 27 Withy Grove, Manchester, M4 2BS, 0161 820 2575
Formerly Virgin Active, Printworks' Nuffield Health is a stylish gym with a lot to offer facilities-wise – including a swimming pool and physiotherapy service. True to its name, Nuffield Health say the most important thing to them 'is your health' so also offer professional health care services, and a 'team of health experts' to offer you the support you need to lead a healthier lifestyle. On a £46 per month contract for twelve months, you'll receive two free health 'MOTS' with their wellbeing personal trainers, a personalised exercise programme and access to Nuffield Health experts such as physiotherapists, physiologists, personal trainers and nutritional therapists.
VIRGIN ACTIVE SALFORD QUAYS | £59 per month (£20 joining fee) / £66 full-flexi monthly pass. 12-month contract
Unit F31 Lowry Outlet Mall, The Quays, M50 3AH
Virgin Active Salford Quays relaunched in 2015 with a £4.5 million makeover. The gym is glorious. The refurb has seen the club's gym floor, group exercise studios, changing rooms and swimming pool transformed with an additional 1400 square feet being added to the club. The club now features Virgin Active's most popular innovation of 2015 'The Grid', a functional training space where members can take one of four high-intensity 30-minute classes, each one based on six core movements of push, pull, squat, lunge, twist and bend. The shiny new gym includes sauna and steam room.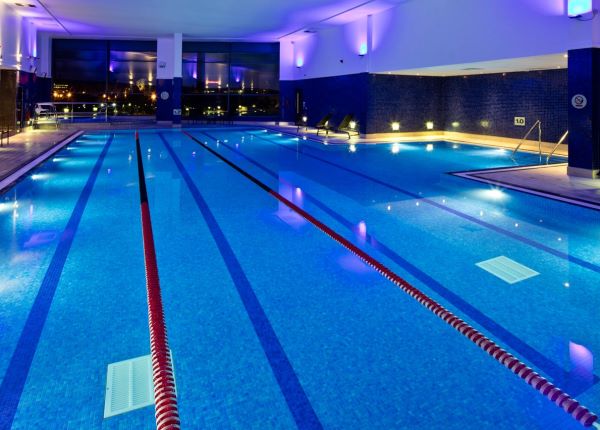 Virgin Active, Salford Quays
LIVING WELL GYM at The Hilton | £40 monthly, 6-month contract
03 Deansgate, Manchester, M3 4LQ
Living Well says it is a health club that cares, and with a good mix of gym and spa facilities it seems to do just that. And a good view can transform the monotony of treadmill pounding into something a little less mind-numbingly boring. The Living Well gym based in Manchester's 47 storey Beetham Tower allows you to pant away and people watch while looking over Deansgate, in its quaint yet luxury health club. We were offered £40 month with full access to the sauna, steam room, pool and gym at any time. Opens from 6am until 10pm.
CHEAPEST (MONTHLY MEMBERSHIP £40 AND UNDER)
BANNATYNE HEALTH CLUB | £29.99 monthly
Sunlight House, Quay Street, Manchester M3 3JU
One of the cheaper health clubs in the city centre. Recently refurbished Bannatyne currently offers full membership (peak time, to use any time) at £29.99 per month to use at its Quay Street branch. There's also a £20 joining fee. Membership includes use of Bannatynes heated 20-metre pool and sauna. Also offering in-house spa facilities, this health club is an affordable luxury for those watching the pennies in the New Year.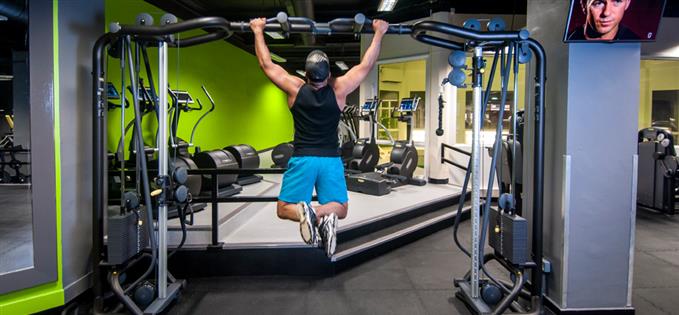 Bannatyne
Y CLUB | £36 adult monthly, £15 joining fee – 2 months free (if joined in December)
Liverpool Road, Castlefield, Manchester, M3 4JR
Y Club states that it's 'the largest and friendliest gym' in Manchester. Considering the gym isn't a pleasurable experience for many, it's a comforting statement to make. Although one of the pricier gyms on offer the gym prides itself on being good value for money, by giving its clients access to many classes, a swimming pool and other top facilities. Y Club offer a range of memberships for their clients including student, family, corporate peak and off peak membership packages. They suggest calling ahead to make sure they have the right package for you. They're also offering a bunch of offers in January so take advantage in the new year.
LIFESTYLE FITNESS | £19.99 + £20 joining fee.
Lifestyle Fitness is a stylish budget gym worth having a gander at (it's also filled with seasoned bodybuilder types that are worth having a look at too). The boutique-size gym is packed with hi-tech facilities, 80 strength conditioning tools, a ladies-only gym, two spacious conditioning rooms and bunch of exercise classes. There's also a little coffee shop on hand for you to get your daily caffeine kick. Popular with both regular gymmers and newbies.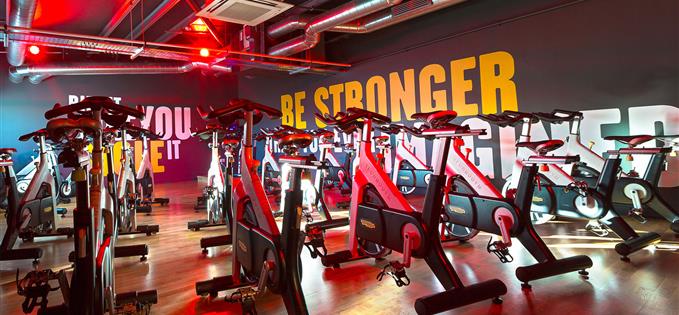 Lifestyle Fitness
MANCHESTER AQUATICS | £19.99 – £29.99 monthly, £10.99 enrolment cost
2 Booth Street East, M13 9SS
Best known for having an indoor water slide and being 'one of the biggest and best swimming facilities in the country', Manchester Aquatics Centre offer great packages to use across its health and fitness suites, exercise classes and of course, the swimming pool. Great for budding swimmers and all-rounders. For a monthly fee of £29 you can have access to the health suite, gym and swimming pool.
Manchester Aquatics
PURE GYM | £18.99 monthly
3 Hardman Street, Spinningfields, Manchester, M3 3HF
One of the heroes of all bargain gyms, Pure Gym have opened up yet another gym on Market Street (let's face it, Spinningfields branch is chocka-block) with a £18.99 per month membership (including £10 joining fee) if you book online. They also offer day passes at £6.99. There's no contract and with the gym open 24 hours a day there's no excuse not to go.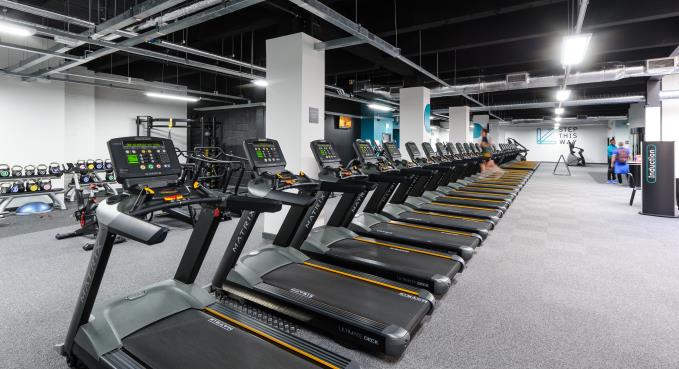 Pure Gym Market Street
THE GYM | £16.99, £10 joining fee
Bank Chambers, Faulkner St, Manchester M1 4ET
Much like its name, The Gym is straight to the point. It's another no fuss, no frills budget gym in the city centre offering 24-hour access without the trap of long memberships. Featuring more than 160 pieces of high-tech kit over three free weight areas, they promise a full range of plate loaded equipment including Olympic weights, power racks, free weights and resistance machines. And there's something for the cardio-lovers, with a range of cardio machines and a large variety classes in its functional training area. All you need to do is bring the motivation.
FIT 4 LESS | £14.95 per month (limited price) no joining fee - opening January 2017
Piccadilly Gardens
Get fit for less – a simple and effective ethos that we can get behind. This 'high quality, no frills' gym is opening up in Piccadilly Gardens this January and is launching with limited dirt-cheap membership deal. The first 150 members to join get the amazing price of £12.99 with no joining fee and no contract, after that it's just £14.95 per month. Designed for both newbies and experienced gymmers, the new gym will offer modern equipment and facilities without having to pay extra for added luxuries. They also offer flexible contracts.
Powered by Wakelet