PERFUMES and aftershaves are the holy grails of Christmas presents and an assured failsafe over the festive period. They're so frequently bought they are almost a Christmas cliché: gold, frankincense and 'J'Adore Dior', if you will.
Lady Gaga has a perfume but I would fear smelling like someone who has worn an outfit made of raw meat.
If we're honest, a lot of us will be feigning surprise, elation and audible gasps at the unveiling of yet another perfume on Christmas morning. Not that we're ever ungrateful.
Chanel No. 5 will forever stake its place as the most respected perfume brand to grace the necks of the fashion conscious, yet celebrities and  their endorsed fragrances remain popular amongst those who end up a little tired, defeated and losing the will to live whilst battling through Manchester Arndale on Christmas Eve.
The best and the worst of celebrities have ventured into the smelly business; from Madonna to Donald Trump, Elizabeth Taylor to Tilda Swinton and Lady Gaga - call me unfair but I would fear smelling like someone who has worn an outfit made of raw meat.
With so many smells on the market, I put my nose to the test to see if the celebs come up trumps this season – and don't, er, smell like trumps.
Justin Bieber: 'The Key':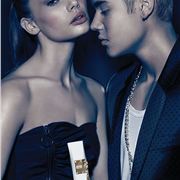 Justin's in loveFollowing the success of his two previous perfumes, Justin Bieber has launched a new For Her fragrance for his loyal cult of 'Beliebers'. Continuing in the same vein of his current 'I'm-all-grown-up' campaign, Biebs poses with a lady after what could be perceived as a night of passion, (no, not the alleged Brazilian prostitute) -  who has 'the key' to his heart and bedroom, apparently.
Regardless the fragrance smells crafted for the young noses of his teenage fans dealing with hormonal instability. With its floral and vanilla tones, its sickly sweet – like a combination of Love Heart sweets, giggles and the sticky tears of all his fanatical followers.
Cost per 50ml: £28.50
One Direction: Our Moment
Once again another teeny-bopper music act is ready to cash in on their massive teenage girl following. Our Moment is the boys' first female fragrance and I expect a number of 'Directioners' will be bathing in this perfume like a baptism. Similarly to Justin Bieber's The Key, we have a fruity girly fragrance, with notes of jasmine, pink grapefruit and a dash of what all girls are made of, snails and puppy dog tails'.
Cost per 50ml: £38.50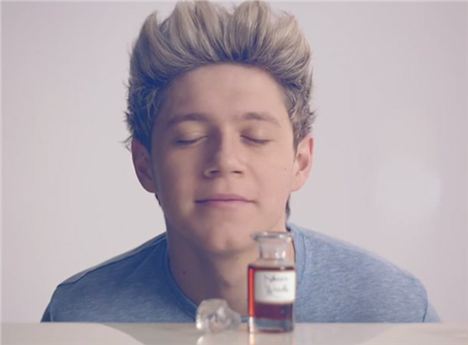 One Direction in touch with their feminine side
David Beckham: Classic EDT:
Bend it like Becks, dress like Becks, be Becks; overall whether it means wearing Calvin Kleins or any  other of his endorsed products, it's no harm if the males amongst us become a little more Beckham-like. Classic is a very predictable meterosexual scent: masculine yet not over-powering and a little sexy.
Cost per 60ml: £24.50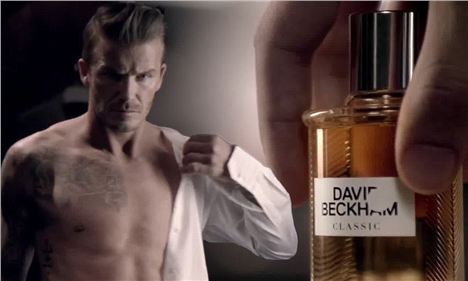 Becks - always just about to take off or put on a shirt
Katy Perry: Killer Queen
We've been inundated with Katy Perry's 'Own the Throne' advert for her new fragrance over the past few months. Katy, or the 'killer queen', whips off her wig and stands strong over an over-turned throne (see top image on this page), looking pouty and assured with a bottle that  looks like a vial of poison. On first whiff the scent is a great surprise, it's grown up, distinctive with top notes of dark plum and wild berries. 
Cost per 30 ml: £22.99
Beyoncé: Heat Rush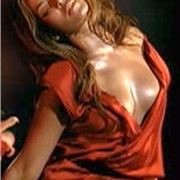 Beyonce - trances outIn the Confidential offices I'm known for my unwavering love for pop legend, Beyoncé Knowles– so much so it has unnerved our editor greatly. Beyonce's line is the biggest selling fragrance range and true to fanatical form, Beyoncé's Heat was the first celebrity fragrance I went out and bought for myself. Her most recent fragrances NYC  Pulse and a limited tour edition is yet to hit the UK yet but Heat Rush is set to help me emulate a woman I once described as a "diva android".
Let's hope that with each spritz I'll gain a little of Bey's magnetism and talent and... I'll stop.
Cost per 30ml: £22.50 (Gift Set)
Taylor Swift: Taylor by Taylor Swift
The ultimate girl next door has brought out a predictable girl next door scent. Described as her 'signature style', Taylor's eponymous fragrance is fruity, musky and inoffensive.
Cost per 50ml: £25.00
Britney Spears: Island Fantasy
Good old Brit, despite all her career and relationship woes she consistently puts out a good feminine fragrance. Her first, 'Curious' was an instant best-seller and has ensured Britney has a generous contingency fortune in case of anymore shaved head incidents. 'Island Fantasy' is true to its name and smells beachy and fun.
Cost per 50ml: £28.00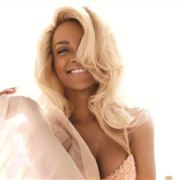 Rihanna - very juvenileRihanna: Nude
It goes without saying that this fragrance is aptly named given Rih's current fashion choices. That aside, the fragrance consists of exotic fruit scents. It'sjuvenile and reminds me of the days when I would stock up on Charlie Red and Impulse body sprays and douse myself in them after P.E so I could avoid the showers.
Cost per 50ml: £29.50
Follow @Loreal_b on Twitter
And the winner is…
Katy Perry - the 'vial of poison' is the star
Beyonce – second place
David Beckham – third place