WHAT is it is about Cheshire and upmarket food pub chains? There are wonderful independents such as the Yew Tree at Bunbury all across the county, but equally you can't move for outposts of Brunning and Price, New Moon – and Robinsons at their top end in the likes of The Bells at Peover. In early June, even Ribble Valley Inns are moving into what is obviously lucrative territory by reopening The Nag's Head at Haughton in their house style with another RVI mooted for Alderley Edge.
How satisfying in contrast was the sturdy fortress of perfectly formed shortcrust pastry, sides, base, top, I received here, encasing good Cheshire beef seethed  in the house ale, Mobberley Wobbly.
The Bull's Head at Mobberley turns out to have four siblings in the Cheshire Cat Pubs & Bars stable – the nearby Church Inn, the Cholmondeley Arms,The Three Greyhounds at Allostock and (don't ask) one in Weymouth. If the others are as good then praise be to Cheshire Cat duo Tim Bird (ex-Brunning and Price) and Mary McLaughlin (ex-La Tasca).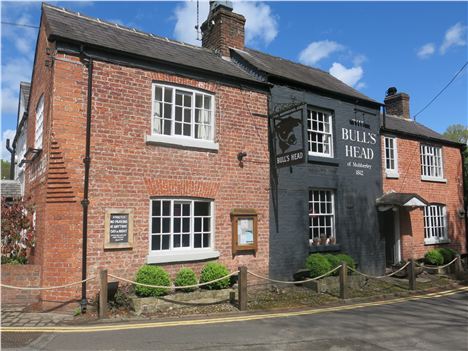 Bull's Head
It was an impromptu lunch that hit the bull's eye. We only turned up at the Bull's Head because it was near Knutsford, where (shameless plug) my daughter has just opened her new spa and because it is also notably dog-friendly. Bottles of Lucky Dog Beer (beef extract, vitamin B and no alcohol) and complimentary gravy bones on the bar, designated canine zone in the Whisky Snug, all the water you can lap up. It's also horse friendly, understandably in this realm of post and rail fencing.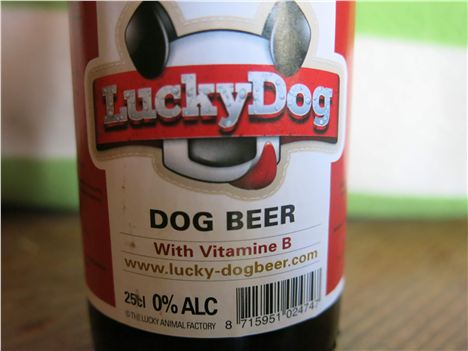 Bottle of the wuff stuff
We settled into the snug, then moved out into the large garden in search of sun. Our macho chihuahua, Captain Smidge, likes nothing better than to attempt to see off  the planes roaring out of the Airport.
It was a blue noon perfect for vapour trails, so we had first tested the three and a half mile pub walk (download or take a leaflet from the bar) – another canine plus and perfect for stimulating the appetite.
Which brings me to the Bull's Head epiphany. The Pie. The Pie of Pies. Not the microwave  proof ramekin, topped with a limp, lardy lid so glued to the rim you have to lever it off to reach the gooey, fibrous filling. What a mess in all ways these pub staples can be.
The pie on the verge of cracking open
How satisfying in contrast was the sturdy fortress of perfectly formed shortcrust pastry, sides, base, top, I received here, encasing good Cheshire beef seethed in the house ale, Mobberley Wobbly. And there was a mound of minty mushed (not mushy) fresh peas. If the lank chips were not quite up to the business, I can quite handle that, when the rest was so generous. 
The pub suggests accompanying this with a pint of the old Wobbly, but it didn't stand a chance in the presence of RedWillow's seasonal ale, Mirthless (£3.40), which packs a delicate hop punch at just 3.9 per cent ABV. The affordable wine list, predominantly sourced from Boutinot, is dominated by Spain and the New World.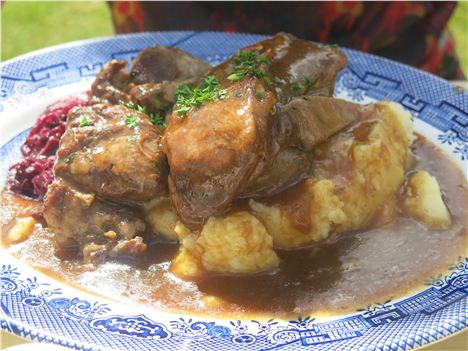 Lamb shouder
The unforgettable pie cost £13.50, my companion's slow braised shoulder of lamb, at £16.95 was the most expensive main on the menu, aside from the 28-day aged rib-eye (£19.95).
She ordered it because the dog might nibble a bit – he took his tithe and a good helping of my beef. The rosemary and redcurrant gravy overcame the lamb somewhat and the mash was on the watery side, she said. Maybe she was suffering from pie envy.
The are lots of sharing plates for starters, but I couldn't resist Steve's Rarebit Smokey (£5.95).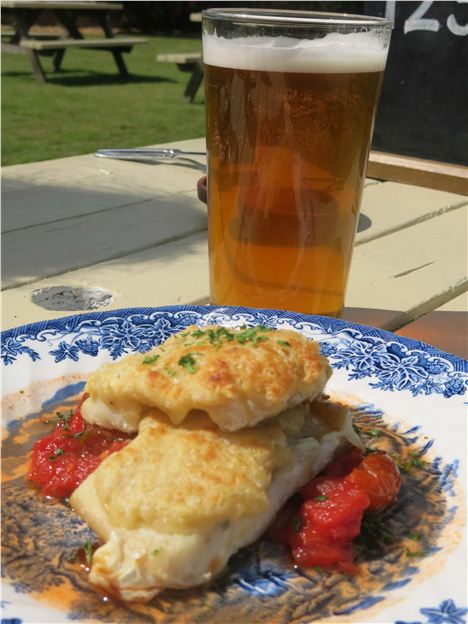 Mirthless meets rarebit
Steve is just one of the many staff treated chummily (or annoyingly) to potted biogs on the pub website – my favourite dish, musical hero, biggest dislike etc. Thanks then, Steve (who's  a John Lennon fan).
His smokey was just the kind of supper I rustle up at home – Lancashire cheese topping smoked haddock, though I'd leave out the squidgy warm cherry tomatoes.
Seafood crockpot across the table was equally simple and successful, if again lacking the wow factor. White fish, salmon, prawns under a crumb crust in a white sauce that proclaimed but didn't deliver dill. Bread was good, mind.
Lloyd's sticky toffee pudding (£5.50), enlivened by a good dash of Jamieson's (thanks, Lloyd, who likes Lenny Kravitz and Kings of Leon), was light, moist and spirited; spicy apple crumble and custard (£5.25) similarly sprightly after those imposing mains. Pity about the unripe strawberry and mushy (bottled?) raspberry garnishes.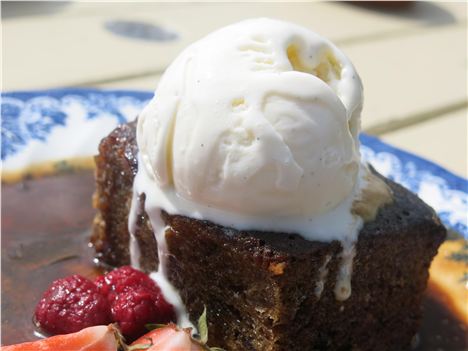 Sticky Toffee Pudding
The cheese offering is from the redoubtable Carole Faulkner at The Cheese Shop in Chester – a guarantee in itself – as is the Good Beer Guide rating recognising the Bull's Head devotion to microbreweries sourced within a 30 mile radius and the presence behind the bar of more than 65 malt and other whiskies. From 6.30 pm Monday-Thursdays they can organise whisky tastings for groups of eight and more – five whiskies, nibbles, £17.50 a head.
There's are also the wonderful Fernando de Castilla sherries from Manzanilla to Pedro Ximenez that I'd happily sample across the range any time.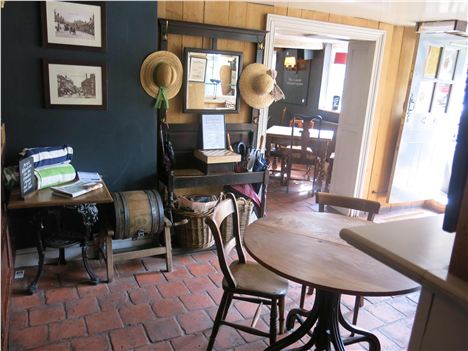 The Whisky Snug
The Bull's Head has been open in its present form for four years but possesses the admirable self-confidence of a hostelry parading the same virtues for decades. I'm only teasing Cheshire Cat about the the team spirit touches.
There is a genuine warm buzz about the service. Much is down to Irish landlord Barry, who spent eight years at Brunning and Price's Sutton Hall in Macc, so he has his finger on the Cheshire pulse, if not the musical (Damien Rice and Stereophonics, oh dear). 
You can follow Neil Sowerby on Twitter @antonegomanc
The Bull's Head, Mill Lane, Mobberley, Knutsford, Cheshire WA16 7HX. 01565 873395 
Rating: 15.5/20 
Food: 7.5/10 (rarebit 7, seafood crockpot 6, lamb's shoulder 7, steak and ale pie 10, sticky toffee pudding 9, apple crumble 7)
Service: 4/5
Ambience: 4/5
PLEASE NOTE: Venues are rated against the best examples of their kind: fine dining against the best fine dining, cafes against the best cafes. Following on from this the scores represent: 1-5 saw your leg off and eat it, 6-9 get a DVD, 10-11 if you must, 12-13 if you're passing,14-15 worth a trip,16-17 very good, 17-18 exceptional, 19 pure quality, 20 perfect. More than 20, we get carried away.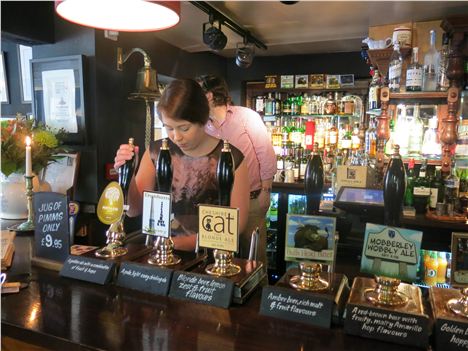 Local ales are legion