AT THE grand and dignified age of 86, Daphne Selfe is Britain's oldest fashion model.
In an industry unforgiving when it comes to aging beauty, it's a title she can hold with a certain amount of pride - especially given that the average retirement age in high fashion modelling is around early 30s.
Regardless, Daphne Selfe has managed to build a career with unprecedented longevity and has posed for Vogue, Harper's Bazaar, Italian Vanity Fair, Tatler and Dazed and Confused.
 I don't mind airbrushing - certainly at my age I like a bit of airbrushing - but I don't think you should take it to extremes. 
True to most working models, her successful career is mainly thanks to winning the genetic lottery, scoring a well-defined bone structure, wide set eyes and striking hair - all of which aided, she claims, by simply aging with grace.  
Once posing in a Madonna corset complete with cone bra at the tender age of 83, without question, she's living a life world's apart from pensioners her age. 
 Selfe is now set to front Trafford Centre's 'Dare to Wear' Autumn Winter Campaign. With her self-proclaimed 'classy-funky' style, she was selected because of her fearless approach to fashion and modelling.
Speaking of the campaign, Daphne Selphe believes it "will surprise people for all the right reasons."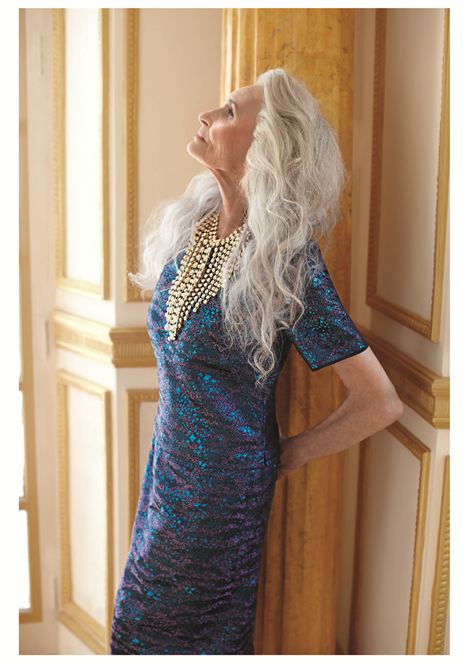 Daphne Selfe 
You've had an incredibly successful career in fashion. What has been the highlight? 
Travelling abroad and going to all these fabulous places - I was never able to do when I was younger.  It's been wonderful. And of course I've always loved dressing up. It's only been in the last fifteen, sixteen years that I've travelled so much. Before that I was bringing up children and didn't have as many opportunities.
And what do you think is the trick to longevity in the fashion industry? 
Well I had good parents. I was very lucky. They gave me good genes and health and everything else really.
I've always eaten sensibly too. Brought up during a war we would make do and mend, I don't think that does anybody any harm. Make the best of everything, be curious, be positive, and have a healthy lifestyle. I did a lot of exercise when I was younger, gymnastics and dancing, that helps as you get older.
What do you love and what do you hate about the fashion industry?
Oh some of the models are much too thin - it's a pity that people always have to be so thin for fashion. I don't mind airbrushing - at my age I like a bit of airbrushing - but I don't think you should take it to extremes. I think younger models should be looked after more.
It's a very fleeting industry, one minute you're at the top and the next minute you're not. But I've been lucky and I think being professional and having had a lot of experience probably helps. Turn up on time, dress properly, all the rest of it.
Who's your style icon?
In my day it was Barbara Goalen. She was a fashion model in the 50s who I always looked up to. Helen Mirren is pretty good too. I think she's doing very well - Judy Dench too. I met Beryl Grey recently and she looked wonderful.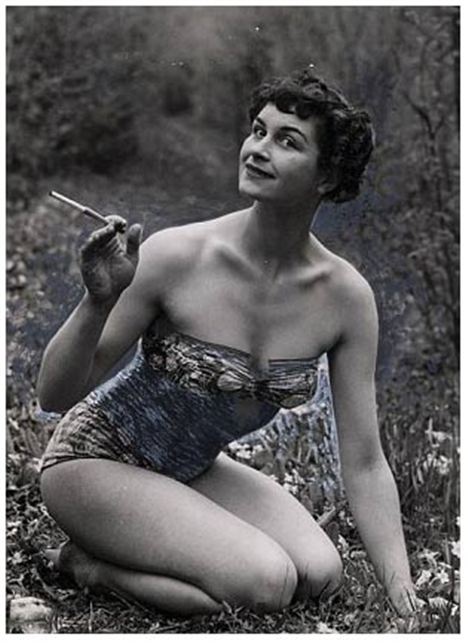 Daphne Selfe In Youth
What's the most treasured item in your wardrobe?
Oh I have so many. I have a particular purple cardigan from the seventies, I bought it in a sale when purple was not the thing - I still wear it. I suppose that's quite an iconic item for me. It's very plain, long, which in those days was interesting. 
What beauty item could you not live without?
I'd go without anything but mascara. It was horrible coming here at 7am on the train with all these chaps around me and no mascara. I felt like hiding. I almost slid under the seat. Although a girl next to me did her full make up on the train and I didn't like that. If you can't do it at home, don't do it at all. It gives away all our beauty secrets otherwise, doesn't it? (laughs)
 What does 'daring fashion' mean to you?
Oh it's something that perhaps you think you ought not to wear really - or something a bit exciting anyway. That feeling when you ask yourself "Ooh yes, should I?"
For information on the Dare to Wear Style Lounge and the VIP night visit:  http://intu.co.uk/traffordcentre/event/dare-to-wear
Follow @LOreal_B on Twitter