MANCHESTER clearly has love in the air. With many couples deciding to 'put a ring on it' over the Christmas period, there are a fair amount of brides-to-be in the city.
"Christmas is such a romantic time of year – we know lots of couples get engaged."
Still, little do you expect on a freezing mid-December night to see a bridal flashmob take to the ice in Spinningfields for a surprise performance. Skating to the Bruno Mars hit Marry You and dressed in designer wedding dresses, the flashmob of ten skaters, aged seventeen to 31 (not real brides) stunned onlookers.
One onlooker commented, "A group of ice skaters in wedding dresses just appeared from nowhere and before I knew it, the ice rink was covered in brides. I've never seen anything like it."
Another onlooker said, "I wish they'd get out of the way. I've paid a tenner to skate." (We made that one up).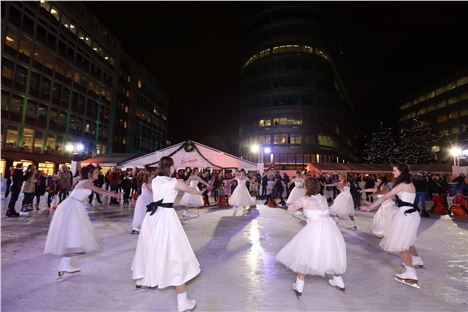 The Belles wow onlookers with their flashmob skating.
The skaters from Silver Blades Ice Rink in Altrincham had been rehearsing for weeks to make the performance appear like an impromptu act and surprise the public in a flurry of stunning wedding dresses by designers Enzoani and House of Mooshki.
The performance was staged to promote The National Wedding Show taking place at Manchester Central this March. Marketing manager Emma Fouracre said, "We wanted to do something fun to start the celebrations early.
"Christmas is such a romantic time of year, we know lots of couples get engaged. Good luck to all those lucky brides-to-be out there. We hope you will join us at the show in March to start your planning."
For more information see www.nationalweddingshow.co.uk or @NationalWedding