Welcome to Body Confidential's beauty lab (#BodyBits), where the team try the latest trends in fashion and makeup.
THE BRIEF: Dark, romantic lipsticks fit for the coming winter season. Designers Rodarte, Dior and Bottega Veneta all featured deep, dark blackcurrant-coloured lips at their Autumn/Winter 2016 shows. But, away from the catwalks and magazines, how do these vampish colours translate to day-to-day wear? How dark is dark exactly?
Ranging from £4.50 to £26, we try ten wintery shades...
---
'MEDIA' SATIN FINISH BY MAC (£15.50) - BUY HERE
"Come winter, I tend to get all dark and moody. Not necessarily in disposition (although this can be argued) but in the colours I wear and the make-up I choose. Berries, plums, wines, dark chocolate and coffee colours make me feel sultry and artsy, like a brooding self-indulgent poet. So yes, I'm all for these wintery lipsticks. MAC's satin lipstick in the colour 'Media' is a favourite of mine. It has the perfect balance of bluey-purple tones, with the added warmth and sexiness of a deep wine hue. Also, this satin-textured lippie is not too matte or too glossy, but sets lips with slight shimmer that works from day to night." - L'Oréal Blackett
---
'CHARLOTTE AUDACIOUS' BY NARS (£24) - BUY HERE
"Not being a big lipstick wearer, I was slightly nervous trying to find the right berry shade for my skin tone. On visiting Nars in Selfridges, the lady suggested three shades: one that was virtually black, one the colour of a deep burgundy vintage wine and another a cross between a raspberry and a blackberry. I opted for the lighter colour as I was off shopping and felt the Arndale wasn't fully ready for vampy lips. Nars applied lipliner in 'Dellemare', then lipstick in 'Charlotte Audacious', followed by lipgloss in 'Rouge Tribal'. I was pleased with the result but still felt it was all a little too vampy for a trip around the Arndale on a Thursday night." - George Hague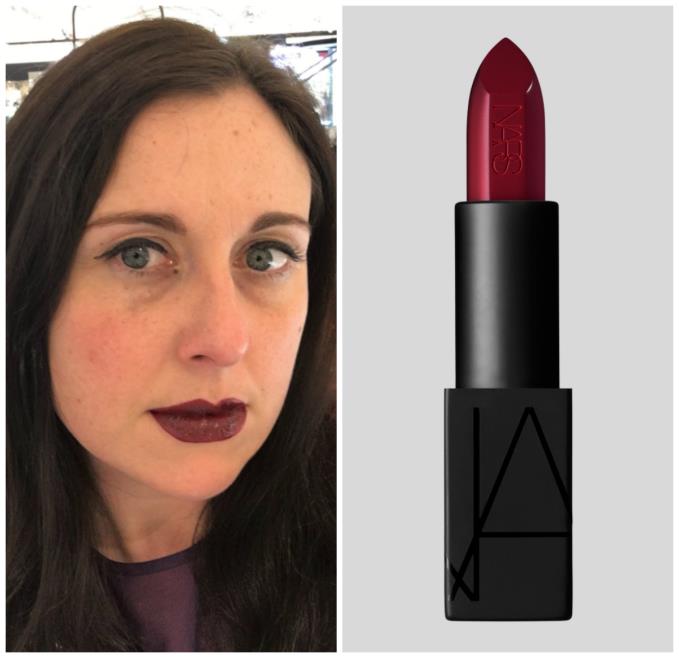 ---
'ULTRA VAMP MATTE' BY MAKEUP REVOLUTION (£4.50) - BUY HERE
"I think autumn is the best time of year to reinvent your look: as sun-kissed highlights are replaced by shiny chestnut tresses, nude lipsticks make way for richer hues. I usually prefer wearing more natural lip colours during the daytime, but feel confident enough to be more adventurous on occasion. I tend to stick to focusing either on eyes or lips being the standout feature – never both - so wearing a dramatically dark lipstick such as 'Ultra Vamp Matte' would mean a more natural look for the eyes and brows. I actually bought this as part of a Halloween set of three lipsticks and it's a much darker shade than I'd usually be comfortable wearing. It caused a few double takes in the office and I think I heard whispers of 'goth' and 'emo'." - Deanna Thomas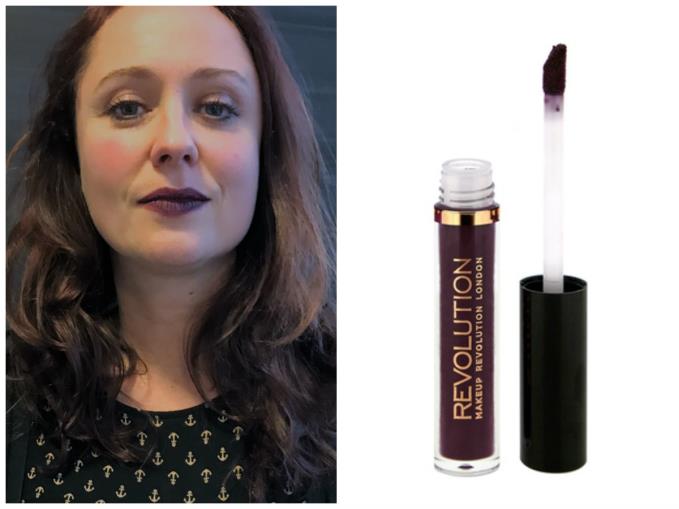 ---
'REBEL' SATIN FINISH BY MAC (£15.50) - BUY HERE
"I'm a massive MAC fan and I love this shade, a bold and deep purple. I'd normally step away from matte at this time of year and go for a gloss because the chapped lips are returning, but the satin formula glides on easily whilst having the drier feel of a matte - it's a good compromise between the two. It stays on well and, when it does wear off, you're left with a really nice stained lip colour. I didn't use a lip liner and found it bled around the edges of my mouth, clearly a rookie mistake." - Kell Degnen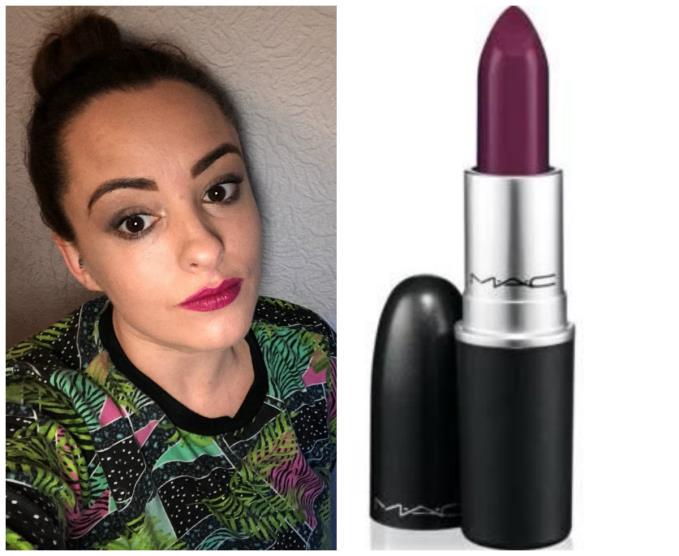 ---
VELVETINES MATTE LIQUID LIPSTICK IN 'BEET IT' BY LIME CRIME (£15) - BUY HERE
"I'm always worried these deep berry tones are going to be too harsh for my skin tone, but the rich colour of 'Beet It' is really flattering and enhanced my complexion. Once on, I only had to reapply once throughout the day. It's super pigmented too and stays rich in colour throughout the working day, even after meals."- Georgie Glass.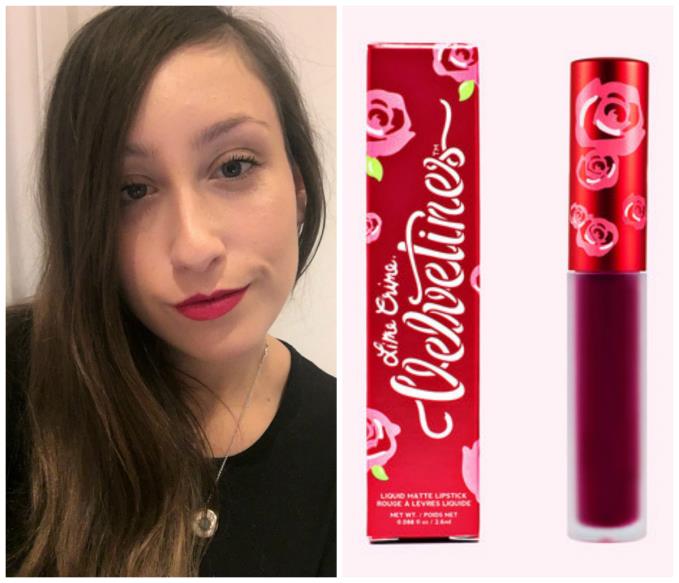 ---
'PLUM BRANDY' LUXE LIP COLOUR BY BOBBI BROWN (£25) -
BUY HERE
"I bought this lipstick for a charity ball as I wanted something quite bold and wintery. I was wearing black and gold so I didn't want anything too red - plus I didn't want to look festive (not yet anyway). This Bobbi Brown lipstick was a perfect match. I love the look and feel of this lipstick and its staying power is fantastic." - Amy Massey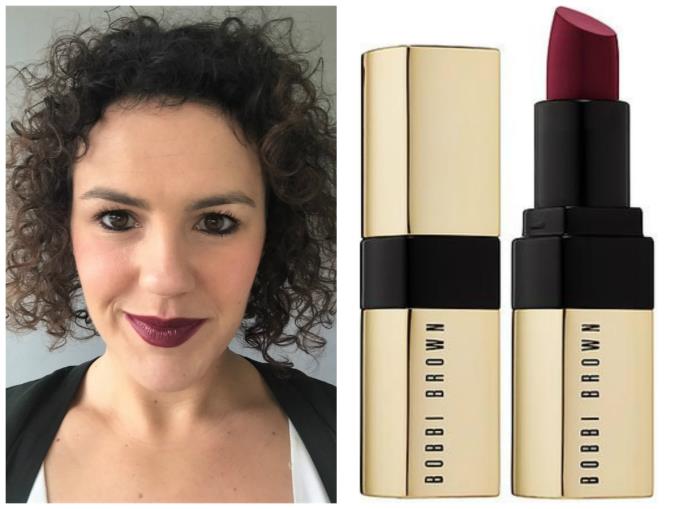 ---
SOFT MATTE LIP CREAM IN 'TRANSYLVANIA' BY NYX (£5.50) - BUY HERE
"I was after a deep wine coloured liquid lip for this Autumn/Winter as I knew it was in style but I wasn't keen on investing in an expensive lip. So I turned to a trusty budget but professional option, NYX. At an affordable £5.50 I can't complain, and there are so many colours to choose from. I settled for 'Transylvania' and I've been hooked ever since. It's more of an evening shade, and works well with a dewy nude base. It's not as long lasting as some liquid lipsticks on the market, but it doesn't get flaky or bitty when reapplying. Cheap and cheerful." - Georgie Glass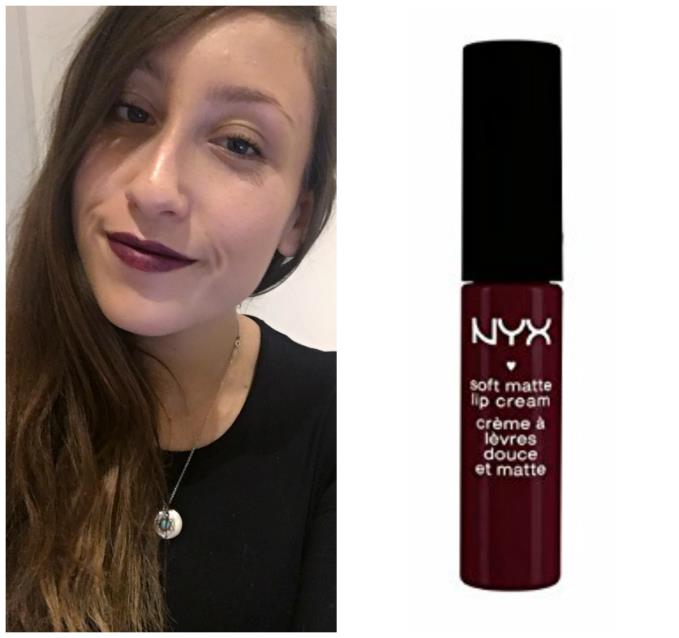 ---
'VINTAGE' LIQUID SUEDE LIPSTICK BY NYX (£6.50) - BUY HERE
"I'll admit, when it comes to buying lipsticks I have a bit of a spending problem. I found this brilliant dusty-berry liquid lipstick untouched at the bottom of my gigantic lipstick drawer (yes, I have a whole drawer dedicated to lipsticks). On first wear, I garnered a few compliments. It's an ideal shade for my skin tone: not quite nude and not dark enough to be considered 'vamp'. It's also not too intense to wear in the daytime - another bonus. After the popularity of liquid lipsticks soared earlier this year, I'm still a fan of the liquid-to-matte lipstick technology, especially in winter. NYX have cleverly introduced a matte formula that is nourishing and lasts for an entire day. Better still, it's only £5.50. Get it." - L'Oréal Blackett
---
'HONEY BLOOM' MOISTURE DRENCH LIPSTICK BY NO7 (£7.50) - BUY HERE
"This No7 lippie is something I would wear on a day-to-day basis as it's a great wintery colour but not too intense. I love the warm, Autumnal brown hue. It goes on well and only needs a bit of retouching after eating or drinking, so a great daytime lipstick." - Amy Massey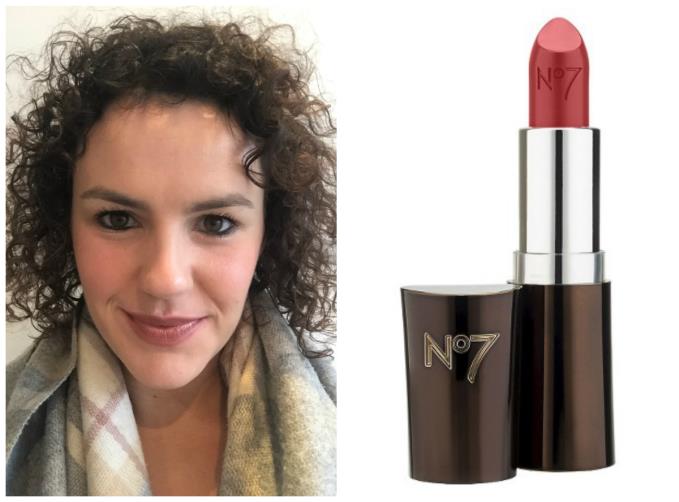 ---
'39' ROUGE PUR COUTURE BY YVES SAINT LAURENT (£26) - BUY HERE
"I know, Halloween is over - I hear you. And yes, I've gone all the way over to the dark side with this one, but I'm partial to lipsticks which make a bold impact. Forget pretty beauty-copywriter approved adjectives such as 'blackcurrant', 'wine', or 'plum', this lipstick is purple - Prince approved. I really enjoy this lipstick - even the odd looks it brings me. It's definitely a 'fashion' colour, rather than a wearable day-to-day shade. As far as texture and staying power goes, it's luxuriously silky and the purple does not budge . I can't wait to wear this over the party season with an equally dramatic outfit to match." - L'Oréal Blackett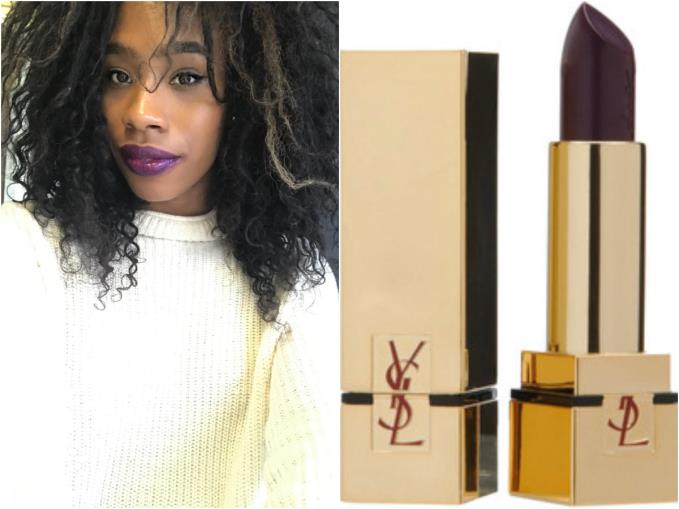 Powered by Wakelet