GET a glow from a market experience in the build-up to Christmas. What could be better? Especially if it doesn't involve being flogged warm adulterated wine in small mugs or assorted sub-Tyrolean trinkets in a succession of sturdy timber reindeer pens.
I was recently blown away by the culinary scope of the once edgy, increasingly gentrified, Brixton Village Market in London. What's happening in this commuter satellite is a miniature version.
Step forward Altrincham Market.
Like a dog (and yes, it is dog-friendly, child-friendly, family-friendly with no security heavy in sight) the revamped Market House and surrounds are not just for Christmas, but they are making a special festive effort with their Twilight Market extensions.
Thursday and Friday evenings between 5pm and 10pm you can experience one of the best regeneration initiatives around – with all the trimmings, including a 20ft Christmas tree, and some amazing food and booze.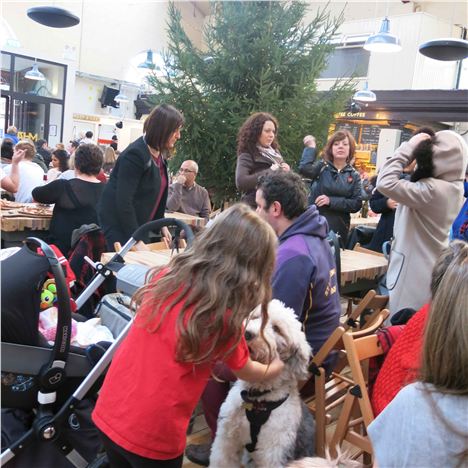 The hall is family (and dog friendly) and a great place for a meet-up

And we don't mean dirty burgers and food fights. This is altogether less forced in your hipster face. As I hinted, it's perfect for families and older couples to roll into after a shopping session in surrounding streets or the covered market. And it's quality and part of a trend...
I was recently blown away by the culinary scope of the once edgy, increasingly gentrified, Brixton Village Market in London. What's happening in this commuter satellite is a miniature version (minus any Rasta vibe).
Some £175,000 has been spent on the once-moribund Market House to turn it into a food hall offering a combination of earthly pleasures under one roof, all served from vintage market counters.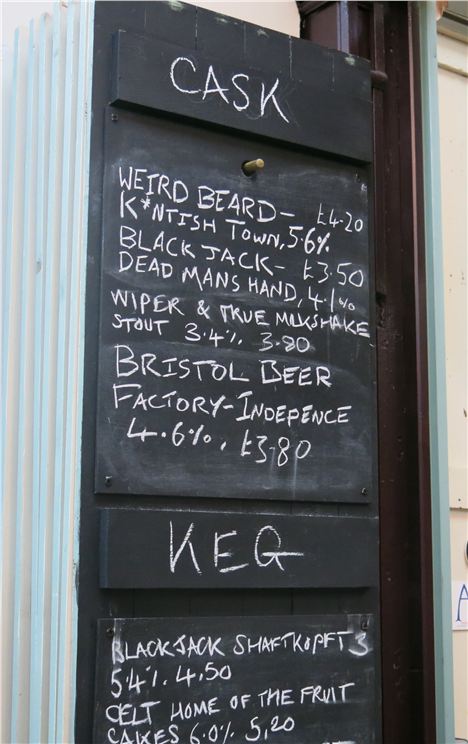 Jack in the Box's chalk up cask and keg
A calculated bringing together of craft beer, wine, wood-fired pizza, artisan cake, chocolatier, cocktail whizz and specialist coffee house, supplying a hive of punters at wooden tables in the middle of this glorious, listed space. You can sip, quaff, graze, picnic, pig out, whatever. And all the eating and drinking buzz is backed by a vinyl soundtrack, naturally.
Nick and Jenny Johnson, who founded Atlas Bar in Manchester back in the day, won the Market House bid and have done a terrific job in backing such quality indie operators to set up. Nick says: "It has worked really well as a project between the local authority, the public sector and private businesses. This is a truly local experience."
The payback is obvious. It's luring well-heeled shoppers into a town that already has so many Belgian beer bars and wood-fired pizza ovens it feels like the street life love child of Brussels and Naples (see gallery at the bottom).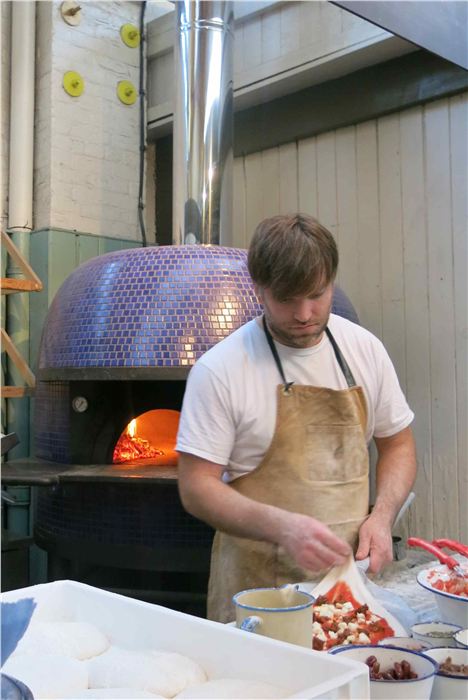 The warm glow of the Honest Crust pizza oven

The pizzas in the Market House are courtesy of Ramsbottom-based Honest Crust. They bake hand-stretched sourdough bases – using Italian Caputo '00' flour, minimum rise 24 hours – for 90 seconds in their on-site oven.
I recommend the spicy Atomica! pizza with tomato, mozzarella and squidgy Nduja sausage, imported from Calabria. This ain't Domino's – all the pizzas will set you back around £9.
An operator, brought in from much further afield, is The Wolfhouse Kitchen and Bakery, whose base is at a posh crafts gallery near Silverdale on the edge of Morecambe Bay. Katey Mack and Kenny Cottam only set up there a couple of years ago and have established a big reputation for their cakes and savouries. I bought a striped tank top from Wolfhouse's clothes section 30 years ago. I was very proud of it at the time. It now languishes in the dressing up box.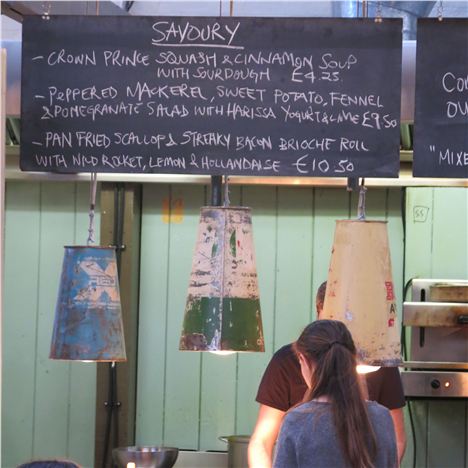 Wolfhouse
Their well-priced plates certainly weren't languishing on the counter in Altrincham. Particularly toothsome was their pan-fried scallop and streaky bacon brioche roll with wild rocket, lemon and hollandaise (£10.95).
Alongside Wofhouse and taking over for the evening, their pop-up pals from the Tender Cow were offering rare breed Dexter or Longhorn flat iron steaks, brushed with garlic butter, in ciabatta at £7 a go.
There's definitely some culinary commuting going on. Winter Tarn Cheeses travel down from their base near Penrith each Saturday and Sunday to sell their own gorgeous organic Keverigg and fresh churned butter, alongside a selection of British raw cheeses.
One Sunday in the month they are joined by an array of artisanal food folk for a Producers and Makers' Market. Other Sundays offer other speciality markets, all with the same British and North West first ethos.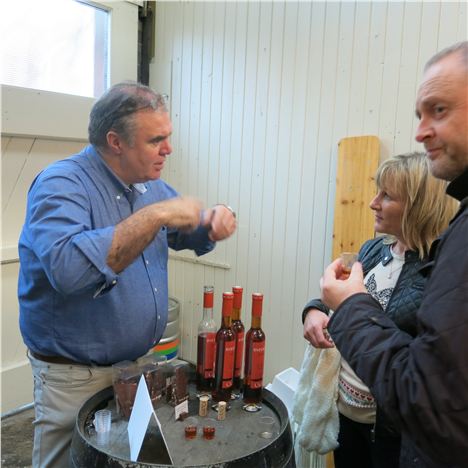 Reserve Wines introduce Muscat de Rivesaltes as that perfect Christmas pud wine
Back inside the wine comes from Kate Goodman's estimable Reserve Wines of West Didsbury, while next door at Jack in the Box four handpumps and eight keg dispensers serve up a selectioin of the finest craft beers known to man including a trio from Blackjack, Rob Hamilton's innovative Manchester brewery.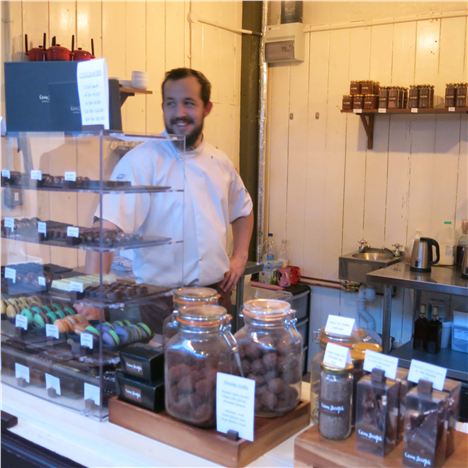 Chocolate maestro Sam Joseph at the stall that smells of choccie

To finish off, I'd recommend Sam Joseph Chocolates, an outlet for the chocaholic former Lowry Hotel head pastry chef. You can buy his top-end delights here, but the Alty stall also stocks products not available online such as artisan ice cream and single origin hot chocolate.
Altrincham Market Operations estimated that in one six-day period in October, Market House sold 1,400 pizzas, 1,300 cups of coffee, 1,200 pints of beer, 660 handmade chocolates and 600 bottles of wine. With the Christmas projects, this figure can only soar.
Ditch the Gluhwein and Bratwurst and check it out...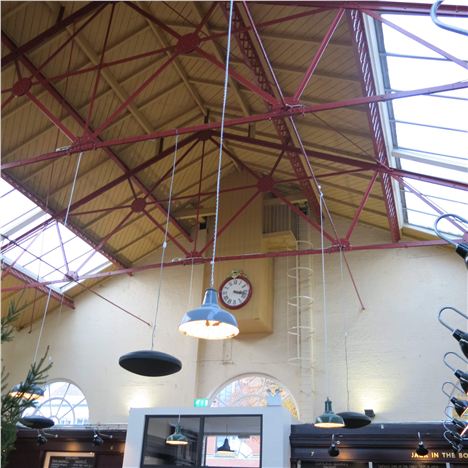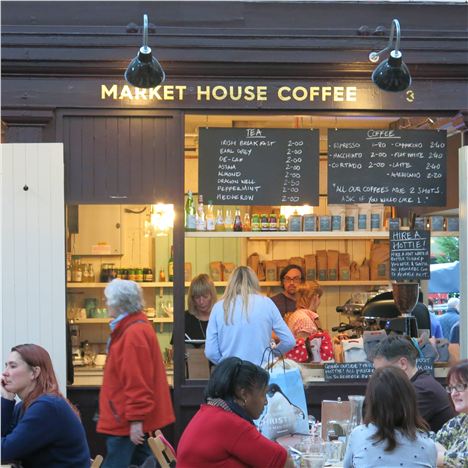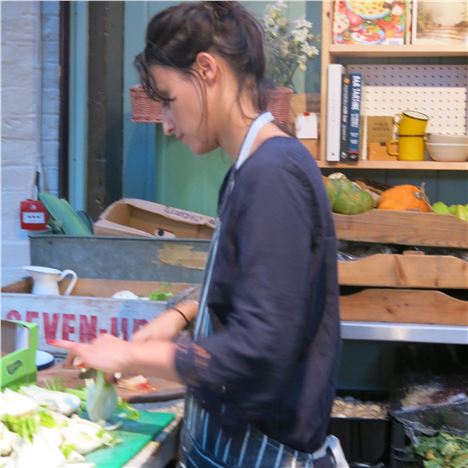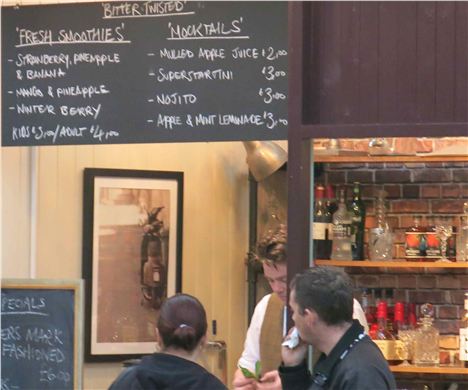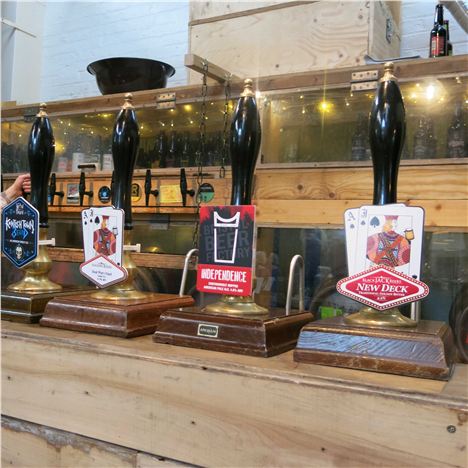 Charity fund-raiser at Altrincham Market, Nov 30:
MONEY raised at a special market on Sunday 30 November (10am- 6pm), will be split between The Movember Foundation and Didsbury-based charity Reverse Rett.
This funds research into this rare brain disorder which affects approximately one in every 10,000 girls. Kitt Johnson, six, the daughter of Nick and Jenny Johnson, who run the market, has the condition. The theme of the market 'Rhett For Rett' has been inspired by the famous moustachioed upper lip of Gone With the Wind character Rhett Butler.
Stallholders will be getting involved in the fun and there are plans for themed activities to take place in Market House. Anyone who would like to get involved can contact hello@marketoperations.co.uk.