WITH the eagerly anticipated return of the king of festivals that was Glastonbury, all the rest have had to up their ante in 2013, offering line-ups that are too good to refuse.
I for one milked as many that appealed to me.
Do you opt for the Tesco Value £8 tent and suffer when it's wetter inside than out or do you waste £30 on a decent one that you'll inevitably end up leaving there because you're too hungover to muster up the energy to take it down?
Having wisely traded Magaluf for Benicassim, the year continued with Parklife, Kendal Calling and two slightly further afield in Portugal, Optimus Alive and Superbock Super Rock.

You'd think by now I'd be a hardened festival goer, but I made the same rookie mistakes this time around as I did last year. The first being footwear.
As with all British festivals, the weather dominates what we inevitably end up wearing, and so for Parklife, I donned wellies and knee-highs in spite of the scorching weather forecast, because as I'd learned from Kendal the previous year, there's always going to be a mud bath in the most important of places - the loos.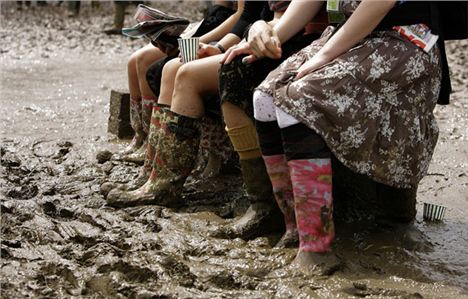 Wellies save lives.
With the old Twitter feed split between those preaching about how necessary wellies would be and the more fashion conscious arguing how a pair of Converse would suffice, in the end, I didn't regret my choice. I'd much rather have my £10 wellies scuffed than any of my other shoes – the fact I didn't own any reasonably fashionable trainers may have factored into it too. 

In Portugal, the problem was the polar opposite.
Where we have mud, abroad they have dust, and so with that and the lack of space in my luggage, the wellies didn't make the cut. And as I'd learned from Benicassim, while a nice pair of sandals are easy on the eyes, they aren't easy on the feet mid mosh pit.
This year I was able to find a happy medium in terms of footwear, for the six days I was at the festivals, I wore trainers and for the other six days I could make use of the sandals I hadn't managed to wear from Benicassim. Win win.
Another weather made problem arises when you're shopping for a tent.
Do you opt for the Tesco Value £8 tent and suffer when it's wetter inside than out or do you waste £30 on a decent one that you'll inevitably end up leaving there because you're too hungover to muster up the energy to take it down?
In Benicassim, the Tesco Value tent was fine as there was a tarpaulin shelter over the campsite so it was always shady and since it didn't rain, dryness wasn't an issue.
For Portugal, my friend and I chipped in for an equally cheap but decent enough tent, presuming the festival we were camping at would have a similar set up. Our logic wasn't really there though.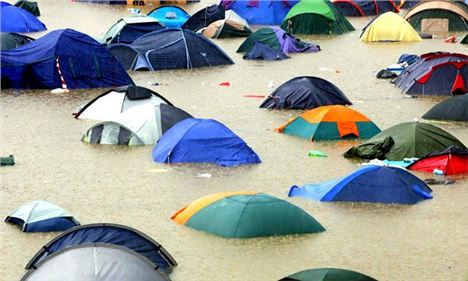 Do you opt for the Tesco Extra Value tent? Perhaps not.
For the first festival, Optimus Alive, we had a luxury apartment. We then had to leave this, to camp. We'd forgotten the stuffy heat at night and lack of comfort at Benicassim because the music, beers and sun made well up for it.
However, already a week into things, the partying, late nights and getting to Superbock (via three metros and a train) were starting to take their toll. We managed three nights in the wooded camping area, where our only sources of comfort and warmth were the free beach towels they gave out on entry and our only form of shade was from the wise Portuguese group a few acres away from us who'd brought a windbreak to wrap around the trees. For the final night we bailed, and stayed in a hostel.

The irony of it all was that the weather was considerably better at Parklife and Kendal Calling than it was at Optimus Alive and Superbock Super Rock, and so the only reason I remotely look like I've been away is because I got burnt at Kendal, of all places.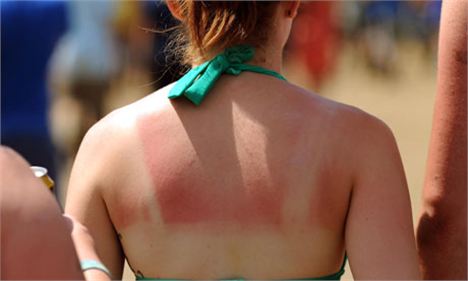 You can burn you know. Even at Kendal Calling.
One of the biggest differences I noticed with the festivals at home and the festivals abroad was the marketing of it all.
At Parklife and Kendal Calling you were talking £6 for a programme and a limited range of pricey alcohol on sale thanks to the sponsoring of Koppaberg and the likes. Whereas at Optimus Alive and Superbock Super Rock the programmes were free as well as all sorts of promotional merchandise like beach towels, sun hats and umbrellas with a pint of beer for €3.50 max.

If you are heading to a festival over summer or even considering one for next year, here's a few things you might want to do (and not do):
- Bring the right footwear. Even if it means you're taking wellies and another pair just in case the weather's nice, it's best to have options. And un-bruised feet.

- Be diligent when tent shopping. Don't just go for the really cheap one (unless you know the weather is going to be dry) but likewise don't shell out on a pro-mountaineering one and then have to ask half the group to help you pitch it. And if you know (like me) you'll end up leaving it there, go for a cheaper one so you don't feel quite as bad when you get home, sober and realise you've just wasted £20.

- Come prepared. As much as you need to travel lightly, especially when abroad, comfort is much as a priority as your baby wipes and breakfast bars. Buy a roll mat or lilo over there if need be, just don't end up cuddling up to twigs because you chose to bring an extra bottle of Jagermister instead.

- Think warmth. Don't assume you'll be able to sleep like a baby every night because you've had one too many and you'll be out for the count. If you're cold you'll know about it, so throw in a jumper. You'll be glad of it.

- While a programme may be pricey, it's a lot harder when you haven't got one, unless you're happy to go with the flow. 

But even if, like me, you don't follow the above and still look like festival newbies when you're waltzing in with your suitcase on wheels - you'll still have a ball.
Follow Laura on Twitter @laursco