I THINK of my grandmother when I think of coconuts. The ultimate kitchen beautician. She performed everyday miracles with them. She made perfect coconut cake, soft and fluffy on the outside and sweet in the middle. She'd bring back concentrated coconut milk when she returned home to Barbados, then cover me in the stuff, from head to toe.I still smell like coconut butter now. I also add coconut to my rice and use it in my hair.
I put ten tricks to the task with one tub of 100% raw Extra Virgin Coconut Oil... I even scrubbed my teeth with it
So I'm not new to the multi-purpose uses of tropical coconuts. But recently they've re-emerged as the must have food trend – whether oils, waters or butters – and gained a wider mass appeal.
It's reported that British people are spending £60 million a year on coconut water, up 64% on last year. The same report by Holland and Barrett says £14 million is also being spent on coconut oil.
There's now a coconut oil bandwagon making its way around health and beauty circles – whether it's from muscle-bound Joe 'The Body Coach' Wicks and his enthusiastic promotion of coconut oil in healthy cooking, or celebrity endorsements from beautiful folk like Miranda Kerr who call it their 'well-kept beauty secret'.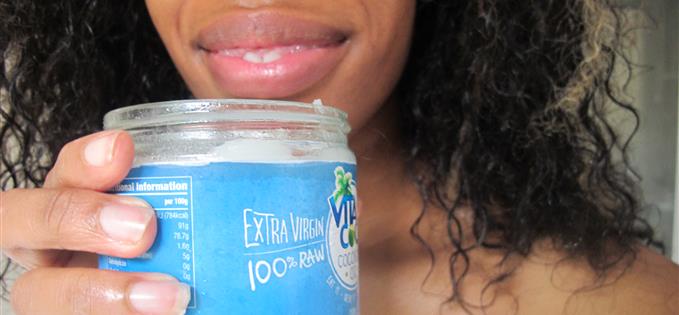 A well-kept beauty secret
And the endorsements keep on coming.
People are not simply swallowing it, either. They're putting it on their faces, in their baths, on their teeth and varnishing their floors with it. In one jar you'll find an anti-ageing cream, teeth whitener, burn salve, beard smoother, anti-fungal treatment, after-sun lotion, the list goes on...
In fact, enthusiasts claim there are more than 100 ways to use the stuff - see 107 Everday Uses For Coconut Oil.
But is this just another fad (much like kale or slug slime facials) or have we discovered a genuine natural product with no chemical nasties that can really outperform many popular products and promote a healthier living? I put ten supposed tricks to the test with one tub of 100% Raw Extra Virgin Coconut Oil... and yep, I scrubbed my teeth with it.
WATCH HOW I GOT ON...
THE RESULTS:
MOISTURISER
THEY SAY: 'In lieu of your regular lotion, coconut oil delivers a refreshing, healing, burst of moisture that penetrates your skin and works to truly heal it (not just soak in and dry up!).'
WE SAY: 'I nearly slipped down the stairs and dropped the jar onto my big toe. Still, a little goes a long, long way with coconut oil moisturiser - this is probably its best beauty trick. It may be slippery but it's incredibly nourishing. My skin is glowing, silky and the feeling lasts the majority of the day. People say I smell nice, like a coconut macaroon. My skin is soft to the touch. I'd happily sack off any £8 lotion bottle (packed with chemical nasties) and use this jar instead.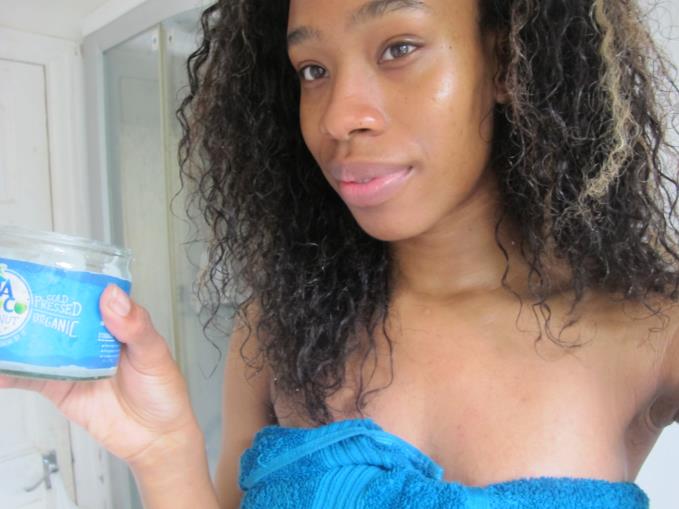 It's a fantastic moisturiser
SHAVING CREAM
THEY SAY: '…water rolls right off oil, which means you have solid protection that allows your razor to glide smoothly over your skin. It also leaves it soft, moisturized and safe from painful bumps and burns.'
WE SAY: 'Good tip, this. All shaving mishaps have been averted and my legs are smooth, hair and nick-free. And, as the coconut oil doubles up as a moisturiser, my legs look silky too.'
HAIR DE-FRIZZ & CONDITIONER
THEY SAY: 'You can use it on your entire scalp/head for deep conditioning, but you can generally just use it on your ends - the hardest bit for the body's natural oils to reach and where the most breakage occurs.'
WE SAY: 'This trick I can really vouch for. Coconut oil is great for afro hair textures like mine and anyone trying to smoothen out and nourish their locks. If your hair is prone to being greasy I would be a lot less liberal when using it.'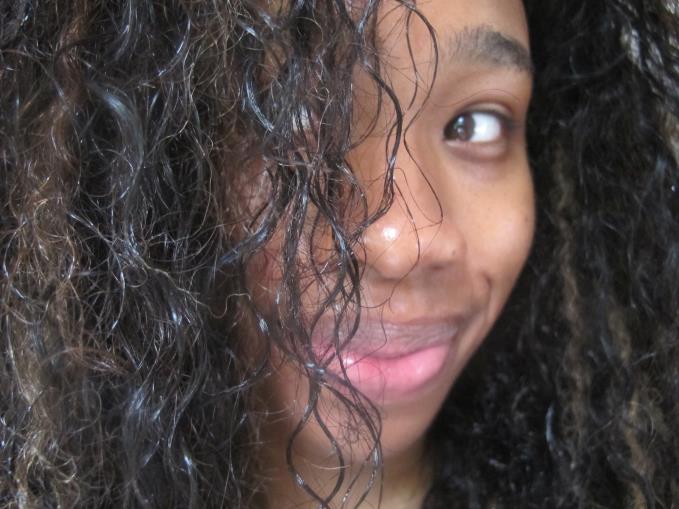 Hair de-frizz
COFFEE CREAMER
THEY SAY: 'In replacement of higher calorie coffee creamers (such as milk and sugar), stir a little coconut oil into your coffee for a sweet (but not "too sweet") and healthy touch. Make sure to stir it in well.'
WE SAY: By now, I smell of coconut oil, I'm eating coconut oil and I see coconut oil in my dreams - adding it to my coffee just seems too much. The oil floats to the top of my coffee and looks incredibly unappetising. It's not horrendous but it won't replace good ol' milk and sugar, no matter how healthy it is.'
MAKE-UP REMOVER
THEY SAY: '…when it comes to removing make-up, don't turn for harsher store bought products. Go instead to coconut oil, which gently and safely removes all traces of make-up and leaves your face feeling healthy and refreshed.'
WE SAY: 'I didn't think it'd work. I'm wearing waterproof eyeliner – the type that usually takes sandpaper to get off. But it does works, and in my opinion, works better than any face wipe. The trick: apply it liberally to the face and massage it in, even around the eyes. Use a damp, warm flannel to remove and watch make-up slide off. My skin looks in fantastic condition afterwards.'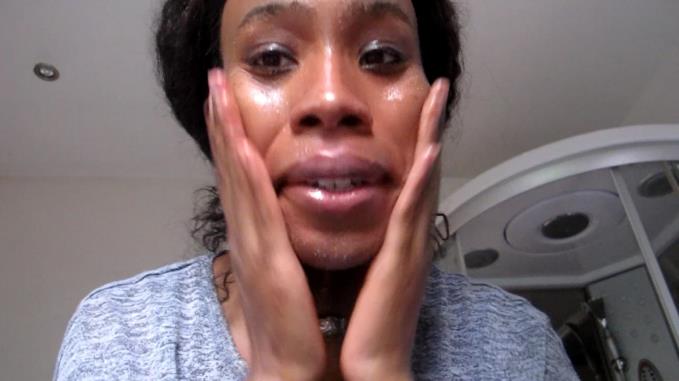 Watch the make-up melt away
ON TOAST
THEY SAY: 'A simple way to replace butter. Spread some coconut oil on toast for a tasty (and filling) snack.'
WE SAY: 'Another surprise. Coconut oil on toast is actually quite pleasant, it's oily enough to moisten the toast and the benefit of less calories is a welcome bonus. It can't beat butter taste-wise (we all knew it wouldn't), but it's an inoffensive alternative for those watching their waistline.'
MAKE-UP HIGHLIGHTER
THEY SAY: 'Highlighting your cheeks gives you that little extra glow that people can't quite place, but definitely notice. Apply a small amount of coconut oil the same as you would another cheekbone cream to give yourself a naturally beautiful glow.'
WE SAY: 'I've had a few compliments, whilst there's been a lot of talk of a 'glow'. I'm soaking it all up - the flattery and the coconut oil. With coconut oil now covering every surface of my body I'm well and truly prepped for make-up. Once it's soaked in and less slippery it's a great base and allows foundation to go on smoothly (make sure you set with powder as it'll slide right off). I use a tiny bit on my cheekbones and brow bones for a natural highlighter. The finish is radiant albeit a little shiny – just call it a natural dew.'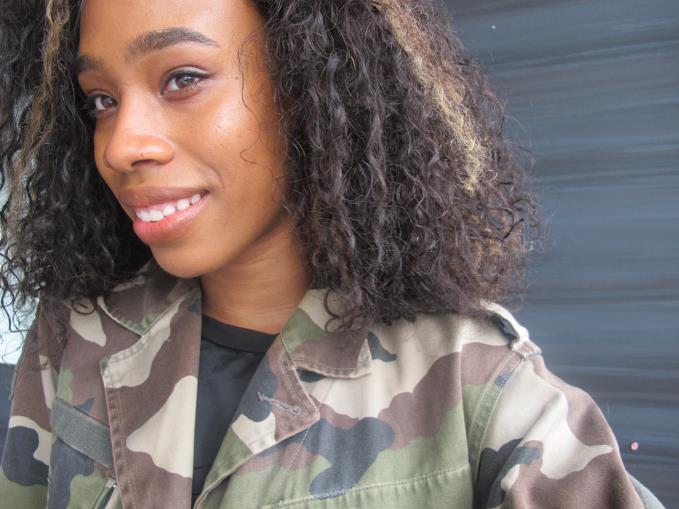 Make up highlighter
IN REPLACEMENT OF COOKING OIL
THEY SAY: 'There's no better way to get the benefits of coconut oil than to replace other less desirable fats with it. When cooking or baking, substitute it for butter or just about any oil. It lends moisture, freshness and richness to baked goods, and a subtle complimentary flavour to savoury dishes.'
WE SAY: 'If you don't mind most of your meals tasting faintly of coconuts then you'll soon adjust. As a fledgling clean-eater this was one of the easier food swaps I've made.'
APPETITIE SUPPRESSANT
THEY SAY: 'Well, if you sit around eating coconut oil, you aren't going to lose weight. However, if used to substitute other fats, it can help you drop the pounds by taking the place of those other calories. Craving something you shouldn't be? Have a tablespoon or two of coconut oil, and that sensation won't last long.'
WE SAY: 'I simply didn't enjoy this. Nope. Nada. Eating a spoonful of coconut oil is a spoonful too far. I could feel the oil melt and settle in my stomach. I didn't feel quite right. That being said, I didn't eat until a good few hours later and food didn't really cross my mind until someone brought jelly beans into the office. I wouldn't be too eager to recommend as a diet aid, however. It's simply not enjoyable to eat raw.'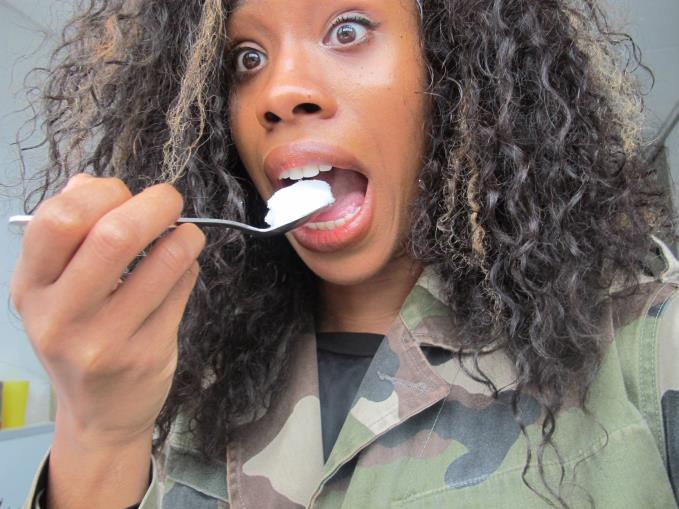 Two spoons a day
DIY TOOTHPASTE & TEETH WHITENER
THEY SAY: 'Add flavour, antibacterial action and potential whitening benefits by adding coconut oil to some baking soda and using as a DIY toothpaste.'
WE SAY: 'I doubt I'd ever give up the minty freshness of our old, faithful friend sodium fluoride, but there's a lot of research out there that says we should look for alternatives. Coconut oil is also hailed as a natural teeth whitener and, as it naturally contains a lauric acid, it can help rid your teeth of plaque and yellowing. This is all good news – but this doesn't help the fact that coconut oil toothpaste tastes, well, weird. It's not pleasant, but it's something you could get used to; especially if you want whiter teeth without forking out hundreds of pounds.'
CONCLUSION
I'm well on the bandwagon, folks. Lather me up, throw me in a vat of the stuff, because my skin is the best it's looked in a while. I'll be playing kitchen beautician with coconut oil for much longer. Thanks Gran-Gran, you always knew best.
Follow @LOreal_B on Twitter
Powered by Wakelet