I FIRST met Ikem Starr outside the Northern Quarter institution that is Fresh Bites on Oldham Street.
I asked her nicely to undress, and then decided I would (a) write down what she said, and (b) run for the hills
He told me he was an artist and asked me if he could take my photograph for his project.
An innocent enough request.
I didn't feel on top aesthetic form, but Ikem assured me I was what he was looking for.
He then produced his phone from his pocket to show me some photographs: the women were fully clothed.
He then showed me more pictures of the very same women topless on the streets of Manchester.
I even saw a vagina.
My 'yes' swiftly changed to a 'no' as my palms grew sweaty at the thought of my boobs paired with my face plastered all over the World Wide Web. Though Ikem's catalogue of photographs, featuring bank managers to students, did make me question why Manchester's women were so willing to get their breasts out and have that moment captured by a complete stranger.
Is it sexual empowerment and exhibitionism, art, or an affront to public decency?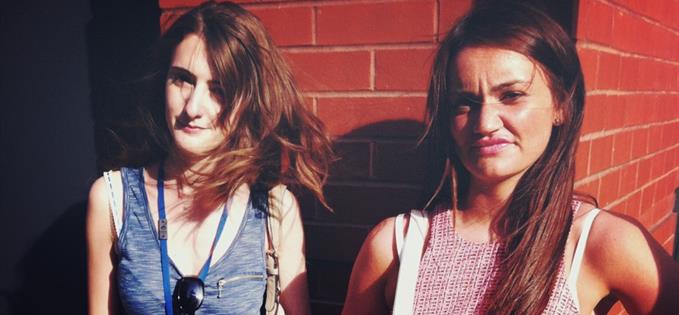 Before the reveal (credit: Ikem Starr)
'Ikem Starr' was inspired by Marc Riviere, whose book Up and Down catalogued a series of nude Parisians in black and white. Five years ago he decided to produce a similar profile of Manchester's women. He now runs a website called The Naughty Index.
Armed with a 50s camera, a clipboard and a work colleague, Ikem decided to approach a woman and ask to take her nude photograph.
"I asked her nicely to undress, and then decided I would (a) write down what she said, and (b) run for the hills," recalls Ikem.
After meeting her incredulity with 'no, I'm not joking', he went bought film and took the photo.
I struggle to imagine a situation where a woman would say 'sure, take a photo of my breasts and put them in your book.' Why have women been so willing to participate?
"I'm the inverse of charity muggers, plus I'm low-key and under the radar," he explained. "I'm also Hugh Grant-esque with the ineptitude of Columbo."
It became quickly clear that Ikem and I shared two opposing ideas on what it means to be sexually liberated.
I'd say we're more sexualised now than we ever have been, whereas Ikem would say this sexualisation is a myth that periodically recycles itself.
Today, our eyes are constantly affronted by images of nipples and stories about lewd affairs in tabloids, yet I'd say even the most liberted amongst us would still be averse to being asked to strip off on the street, surely?
However, since the project began in 2011, there have been hundreds of women willing to participate in Ikem's project, to bare all to a complete stranger. I wondered if he'd ever been assaulted or threatened with violence following his proposition, and his answer was 'surprisingly, not.'
Even more surprising, he takes the 'before' and 'after' shots within two to ten minutes of meeting his subject.
Ikem acknowledges the fact that he loses nothing whereas his subjects lose 'a lot' - namely their clothes. He believes the reason they participate is for various reasons: self-expression, an abandonment of fear, body confidence, the owning of their sexual power – and pleasure.
"Women want to be looked at where it's safe, and their time with me feels like that. The most common phrase women have said to me afterwards is: 'I feel liberated,' says Ikem.
Still, my clothes remain on for a multitude of reasons that sappear to baffle Ikem.
The internet, combined with my heritage, future career progression and the fact that I'd like to choose who ogles my breasts, made my decision to decline a nude shot an easy one. Plus, my dad would be very upset. To me, there has to be a reason for nudity.
"But what if I think you're hot? Does there have to be a reason?" he urged.
In this case, my answer would have to be a firm yes.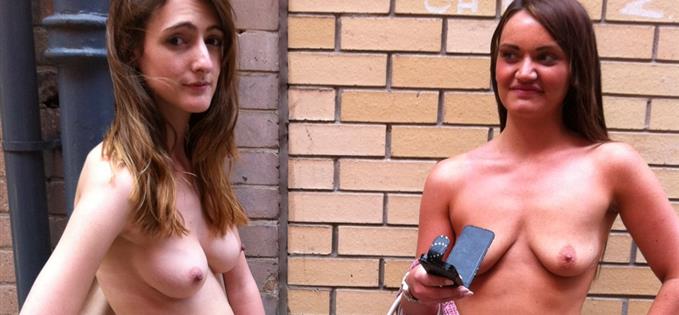 After... (The Naughty Index)
We're in an age which considers nudity liberating, progressive and empowering. Nudity equates with sexual expression. At the same time, keeping your sexual exploits and kinky deviance behind the bedroom door allows you to keep parts of yourself private. Is that not more empowering?
"Isn't less more?" I asked.
"I get that a lot from religious women, who talk about religion and morality as reasons for why they won't take their clothes off. Sometimes less is just less, and there's always a new sexual revolution."
It appears defiance is a draw in Ikem's subjects. As he suggests: "There are other ways of expressing sexuality that doesn't include what goes on behind closed doors."
Sexual liberation aside, why is Ikem really pursuing this project? More to the point, what does he get out of it?
"What I'm doing is legal, and secondly it's art," says Ikem.
"It's about the women behind the photographs and the conversations more than anything. The nudity is incidental, the conversations mean more. Every stranger has to buy the proposition, and it has to pique their interest."
He also talked about how the semantics define the dialogue around what's acceptable for women, as in 'stripping is objectifying, and burlesque is empowering.' It's an interesting standpoint.
On whether the women of Manchester are pivotal to his project, Ikem explained that Manchester's women are 'steely' compared to the women he approached in New Zealand and Toulouse.
So if you see a guy with a distinctive moustache, on a pedal bike with a horn and not a bell, chances are it's Ikem. Bra on or off? That's your call.
You can read more about Ikem's work on his blogsite 'The Naughty Index', or on Twitter here.