WHAT do Paul O'Grady, Beyonce and Sir Ian McKellen all have in common?
Wigs.
All three have worn wigs as part of their jobs, and while some may be more obvious than others, they all serve the purpose of helping creating a particular image.
Supporting local and British suppliers is all part of the age-old process. The powdered wigs of the 1700s certainly didn't come from China.
While Paul O'Grady depended on his towering black rooted wig to bring character Lily Savage to life, Beyonce's long silky blonde mane has become her personal trademark. So much so, many have forgotten her natural hair texture and colour. In this day and age, you really only ever spot a bad wig.
And who could forget Sir Ian McKellen as Gandalf in Lord of the Rings. The role earned him an Oscar nomination, but it's not without the visual spectacle which included that long, wiry grey wig. Gandalf wouldn't have been so grey and so great without it.

Wig, Wig, Wig.
Wigs Up North are wig makers and make-up suppliers for both the screen, stage and people with hairloss, based in Royal Mills in Manchester. The small but perfectly formed team comprises of Jackie Sweeney, Liz Armstrong and Vicky Holmes. As a collective, these ladies have worked on everything from Les Miserables to Last Of The Summer Wine with expertise in wig making, make-up artistry and fashion – both Jackie and Liz studied at the London College of Fashion.
The trio started out making wigs in a little basement workshop and nearly a decade on, now own a shop full of wig and make-up supplies. They have since added teaching to their roster too.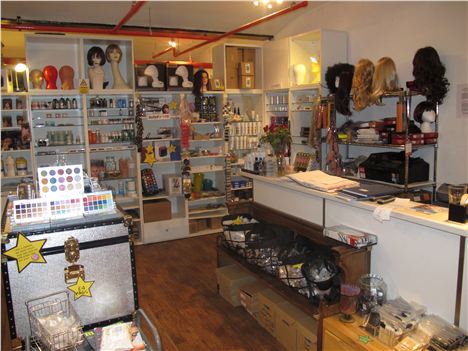 Wigs Up North
Despite having worked with the likes of the BBC, Sky TV and The Royal Shakespeare Company, the ladies don't shout about what they do. It's more a 'seek and you'll find' type set-up for those who are as enthusiastic about working behind the scenes.
As their mission statement reads: 'Our goal is to create confidence in others. This could be creating a character for an actor, helping a student learn new skills or using our skills to give someone their self-esteem back. And we have fun while we do it.'
The small back room of the shop where classes take place, transports you to a world of wigs and SFX not too dissimilar to Weasleys' Wizard Wheezes in Harry Potter.
With a vast stock of wigs bought from former Granada TV show Stars In Their Eyes, entering this shop full of wonder is a magical experience. "Tonight Matthew I'm going to be..." anyone I bloody well like.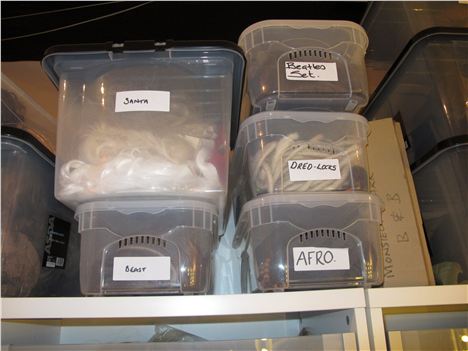 The Stars In Their Eyes wigs
Lace bases stretched over mannequin heads form the basis of the best wigs, but it's not simply a case of plonking the hair on and being on your way. A very creative process follows, whereby every strand of hair is accounted for.
The first couple of days of wig making classes are all about measuring a head correctly using the Wigs Up North technique which even involves a bit of science, measuring from the occipital bone round to the forehead followed by the less scientific use of Sellotape, cling film and scrunched up tissue paper, believe it or not. The outcome is a base pinned to a block, on which to form a perfectly fitting wig for the client.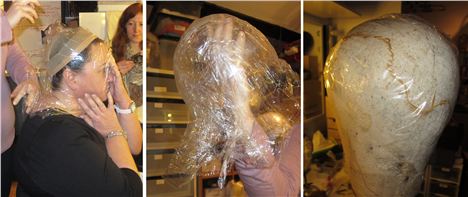 Creating A Base For The Lace...
The wig makers even go as far as drawing the hairline and arrows on the finished base to show how the hair should fall. They see the actor three times throughout the process and with the North getting more TV work thanks to MediaCity, that's a lot of heads coming through their studio every single week.
For the Beyonce look, the finest, high definition lace is used to give that barely detectable effect, but in theatre productions where quick changes can damage these delicate wigs easily, the stronger theatre lace is used. On the course, students learn all the different types of laces and how to handle them correctly.
Then comes the fun part.
You might be inclined to think there are huge machines churning out hundreds of wigs per day but in traditional wig making in the UK the longest lasting and most realistic wigs are carefully crafted by hand.
Sewing machine-made lace wigs can of course be sourced cheaply from the Far East, but you really do get what you pay for in this industry and when it's on your head, you'll want no one to question it.
Plus for Jackie and the team, supporting local and British suppliers is all part of the age-old process. The powdered wigs of the 1700s certainly didn't come from China.

Securing The Lace Using Wig Pins And Knotting The Hairs Using A Knotting Hook
The process itself looks painstaking, but any of the ladies at Wigs Up North will tell you that once mastered, it's a very therapeutic craft that will leave you with a great sense of accomplishment.
The hair itself comes from hair merchants in London who source the hair from Russia and other European countries. Prices of wigs range from hundreds to thousands of pounds and depend on the type of hair used, length, thickness and type of base.
For example, wigs made for amateur dramatic productions tend to be sewn onto a stretchy base with wefts of acrylic hair rather than individual strands of human hair. This saves on cost.
Then there's the craftsmanship that needs to be taken into account. As Jackie said: "Sone of the world's best wigmakers are in the UK and charge up to £4,000 for a wig. But they are true works of art."

Prepping The Hair And Putting The Wig On...
The team at Wigs Up North can bang out a wig in about five days, working at full speed, full time. Hair is added to the base, three strands at a time to each hole at the back of the head and one strand per hole at the front, using a knotting hook. You need the patience of a saint and the eye of a tiger, but once in full swing it's like dancing a waltz with your fingers tips.
Once finished the aim is then to get it sitting correctly on the head. This is achieved using a special technique of securing the person's own hair down followed by a stocking cap, wig pins and the careful placement of wig glue.
Jackie said "It's a common misconception that it's the glue that holds the wig on." Indeed, the glue serves as a final touch around the hairline, but it's the tiny wig pins that really secure the wig in place.
No wonder Beyonce is so care-free with her hair tossing antics on stage.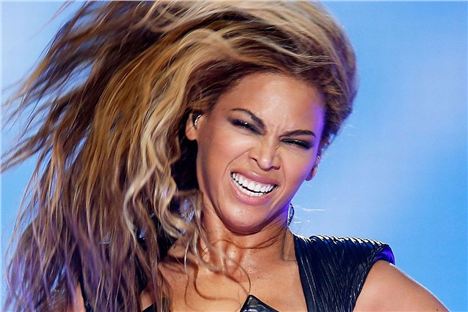 Whip that wig...it will not come off
If you're interested in learning how to make wigs, you can download the Wigs Up North training courses brochure here. Other courses include theatre make-up workshops, making weft hair extensions and learning how to make prosthetics.
Visit www.wigsupnorth.co.uk or email info@wigsupnorth.co.uk to enquire.
Wigs Up North




Unit 8 

Royal Mills
17 Redhill Street
Manchester
M4 5BA

Follow Lynda on Twitter @lyndamoyo