MANCHESTER has it's fair share of curiously titled bars and restaurants: Mud Crab, Panama Hatty's, Topkapi Palace, Crazy Wendy's, 2 Kozy (RIP), Jack Spratt (RIP), Peachy Keens, James Martin, the list goes on...
Mission Mars has commited £3.5m to the new venue
However, this latest venue could well take the Onstkuchen (that's Bavarian for cake), as the city gets set to welcome Albert's Schloss.
Having recently acquired 50% of Manchester bar group Trof (Gorilla, Trof, Deaf Institute), Revolution Bar founders Roy Ellis and Neil Macleod - who retain a small interest in the vodka giant after departing in 2013 - will help launch the new 'Bohemian Pleasure Palace' in Manchester's beautiful Grade II-listed former Methodist hall on Peter Street this October.
Trof acquired the Albert Memorial Hall - designed in 1910 by WJ Morley of Bradford - back in 2013 and have since overhauled the Gothic/Baroque structure, hosting over 130 sell-out music events in the 3000-capacity venue.
Now Ellis and Macleod, along with Trof founders Joel Wilkinson and Adelaide Winter, have formed Mission Mars - a new company they say will launch 'the best entertainment venues and bars in the world'.
A big claim, but then, Mission Mars has a big budget. Around £3.5m has been commited to the new venue, which makes the £2m recently dropped on Spinningfields' Tattu look like milk money.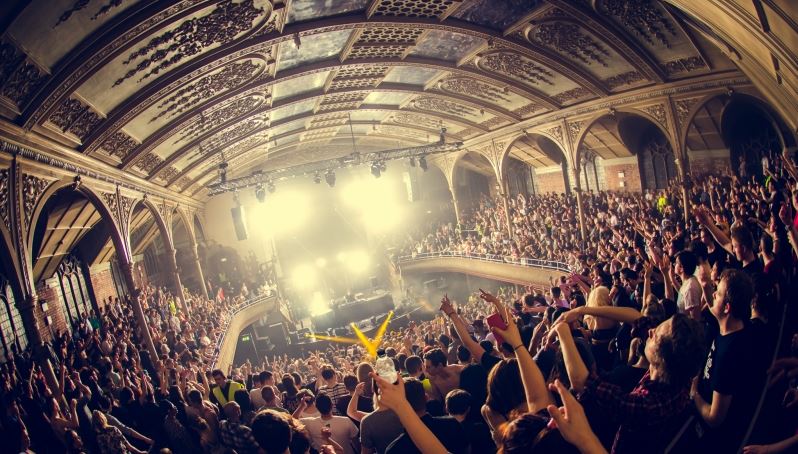 Music event at Albert Hall
So what exactly is Albert's Schloss - besides a peculiar union of the Bohemia region of the Czech Republic and the German word for 'castle'?
Albert's Schloss, they say, will be a Bavarian/Bohemian/Alpine restaurant, bar and entertainment venue - think meat, tatties, pretzels and puds washed down with Pilsner or Schnapps and soundtracked by Hannes the Volkssänger... something like that anyway.
READ MORE:
- First Look Around Solita Prestwich
- Northern Quarter's Infamous Diner Reviewed
- Two New Venues For Northern Quarter
"The addition of Albert's Schloss to Albert Hall completes the vision we had back in 2008 when we opened The Deaf Institute," says Wilkinson. "It was our dream to have beautiful venues, hosting world-class entertainment with hospitality, food and drink to match.
"We can't wait to open the doors and invite music lovers in to enjoy an incredible experience, the only one of its kind in the UK."
Meanwhile, Mission Mars are currently recruiting for 'weird and wonderful' musicians, dancers, actors, singers and performers to audition for a role at the new venue... Schlosst causes are encouraged.