I HAVE a sneaky confession to make.
It's almost a fashion sin in its own right and as a fashion journalist I should know better; I hardly ever get bra fittings. I choose to buy straight off the shelf, rarely try it on and just tend to loosen and tighten the straps until it's comfortable.
It might not give you super powers but if it can make your clothes fit better then it's certainly a bonus.
So do most of us apparently.
76% of women are wearing the wrong size bra and like me, most of them just make do with whatever they've bought. We wouldn't wear shoes that are the wrong size so why do we make do with the wrong bra size?
Underwear label Triumph is on a mission to measure 10,000 women and get them wearing the right bra size. After all, a good fitting bra is the starting point to a great outfit.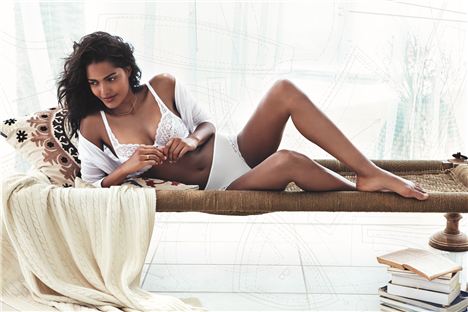 Triumph is on a mission to fit 10,000 women with the right bra size
"34B is the most common bra size that people think they are," explains Sophie from Triumph. "People think that just because that's what they were when they were seventeen then they're still that same size now."
Guilty as charged. I've worn the same bra size since I was in my teens and never given a bra fitting a second thought. Our weight varies and fluctuates and one of the most common places to lose and gain weight is our breasts. So the bra size I was as a size six lanky teenager is not going to be the same now I'm in my twenties and a size ten.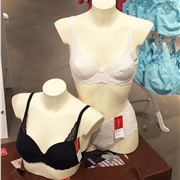 Triumph stylesSophie's quick fingers wrap a tape measure around my rib cage and within minutes I'm told I've gone down a back size and up a cup. "We always measure at the side," she explains. "It's less intrusive than at the front."
Agreed. Facing nose to nose with someone working out how big your boobs are is never entirely a welcome experience. Rather than awkward moments stood in my underwear in front of a complete stranger, Sophie is helpful, professional and within minutes I'm trying on different bras from the Triumph range in my correct size. "I've already had two different women in today who thought they were a 34B and in fact they were actually D cups," Sophie tells me as she hands over two intricate lace styles.
As I try on the different styles and shapes, Sophie explains what a good bra should look and feel like: "The band should be level the whole way round. When women choose a back size that's too big that's when it rides up at the back and gets further and further up."
Sophie also points out how my new correct bra is perfectly level the whole way round: "You know when you can see a girl's bra through her shirt and it's right up by her shoulders? I just want to pull it down."
We've all seen it before, when you spot a woman's bra through her shirt and see the dreaded back boob or lumpy sides as a too small bra is straining to meet at the back. A good fitting bra can do wonders for the figure and Triumph is determined to show 76% of women exactly what the right bra can do.
It might not give you super powers but if it can make your clothes fit better then it's certainly a bonus.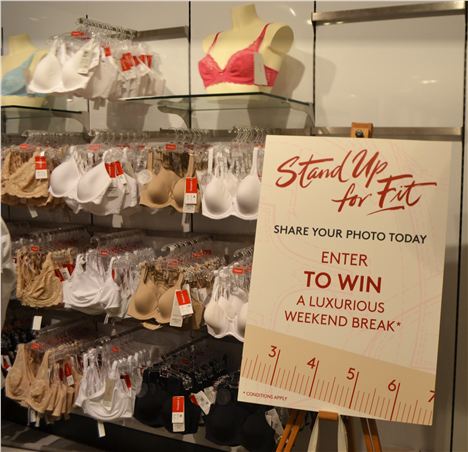 Stand up for fit with Triumph
Sophie continues pointing out where my Triumph bra is fitting me properly, and where my tired t-shirt bra before was going wrong: "The front should lie flat against your rib cage. Women always think when it's pulling away that it means their bra is too big but in fact it's actually too small. The breasts are pushing it away because the cup is too small.
"Women complain that underwired bras are too uncomfortable, and there's a reason for that," explains Sophie. "The underwire should always start from behind the breast tissue and sit directly underneath it. When women put their bras on at the front and just swizzle them round they never support their breasts properly."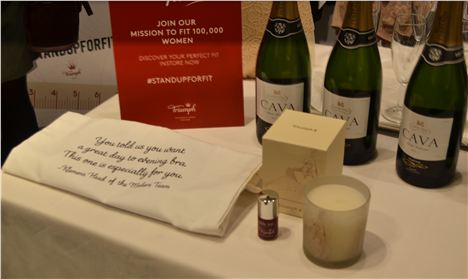 Cava and goody bag treats from Triumph
Don't we all just do our bra clasps at the front and twist it round to the back? Sophie fixes me with a stare and I realise I've committed yet another lingerie sin. "The right way is to lean forward when you're putting it on, especially if you have a larger bust, and then reach back and fasten it," Sophie explains, "then adjust yourself so the underwire is sitting at the right point." Lesson learnt.
Armed with the correct bra size I find my clothes fit better, and of course it's miles more comfortable than wearing a bra that is too small. Regular bra fittings is my new shopping habit, I'm no longer a lingerie sinner.
Follow Niamh Spence on Twitter at @missnspence
Find out more about Triumph.
The next Triumph Stand Up For Fit event will be at House of Fraser, Deansgate on Friday 16 May and Saturday 17 May.