EVER since I saw photos of triathletes competing in Dock 9 at Salford for the 2002 Commonwealth Games, I've been crazy about doing a triathlon. The trouble is, I'm not exactly fit: I'm a wine-necking arts journalist who sits on her fat backside all day, hydrates herself with Prosecco and hangs around in beer gardens smoking other people's cigarettes. And that's on a good day. I'm like dumpy Cheryl Tweedy circa 2004, only I'm 37.
A triathlon is mental. You could drown, or crash your bike, and if that doesn't get you, there's the risk you might collapse
Since the triathlon came back to Salford in 2013 (after a brief hiatus from 2008 whilst Media City was being built) I've been on and on and on at my mates begging them to do a triathlon with me – even when we are well are truly sozzled after the second bottle of wine and fifteenth Malboro of the night, they still refuse. 'Why can't I just do a Bupa 10km or something? Does it have to be a triathlon?'
Er, yes, it has to be a triathlon. Those running events look so boring. Why would anyone want to plod from a starting line to a finishing line for an hour? What is the point of that? It's like a standing competition, going at speed.
A triathlon on the other hand is mental. For starters you could drown, or crash your bike, and if that doesn't get you, there's the risk you might collapse before you get to the end. Also, you have to change outfits – in what other competition do you have to practise 'getting out of wet clothes quickly'. And you have to eat and hydrate, eat and hydrate – but not too much or you might die. It's the most melodramatic sporting event of all.
My mind was made up in 2014 when Davina McCall did all those crazy triathlons for a gruelling 500-mile Sport Relief challenge and was dragged out of Lake Windermere in a near comatose state – she warmed up and then got on her bike to cycle 65 miles in the dark. 'G'won Davina,' I yelled at the TV. What a woman.
So I asked my guru Jessica Ennis-Hill if she thought I could manage the distance – Jessica's been on my kitchen cupboard since the 2012 Olympics telling me to have only three biscuits not four with my tea. Jessica spoke to me and said: 'Maria, do it. Put that sausage roll down and get training.'
My mate Sarah, who turned 50 this year, said she'd join me. So we signed up for the sprint category at Salford Triathlon, which took place on July 26th. It's a 750m swim, 20km cycle, 5km to run. To put it into context, it's like swimming, cycling and running from my house in Sale to Bolton.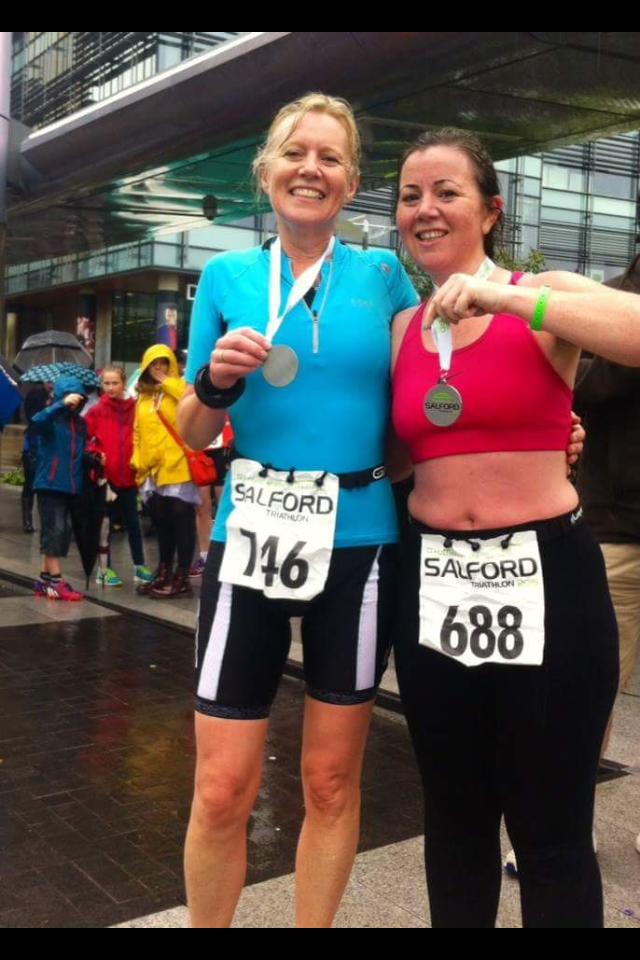 If you are a lazy office sod reading this, take it from me that anyone can do at least a sprint triathlon. When I began my training in January, I could only run for two-minutes without stopping. And those two-minutes were terrible.
But I kept with it: on my runs I found myself daydreaming about how lovely it would be to sit in a pub with a glass of wine. Mmmm. On my 26km round trips cycling to work, I reckoned a cigarette would be a fine addition to the scenario.
In need of support, I signed up to beginnertriathlete.com, joined a training forum where my hot-male mentor from Texas gave me hot tips, and downloaded a training plan. Ideally, I would have joined Manchester Tri Club, but to be honest I was too much of an unfit mess to face public humiliation on a treadmill.
So I'd work all day, do my part-time M.Sc. at night, curtail my 16-year-old boy, cook dinner, clean the house, then run, swim, cycle repeat. Oh, my God. Triathlon training is so hardcore. You have to build it into every aspect of your life. And it hurts. Like it really flipping hurts. It's tough to sleep when you are in pain. But pain is good, because eventually one day you wake up thinking, today I feel strong.
For a single girl like me, it's not been ace. I have spent the past six months smelling of weird shit like rain and mud. I've met friends for after-work drinks in my sweaty Lycra cycling gear. I've been on dates smelling of chlorine fresh from the Aquatic Centre. I've also turned up for dates in a pretty dress, only to depart wearing a day-glo jacket and spandex pants.
In the run-up to the event, I held a marketing meeting in my Speedo swimsuit by the lake at Boundary Water Park, chatting to our subscription manager in her swimsuit and goggles. I've done runs around Mersey Valley in my crop top and shorts to deal with the trauma that my nipples might be visible on race day. I've driven in wet clothes to get used to being cold and uncomfortable for an hour. The night before the race, I watched television in my goggles so I could practise seeing things at distance. My son came home to catch me swimming fully clothed on the living room floor as I watched an Australian YouTube video on technique. He watched me for a bit then said, 'I'll be glad when this triathlon obsession is over.'
Come the race on Sunday, I was pumped. Everyone was friendly, excluding the cow that sabotaged the pink balloon I'd attached to my seat so I could find my bike after the swim. Oh yes, and that maniac in the water who tried to take me down by swimming stupidly close to me, invading my breathing space, sending me into a panic some 500 metres in – totally thought I was going under with the fish. To calm myself I repeated my special mantra: Maria, you are nails... Maria, you are nails... I'm totally nails.
The best bit? A triathlon is sexy: hundreds of fit men, in rubber suits, getting undressed next to you. I'm not talking physically fit here – that goes without saying, because they run across deserts and swim in shark infested waters – what I mean is they are a bunch of absolute hotties, even the old ones.
And the triathlon community on twitter is brilliant. When I didn't know how to hold my pee for the duration of the race the @UKTriChat community stepped in with some sage advice. My new triathlete friends on twitter are semi-naked, semi-pro athletes from California, telling me to urinate on myself. Not bookish people talking about character and plot.
Girls, who wouldn't want to do a triathlon?
*Oh, I came 250th – out of 267. Go me!
Maria Roberts is editor of International Arts Manager Twitter @Maria_Roberts