Where is it?
22 Oldham Street, Manchester, M1 1JN
Tel: 0161 235 0606
History
Thunder Egg shop owner Mandy Fisher began her business back in 1991, after ex-owner of Afflecks Palace Elaine Walsh, offered her a job face-painting, hair-wrapping and making silly hats.
While she was there, Mandy enjoyed a spell of travelling to Thailand, Bali and India and soon found herself back on the plane to Manchester with a shedload of trinkets and treasures ready to unveil to the world.
"It was very cheap to buy stuff in Thailand" said Mandy. "I'd buy loads, bring it back, sell it on and then go back for more. It used to fund my flights."
"There's a lady who works at The Buddhist Centre in Manchester who comes in a lot. She loves it in here – and she's 71-years-old."
From then on, Mandy was given the opportunity to have her own stall and sell on the cheap goods she'd discovered. But what was lacking in price, certainly wasn't lacking in quality.
The foreign gems Mandy found herself bringing back allured the public in and with curiosity came a boom in sales and a boost to her business. She soon found herself opening the second and now main Thunder Egg on Oldham Street that very same year.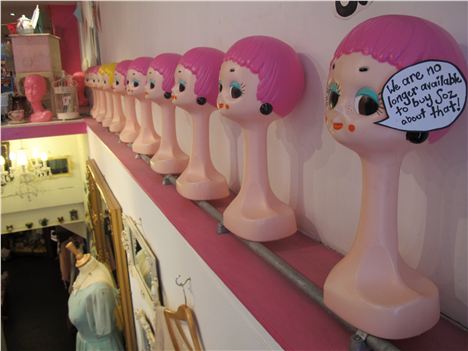 What does it sell?
Thunder Egg is a vintage-style lover's paradise – minus the mothball scent, as the pieces aren't actually vintage. You can pick up a vintage-inspired 50s dress for around £50 – it all depends on the style of the dress, the fabric and the designer. 
Thunder Egg stocks around four of the same item on the rack at a time and in terms of sizing, most garments come in a small, medium and large, although this does vary depending on designer.
The shop doesn't just stock classic-looking dresses though. Entering the store, I was greeted by a tall, hot pink mannequin dressed in a pinstripe multicoloured chiffon maxi dress with a dropped hem skirt at a measly £26 – an absolute steal.
And it's not just clothes Thunder Egg sells either. Sifting your way through the shop you'll come across some adorable little trinkets, such as these Russian dolls, inspired again by Mandy's love for travelling.
Mandy said: "We don't just sell ladies' fashion here. There are gifts, trinkets and stuff from all over the world that take peoples' fancies. A lot of it is Japanese-inspired, but it's not actually Japanese. Nowadays I get bits and bobs from China, Taiwan and America – but I tend to order them online now."
Another very striking accessory which caught my eye was the skull cushion. The way it was merchandised was fabulous – sitting upon a glass-cabinet alongside similarly designed satchels and bags. You just don't see stuff like this in the likes of Next and IKEA.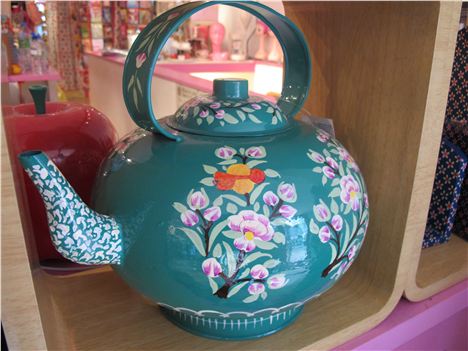 Who goes there?
You'd probably expect students and Northern Quarter hipsters alike to be the most popular customers in Thunder Egg. The reality is quite different.
Mandy said: "I don't think I get enough students passing through the door. I don't think I advertise it well enough yet, but I am really channelling the Facebook and social media at the moment – it's like a beast that needs to be unleashed, I love it, you can do anything with it. I think a lot of students come to the Northern Quarter for vintage. Our stuff isn't vintage, it's just vintage-inspired.
"We get quite a lot of young professionals with a bit of spare cash – they seem to be our main bulk of shoppers. We get people coming in from further afield too. From Leeds, especially. Thunder Egg is actually in Easy Jet's in-flight magazine for places to visit in Manchester."
I found the customers to be exactly that (not from Leeds – I wouldn't know), but looking around their twenties. There were lots of cool-looking, young couples who appeared fascinated by the stock. Who knows, maybe they were buying for their first home? Mandy did, however, tell me about a certain, loyal customer who challenges the supposed clientele.
"There's a lady who works at The Buddhist Centre in Manchester who comes in a lot. She loves it in here – and she's 71-years-old."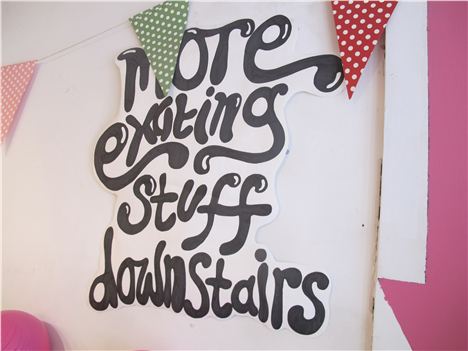 Future
At present, Mandy has only two shops – both in Manchester. But she'd love to branch out in the future.
She said: "I'd love to open a shop in Leeds – we have a lot of customers who come down from Leeds. Also London as well, but I'm not entirely sure where I'd fit in. I think in London you could probably buy everything I have but maybe not all in one place. I don't actually know if there's anyone doing what I'm doing, down there."
Food for thought, maybe?
Verdict
Every piece in the shop appears to have its own proper place and if you touch it, you feel like you're spoiling the whole aesthetic of the shop. You could say that's a negative thing, but ultimately it's the beauty of the store.