MARKETS have made a comeback in Manchester: Bolton authorities have pumped £4.5m into theirs; Levenshulme Market is one of three to be nominated for this year's BBC Food and Farming Awards; while Spinningfields, home to the likes of Armani, Mulberry and Flannels, have just launched a new monthly market on The Avenue.
A defiantly old-school, proper food market where you can pick up everything your larder needs
Still, you haven't got the time to trudge about finding which are worth the trip and which are a bit naff, so below we've rounded up the Greater Manchester markets you really should visit...
ALTRINCHAM MARKET
Gently hipsterised back in 2014, some £175,000 has been spent on the Market House to turn it into a food hall offering a wonderful selection of food and drink, all served from vintage market counters, while pottery, jewellery and other homewares occupy the outside stalls. Popular with families, there is a dinky play area for little ones. See our full review of Altrincham Market here.
TOP BUY: A pizza from Honest Crust is a must.
Greenwod Street, Altrincham, WA14 1SA @altrinchammkt
Home House and Garden Market first Sunday of the Month / Farmers, Producers and Makers Market second Sunday of the Month / Vintage Fashion and Vintage Furniture Market third Sunday of the Month / Craft and Hand Made Market fourth Sunday of the Month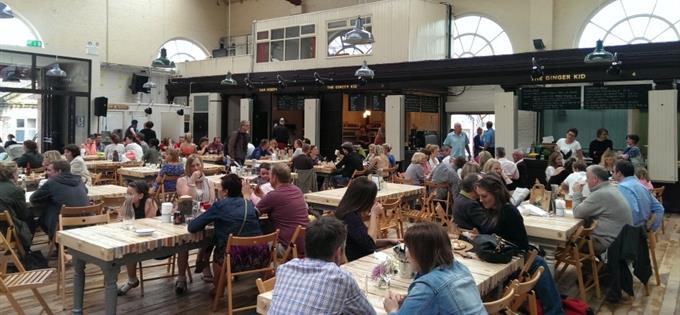 Alty Market
BOLTON MARKET
Always a traditional market, a £4.5million redevelopment of Bolton market finished last year (and this is after winning a string of awards in recent years including 'Best Food Market' at the BBC Radio 4 Food and Farming Awards) has seen innovations like the brand new 'lifestyle hall', but the fish market is the one to visit.
TOP BUY: Fresh fish
Bolton Market, Ashburner Street, Bolton, BL1 1TQ - Open every Tuesday, Thursday, Friday and Saturday from 9am-5pm www.bolton.gov.uk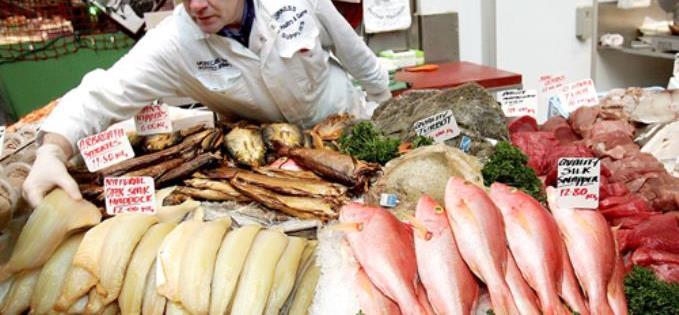 Fresh fish at Bolton Market
BURY MARKET
A defiantly old-school, proper food market where you can pick up everything your larder needs, no wonder Bury Market likes to brand itself 'world famous'. Featuring a meat and fish hall and an indoor and outdoor market, it was named best in the country in 2006 and pulls in an estimated 250,000 shoppers a week.
TOP BUY: A Bury black pudding of course.
Market Place, Bury, BL9 0AJ - Market Hall: Open every day, except Sunday, 9am-5pm / Fish and Meat Hall: Open Monday to Friday* 9am-4.30pm, Saturday 9am-5pm (closed Tuesday pm and all day Sunday) / Open Market: Wednesday and Friday 9am-4.30pm, Saturday 9am-5pm www.burymarket.com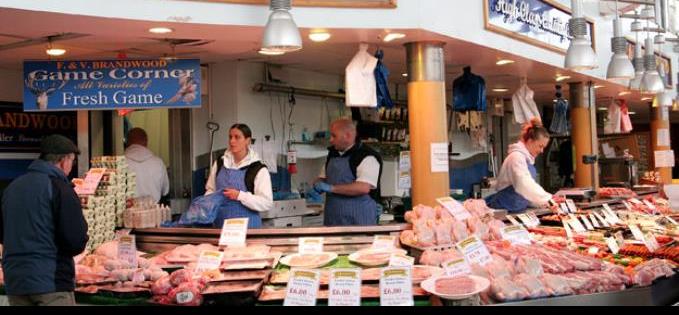 Meat hall, Bury Market
CASTLEFIELD MARKET
A well-edited selection of artisan food stalls and homewares (check out vintage and repurposed wares at tique-chic), this trendy market features food from West Didsbury deli Thyme Out, vintage and more once a month.
TOP BUY: The ultimate hipster bread purchase - a brioche bun for your artisan burgers from Hunter's Bread.
Upper Campfield Market Hall Liverpool Rd/Deansgate, Castlefield, Manchester M3 4FN - First Saturday of the month castlefieldmarket.org.uk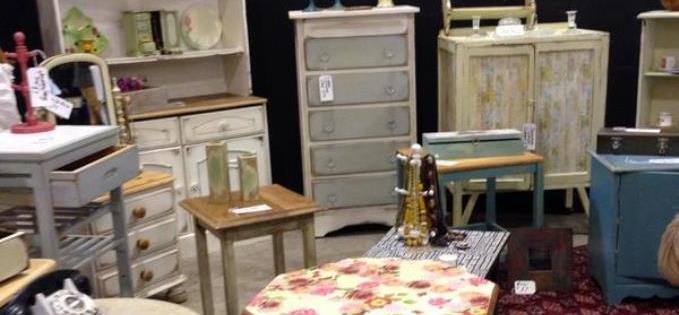 Vintage furniture at Castlefield Market
LEVENSHULME MARKET
Leading the way in the rebirth of Manchester markets, Levy Market has doubled in size since its relaunch in 2013, boasting over 50 stalls of artisanal produce, homeware and vintage finds. As well as the usual market staples, Levy is a great place for browsing (and grazing) street food, plus cute family friendly activities such as free face painting and walking tours.
TOP BUY: Massive eggs and hand-churned butter from Winter Tarn.
Levenshulme Market, between Levenshulme Station and Stockport Rd, M19 3AB - Every Saturday between March and December 10am-4pm http://www.levymarket.com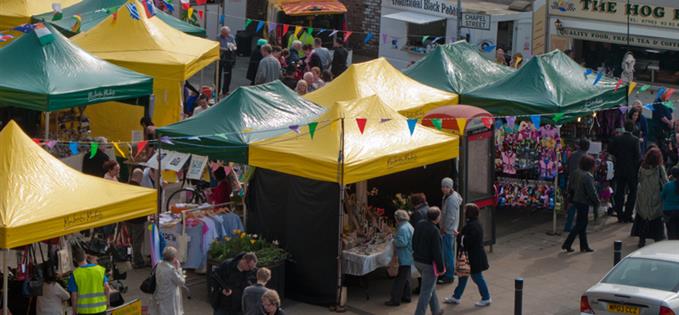 Levy Market
MAKERS MARKET
The award for most well-travelled market goes to the Makers Market, which is held at various Cheshire and Lancashire locations. A city centre version became inevitable and June saw the inaugral Spinningfields Makers Market.
The market comes in two parts, the original Makers Market offering food and drink, arts and crafts as well as music, performances, cookery demonstrations and activities for children.
The Spinningfields Finders Keepers has more of a flea market feel to it, and will showcase vintage clothing and accessories, furniture and finer collectibles, kitchenware, decorative items and unusual and quirky accent pieces. A location for retro and kitsch, right in the heart of ultra-modern Spinningfields.
TOP BUY: A salt beef brisket, potato and white onion cream pie from the Great Pie Co. Wow.
Various locations: Cheadle, Knutsford, Spinningfields, Didsbury, Sandbach, Middlewich - The Spinningfields Market is held on the third weekend of each month, 11am-5pm themakersmarket.co.uk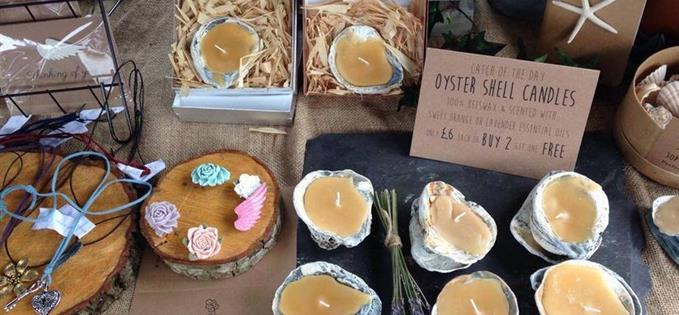 Oyster shell candles at the Makers Market
URMSTON MARKET
Urmston Market has been in situ for around 80 years, but in the last couple of years has experienced a resurgence as local designer-makers decided to pep things up a bit with some new stalls and community events. The traditional greengrocers and bag shops are still there among a sprinkling of trendy crafts stalls. There is always a good childrenswear selection too.
TOP BUY: A hand-raised pork pie
Railway Rd, Urmston, M41 0XL - Tuesday, Friday, Saturday 9am-4pm (artisan market first Saturday of the month, crafts and vintage last Saturday of the month) www.urmstonmarket.co.uk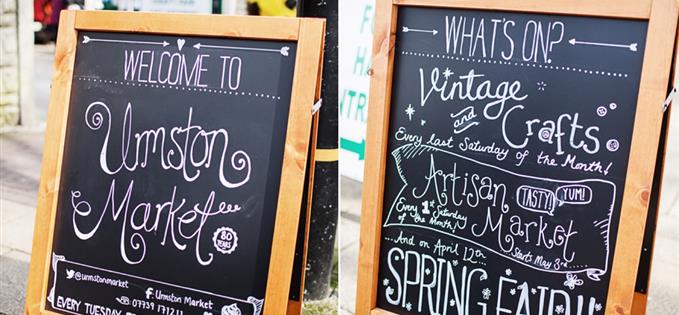 Urmston Market (photo credit: Anna Hardy)
For more information on Manchester markets visit manchester.gov.uk/markets
(main image credit: Oliver Kersh from Kerschstudio.com)