TO say I was once a broken woman may sound a tad melodramatic, but I was just that; until, that is, Manchester based sports therapist, Christian Platts gave all the king's horses and all the king's men a run for their money and put Ms Dumpty here back together again. Swiftly too, might I add.
Within four sessions I was back on the road. What's more, I ran stronger and faster than I did before the injury.
A few years ago, during a marathon in Rome, I suffered a debilitating injury to my illiotibial (IT) band, which forced me to walk the second half of the race. I should've dropped out but, stubborn sod that I am, I was determined to finish what I'd started.
It was this stubbornness, however, that caused me an injury of such excruciating agony, that the mere memory of the pain makes me wince to this day.
Christian Platts - City TherapyI thought time and rest would help heal it. But when I realised the injury wasn't about to be fobbed off and with another marathon less than six months away, I knew I had to seek professional help. Only thing is, where do you go and who can you trust when it comes to such matters?
I literally stumbled across City Therapy on my way to book in at a nearby restaurant. Without any recommendations, I think it'd be fair to say I was ever so slightly suspicious. 'If this guy tells me it's going to take a load of sessions to sort me out, I'm outta there', I thought.
But he didn't. In fact, he couldn't get me out of there fast enough. Not only that, but in just one session he realigned my imbalanced hips and straightened out my posture. Within four sessions I was back on the road. What's more, I ran stronger and faster than I did before the injury. And that wasn't the only place I felt the benefits.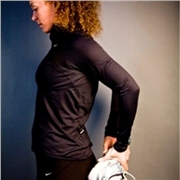 Thea, back to her bestDuring a lengthy night of shape-throwing on the dance floor, I realised my knees and lower back no longer ached as they were usually prone to do. In my twenties, after several hours embarrassing myself on the podium at Cream, I'd have to break off to stretch and grimace. But a decade on, and after less than a handful of sessions with Christian, I was giving the Duracell Bunny a run for its money.
Admittedly, I'm a huge fan of sports therapy (as opposed to physiotherapy). Simply put, if you have any type of sports oriented injury or want help improving your performance, you should see a specialised sports therapist.
It was only when I sat down to write this article, though, that I realised I needed help explaining the difference between sports therapy and physiotherapy. This is what Christian told me:
"Sports therapy is a relatively young industry of 25 years.
"Physiotherapy dropped massage as one of its modalities of treatment back in the 1970s and replaced it with the more cost-effective, time efficient electrotherapy machines; as such, a lack of degree qualified manual therapists left a hole for a more specialised, hands-on approach.
"Physiotherapists work predominantly with exercise to resolve injuries aches and pains. Sports therapists use exercise to complement their hands-on approach. We also have the skills to help improve the fitness of any athlete to an elite level."
A 40 minute sports therapy appointment at City Therapy costs £40. Visit www.citytherapy.org for more information.
If you're a therapist and are interested in learning more about sports therapy, the Sports Therapy Conference will be held in Manchester City Centre on Saturday 29 September. For further details and to book a place, visit www.uksportstherapy.org.uk/conference.