Welcome to Body Confidential's beauty lab (#BodyBits), where the team test out the latest trends in fashion and makeup.
---
THE BRIEF: Kim Kardashian has been said to wear two pairs of figure-hugging, ovary-squeezing Spanx/shapewear when she's 'feeling heavier'. It's a wonder how she breathes. But we'll give it to Kim, her outfits - which leave nothing to the imagination - are magnificently streamlined with the only bumps in her outfits the one's she's most famous for.
But then we're no Kardashian, and this being party season there's inevitably going to be some 'booze bloat'. So does shapewear really enhance the look of your slinky party dress while hiding your wobbly bits? Or are women again victim to the usual marketing ploys which feed on our insecurities? And just how restrictive are they?
We try three different shapewear brands to find out:
MARKS & SPENCER'S - FIRM CONTROL FULL SLIP - M - £27.50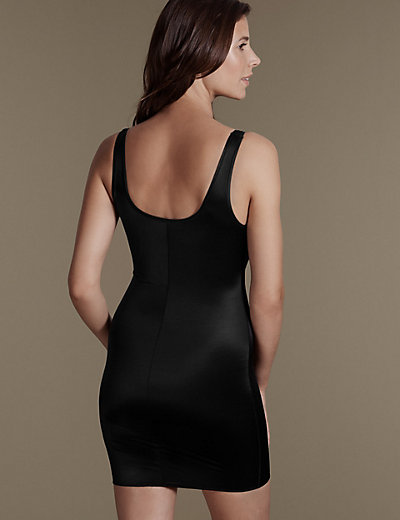 VERDICT: "IT'S A NO FROM ME"
WORTH BUYING? 2/5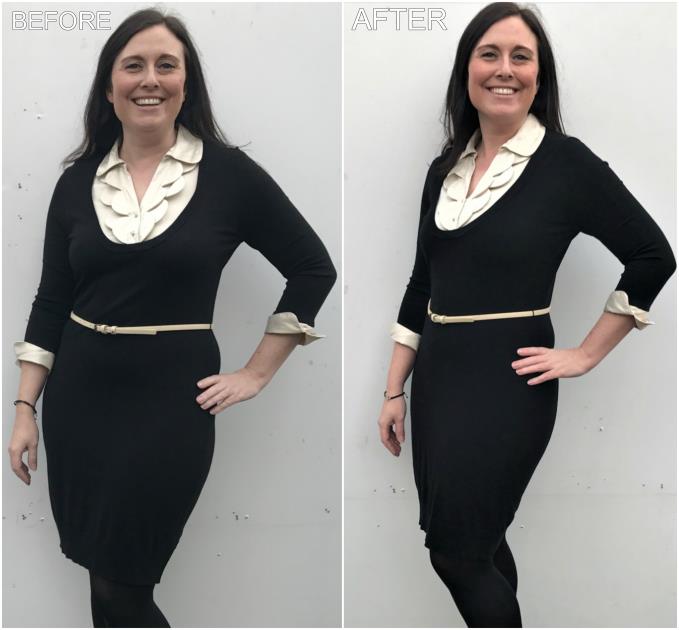 THOUGHTS: "As usual I've spent the first half of the year dieting and the second year binge eating and drinking, which subsequently means I'm buggered for Little Black Dress season. So getting to try out shapewear for Body Confidential was the answer to my prayers - or was it?
"I've previously worn shapewear big pants for a party – they were so tight I ended up taking them off halfway through the night and went commando... Classy I know, but absolutely necessary. This time, I thought I would give a slip dress option a whirl. I hoped I wouldn't feel like I was chopped in half after an hour's wear.
"Now the problem with shapewear is that, when attempting to get this on, I felt like I had to smooth my fat rolls down my body. Also, due to the material, I suddenly started radiating static electricity which meant my hair went on to static meltdown. You may as well forget about getting the perfect hairstyle for your night out.
"I have to admit I was impressed with how my rolls of fat were ironed out and VPL was a distant memory - just imagine sausage meat being pumped into sausage skin. Yes, just like that. But as good as the results maybe, if you were to wear this on your night out I'd suggest it would only be good if you were expecting to do the Mannequin Challenge for the duration of your night. If you were thinking about dancing the night away or running for the last train home then forget it - you would not get your legs wider than 10cm apart in this thing (but that might be a good thing if were prone to disgracing yourself at the office party – this slip doesn't come off quickly).
"Overall yes this slip is good but is it worth the constrictions when you should be letting your hair down? I'm afraid it's a no from me." - Georgina Hague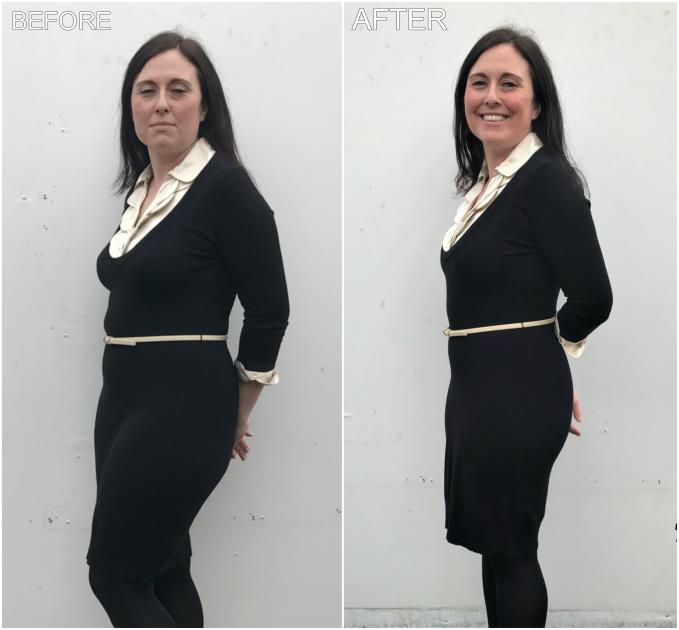 ---
SPANX- HIGHER POWER HIGH WAISTER PANTIES - Small - £35.00
VERDICT: JIGGLE PROOF
WORTH BUYING?: 3/5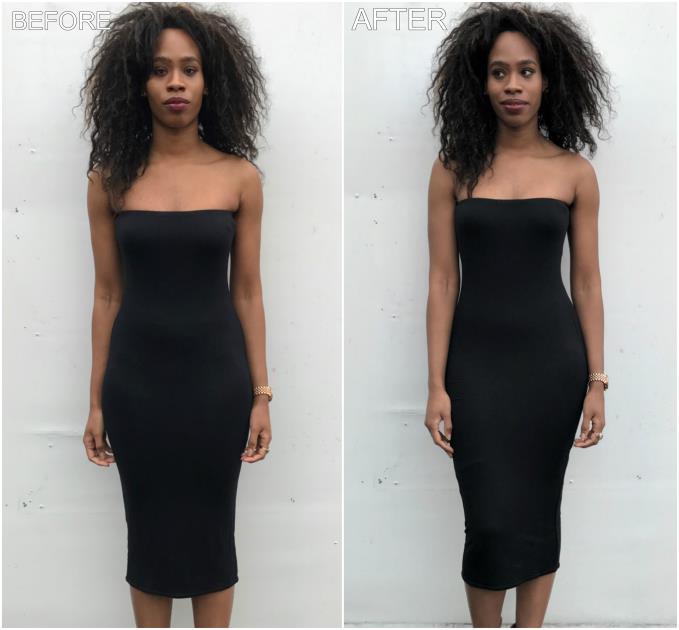 THOUGHTS: "How am I supposed to get my thighs and my arse in that?" – my first thoughts on my first ever pair of exceedingly tiny Spanx Power Shorts. "I have baby-grows that are bigger," replied my colleague. Rising up to my ribs and down to my knees, Spanx claim to 'put the power in your panties!' Scary. And, true to design, my first venture into shapewear would have me thrashing against a bathroom cubicle for a good five minutes.
"Once in, it's not too bad - more experienced Spanx-wearers had warned I'd feel like I'd been straight-jacketed. But no, I feel like I'm being bear-hugged. This is neither pleasant or unpleasant. It also looks as tight as it feels: it's smoothed out the tops of my thighs, kept my lower stomach tucked and squished in my bum (that, I'm not too keen on). It's entirely jiggle-proof and I'm walking a little funny; there'd be no twerking to Beyoncé in these and I'll have to stick to waltzing at the Christmas party. It won't be a knees-up but more of a sit down - you catch the drift.
"But dare I say, I quite like the look of my dress with Spanx (although they'll do nothing for my love life). Sure, there's barely any difference to my shape (I didn't want there to be) - but I don't think that's the point. Spanx streamlines my dress, hides any visible knicker lines, accentuates curves and, a major bonus, will disguise the booze bloat come party time.
"Although it does feel decidedly Kardashian wearing something uncomfortable in the pursuit of a flat tum and perky bum. I'm rejecting all my typical instincts to denounce Spanx as marketing fodder, made to force women into thinking their natural bodies are something to be ashamed of.
"Yet, here I am a Spanx-wearer.
"I may not need Spanx, I don't even enjoy the feeling of Spanx, but now I have them I will likely wear them. Yes, I could easily go back to a Spanx-free existence, but how could I possibly downgrade from power panties to well... weak panties?" - L'Oréal Blackett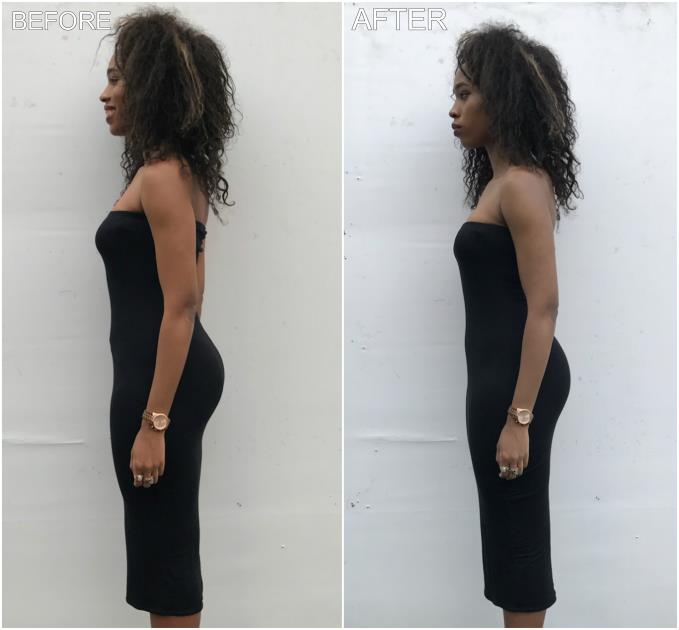 ---
ULTIMO - CONTOUR SLIP – SIZE 12 - £36 (ON SALE)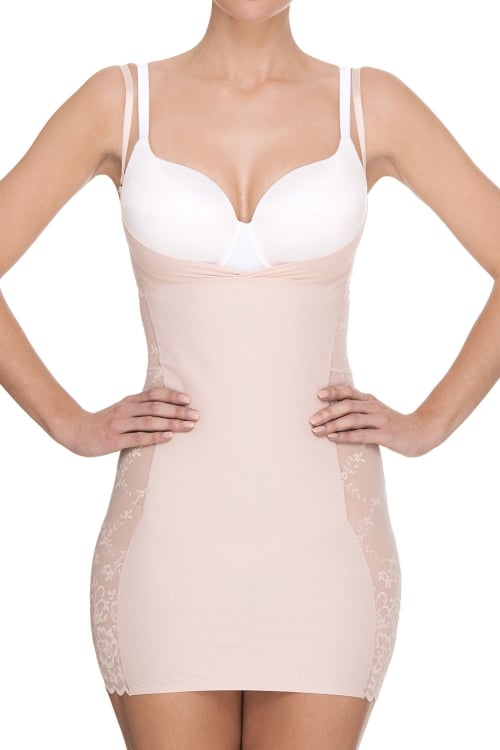 VERDICT: MIXED FEELINGS
WORTH BUYING? 3/5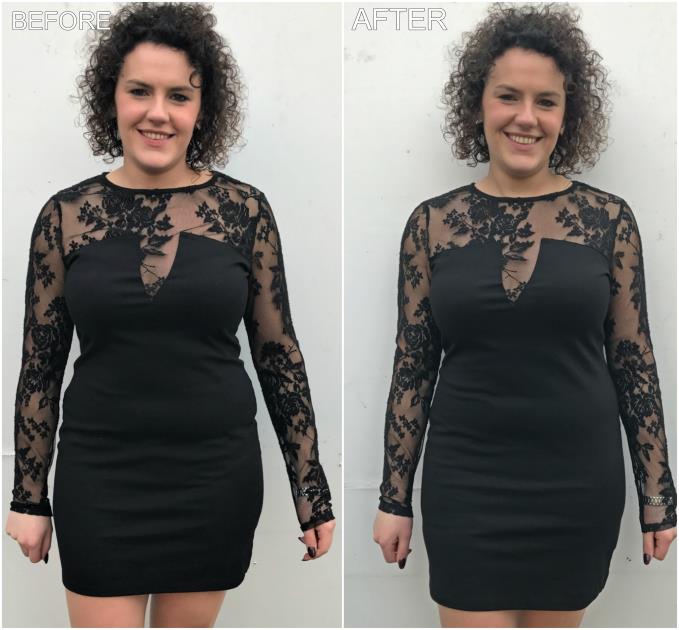 THOUGHTS:"I have purchased shapewear in the past and I've had mixed feelings about them (I liked that they made my stomach a little flatter but I didn't like the extra lumps and bumps the pants left me with…) but I thought I'd give it another go this year and went for a shapewear slip which I hadn't tried before.
"I went for an Ultimo slip in a neutral pink and although it reminded me of a lacy sausage skin (especially once I was in it) I decided it could be worn with darker winter dresses but also lighter coloured summer wear if my 'New Year new me' diet didn't work.
"Once I was in the thing, I could see a little difference, mainly at the front of my stomach, but I didn't see much difference with the extra padding of my hips which is something I would have liked. Two things I really didn't like: it really compressed my boobs and still left a bit of a line around the top of my legs where it ended.
"The long sleeved dress requires a strapless bra so for this one I pulled the straps of the slip down which helped relieve the chest compression and made it more versatile but lost a little of the shaping power around the stomach.
"This wasn't the most uncomfortable shapewear I've ever experienced but I still didn't see a big enough difference to make the inconvenience of it worthwhile." - Amy Massey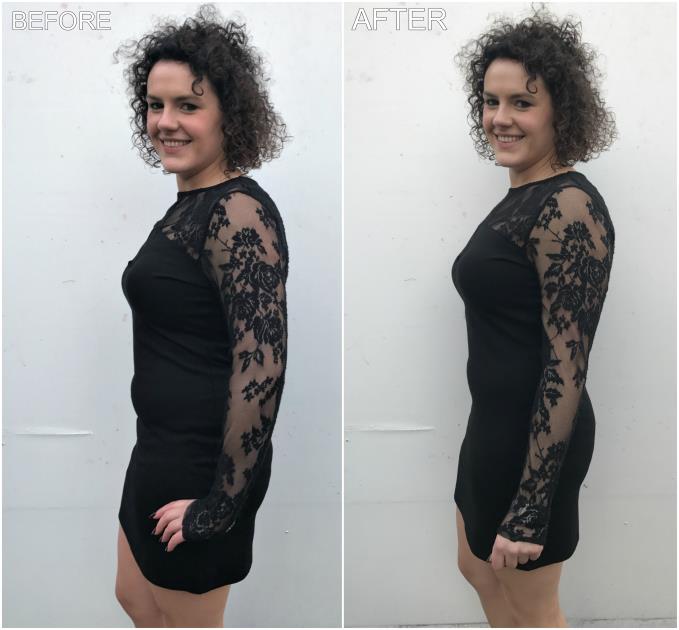 What should we trial next? Let us know on our Twitter page @bdyconfidential with the hashtag #BodyBits
Powered by Wakelet