NOW who doesn't love a bargain - but a bargain at any cost? Would you risk life and limb to snatch designer discounts from under the feet of a herd of stampeding shoppers?
In the interests of journalistic research, I set off on a quest to find the best of the sales. And the worst. 
PRIMARK, 106-122 Market Street, Manchester, M1 1WA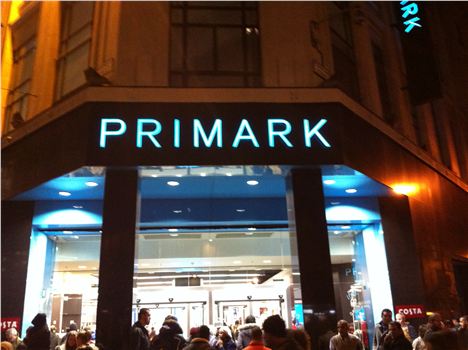 Primark - Tiny Savings
General Ambience: Less busy than an average Saturday. Primark is obviously not the place to go if you want to save a small fortune. It did have a sale on though.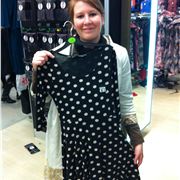 £5 FabulousBest Buy: They had a good range of basic dresses reduced from £13 down to £5 which is a pretty spectacular saving in Primark. However, my favourite find is a bit of a cheat. This nifty polka dot dress is only a fiver and it's not even in the sale. It's part of the new spring collection. Bargain.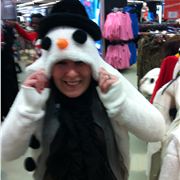 FrostyMy other best buy was a snowman jumper that was either so bad it was good, or so bad it was just bad. It was hard to decide but everyone else seemed to like it as they only had size 8 left. I squeezed into it anyway and did a little jig whilst singing Frosty the Snowman. Brilliant. And half price at only £7.
Worst Buy: Nothing was too bad although you aren't exactly saving much. Some of the items just looked a little forlorn. The Smurfs t-shirts weren't bad, cheap as chips but covered in footprints and general muck. Not a great buy.
Terms and Conditions: You have 28 days to refund or exchange with a receipt.
Changing Rooms: A small queue but it went pretty quickly – the staff were the most friendly and efficient of the lot.
NEXT, Arndale Centre, Manchester, M4 3AJ
General Ambience:
Next used to be the very pinnacle of sales pottiness, with people sacking off Christmas just to queue in the cold. When I arrived it looked pretty forlorn. New collections have been shoved off to one side so the sales can take centre stage but there was a lot of empty space with scraps of cellophane and packaging rolling around like tumbleweed. Perhaps I had missed some sort of shopping stampede which would explain why the prices had been torn from a number of the garments and were now lying unhelpfully on the floor.
Best Buy: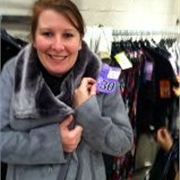 Massive CoatA faux-suede and sheepskin number was probably the best buy. Its silvery colour was just that little bit different and at £65 down to £30, it was a saving of over 50%. It was pretty snuggly but unfortunately all the average-sized people had been down earlier in the day, devouring the size 10s, 12s and 14s like clothes locusts. What remained was either tiny or massive. So I got the best buy of all – a saving of 100%. But no coat.
Worst Buy:
There was nothing particularly bad, no fashion faux pas doomed to spend eternity hanging at the back of someone's wardrobe, just an awful lot of fashion beige – sensible trousers for work, boring blouses and the like. For the sake of saving £20 or £30 quid, I couldn't see why anyone would bother.
Terms and Conditions:
Exchange or refund within fifteen days of purchase with a receipt.
Changing Rooms:
Shut.  
SELFRIDGES, 1 Exchange Square, Manchester, M3 1BD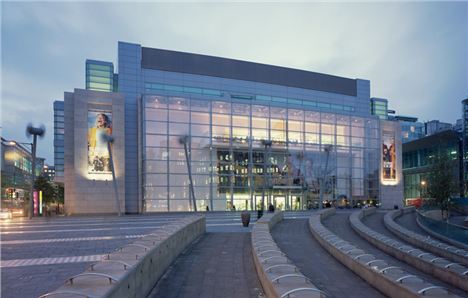 Selfridges, calm before the storm
General Ambiance: Surprisingly, this retail Mecca did not do an impressive line in discounted fridges (yes, too many Christmas crackers), but it was one of the busiest stores of the day.
There was a lengthy queue to get into the Gucci handbag concession and although everywhere was spick and span, the staff seemed to be fighting a battle to keep it so. The bag lady, as I shall name her, seemed to spend an inordinate amount of time standing up the handbags and aligning them beautifully considering every three seconds a crowd of people grabbed at them all, like toddlers who've spotted the Haribo.
Best Buy: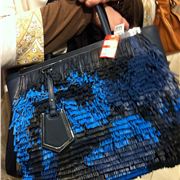 Bag a bargainIf you really want to feel like you've saved some serious money, then Selfridges is the place to go. Of course, with serious savings, comes serious expenditure. Pick of the bunch was a blue fringed Fendi bag at £1,510. It also came in grey but that was less appealing to my magpie nature. It might sound a lot for a sale bargain but as the bag was originally £3020, the money saved comes to more than the price of my first two cars put together. It's all about perspective, see?
Worst Buy: I know they're popular and I know that people wear them, but I really can't see the attraction in spending £65 on a pair of velour tracksuit bottoms that have the transformative powers of instantly making even the most glamourous glamourpuss resemble Waynetta Slob. The sale price represents a discount of £45 but if you really want to be like the charming Waynetta, just spend the money on crisps and cider instead.
There were also a number of eye-wateringly priced pairs of floral jeans that were not so last season but so the season before that. We're not mugs, you know.
Changing Rooms: No queues.
Returns Policy: Exchange only within 14 days with a receipt. 
URBAN OUTFITTERS, 42-43 Market Street, Manchester, M1 1WR
General Ambience: The photo below (from a phone) speaks for itself. What the hell has happened in here?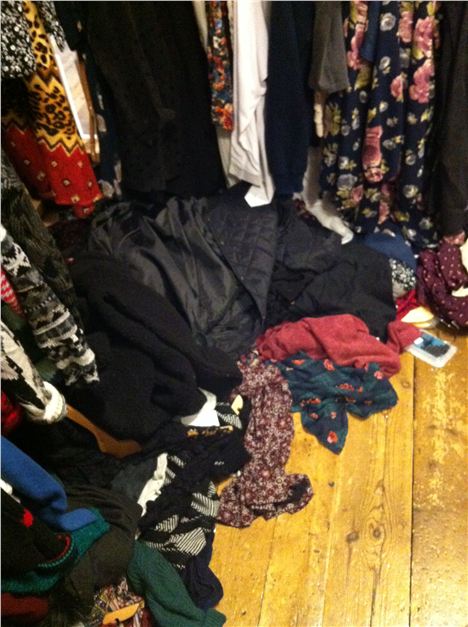 Wow, has there been a fight?
Best Buy: I found an item of clothing that was in the sale, that wasn't on the floor and wasn't hidden under a huge mountain of other clothes. A casual grey jacket from Silence+Noise. It's not bad, but it wasn't in my size and I wasn't about to start excavating under piles of festive jumpers so deep Santa Claus and all his helpers could be trapped underneath just to find another one.
Worst Buy: Upstairs, Urban Outfitters had cobbled together some dodgy wooden shed where they kept the real bargains. Tie dyed leotard anyone? Even the clothes were so depressed by it all, most of them had jumped from the rails in an effort to end it all.
There was also a very poor attempt at a Christmas jumper. Boxing Day isn't really the time to start buying festive woollens at the best of times but this really was a pathetic attempt. Optimistically priced at £30, but now reduced to £15, it was just a white sweater with a bit of ribbon stuck on to make a Christmas tree. Rubbish.
Changing Rooms: Practically empty. Obviously.
Returns Policy: In the unlikely event you find something worth buying, the returns policy is a generous one. Bring your receipt and get a full refund for 30 days.
JOHN LEWIS, Wilmslow Road, Cheadle, SK8 3BZ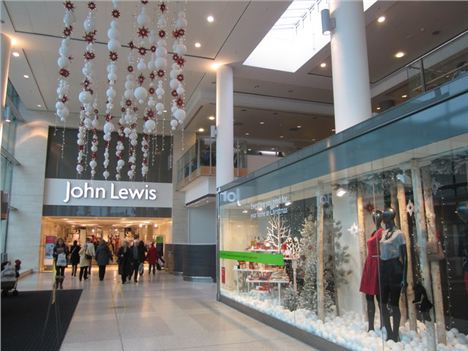 John Lewis on a quieter day 
General Ambience: A real sales atmosphere. That is to say, loads of people and carnage in the car park. Boxing Day must not be the ideal time to go to the sales; everyone is still too full of turkey and indigestion remedies. Those canny folk at John Lewis are on the ball and their in-store sales don't start until the 27th, when it was packed to the rafters. The queues at the till and changing room weren't too bad, but everywhere was packed with old people walking slowly and arguing about which half-price hoover to buy.
Upstairs the ladieswear had great discounts but it was a pretty hectic experience – my best buy was nabbed from under my nose. Leaving the car park was a day out in itself. High winds had closed the main exit so we queued for an hour in bumper to bumper traffic.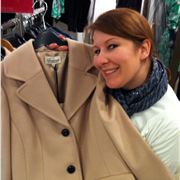 Lost and gone foreverBest Buy: It was the butter-soft wool coats by Alice Temperley for Somerset. At £299 down to £149, I was sorely tempted. Sadly, I wasn't the only one. I put my coat down (as it was soon to be) to answer my phone and it was swiped from under my nose in a matter of seconds. Who'd have thought there would be such sharp practice at this bastion of middle-class respectability?
 Worst Buy: The reductions were all pretty generous with most things marked down by at least 40% - 50%. However, there were racks and racks of pretty pastel Ted Baker dresses which were clearly unsold summer stock. Not very practical for December and with only about 30% off, not that much of a bargain either.
Changing Rooms: Queues but nothing like as bad as the ones in the car park.
Returns Policy: Refund or exchange with a receipt. No time limit given in store, but website says 90 days. 
TOPSHOP, Arndale Centre, Manchester, M4 3AQ
General Ambiance:
Topshop was in its finery. Done up to the nines with not a thread out of place. Not a penny out of place either. Blossom sprouted from the trees and everything looked fresh and new. Move over winter, springtime is here. That was on the full-price first floor. The second floor is where they are selling off all the crap. Ahem. I mean providing bargains galore for stylish shoppers. 
Best Buy: There were many bargains to be had and good ones at that. I was expecting lots of 'fashion-forward' regalia, by which I mean laughably unwearable items in orange PVC, but for the most part, there was plenty to tempt the festive bargain hunter. Shelves of jumpers with bits of sparkle here and there or party dresses to see in the New Year were all on display in impressively regimented order with most sizes and styles still available.
We're off to see the wizardOverall, the best buy was a pair of pink suede shoes. Practical, who needs practical? At £48 down to £20 they were better than half price and in my size too. It must be fate.
For anyone who doesn't have a Dorothy/Wizard of Oz shoe fetish, the best buy was probably a capacious leather shopper with intricate laser-cut details. At £75 down to £35 it looked pretty classy but it can't click its heels and take you back to Kansas.
Worst Buy: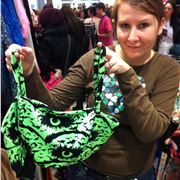 BargainHilarious. Exactly what I was expecting Topshop to be full of. This lurid green bra top is clearly a leftover from Halloween. Nobody bought it in October for £30 but I'd be surprised if anybody bought it now for £15. Having said that, it would make one scary outfit for trick or treating next year.
There were a range of other no-nos, mainly in the accessories section. £8 is not a bargain for a beanie hat, particularly ones that scream bin man. A high-visibility jacket for your head is not a good look.
Changing Rooms: The changing rooms were open as normal. They were eerily neat and tidy for what is supposed to be the aftermath of sales mayhem. 
Returns Policy: The finer points of a shopper's statutory rights seemed to be something of a mystery to the three permanent members of staff I asked. After two 'Don't knows' I got a stab in the dark with 'I think it's exchange only for up to 26 days and you need your receipt.' The website suggests otherwise. Exchange or refund for up to fourteen days with a receipt, apparently.  
REISS, The Shambles Unit 7, New Cathedral Street, Manchester, M1 1AD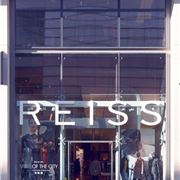 ReissGeneral Ambience: Unquestionably the most civilised shopping experience of the day. Sales, what sales? Reiss just carried on as normal with impeccable levels of order, service and presentation, it just so happened that some of the clothes were a teensy bit cheaper than before. Quite a lot cheaper actually, but I wouldn't want to describe it as anything so vulgar as a sale.
Very refined and very lovely, but if it's the thrill of the hunt you're after, the feeling of having done battle with the hordes and come away with your hard-won trophy, then Reiss just isn't the place for you.
Best Buy: Their party frocks are just the thing for New Year. They don't seem to have ran out of any of the sizes, styles of colours so it is like treating yourself rather than ferreting around at a jumble sale (yes, Urban Outfitters, hang your head in shame). With gorgeous £179 dresses reduced to £89, it seems rude not to. 
Worst Buy: Worst buy? What are you on about? Reiss doesn't really go in for hilariously tasteless clothes. I suppose the worst buy would be getting excited by something that's not in the sale and ending up having to pay full price.
Changing Rooms: Not a luxurious curtain out of place.
Returns Policy: You can return sale items up to January 8th for exchange or a gift card.
SO in conclusion...
Overall, there were bargains to be had all around the city but it seems the shine has come off the post-Christmas sales. Perhaps this is because discounts begin before Santa has dipped down chimneys. Perhaps, because everyone does their bargain hunting on the internet these days. Or, perhaps, we all have more than enough already. Surely not?