THE NEXT wave of city centre living will have to be 'better managed and of a better quality', according to Manchester city council leader Sir Richard Leese.
According to Leese, 'Manchester is full' and needs 3,500 to 4,000 new homes a year to keep up with the surge in population, mainly of 25-29 year olds which is expected to grow by 40%.
He told an Insider business breakfast discussing residential investment last week that development over the last ten years had left a clear message about raising standards and that badly managed blocks now blighted the market and the city.
He pledged that the City's own development joint venture with Abu Dhabi United Group, Manchester Life, would deliver homes that raised the quality threshold.
Leese said: "They will have space and environmental standards that exceed what the market has been used to and the management standards will set new bench marks."
He stated the appointment of Stirling Prize winning architects Feilden Clegg Bradley to design the conversion of the important Murray's Mills site in Ancoats (by Royal Mills) was an indication of the design levels they were expecting.
"I think that will send very, very clear signs out," Leese explained. "What we are doing through Manchester Life is setting new standards of quality for the city."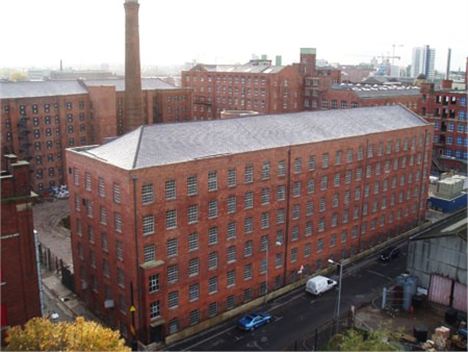 Murray's Mills, Ancoats
He clearly does not want to repeat mistakes. "We should not ignore the fact that we still have significant developments which suffer from poor management and that is not good for anyone," he said.
He admitted afterwards that he does not believe there is much the city council can do to rectify this problem. A disappointingly defeatist stance from the council leader.
One thing the council could do is offer practical help to people in those rotten developments to gain control over their own building through the Right To Manage process. Its incredibly complex and complicated and having a council funded expert to help and advise would give many more Manchester residents the courage to take ownership and oust bad management companies.
It is being done (see Dale Street and Granby House ) but it's a hard slog and a little bit of practical help from the city would not go amiss, even some legal advice ahead of Landlord Valuation Tribunals. It will be interesting to see if Cllr Kevin Peel's investigation and resolution committee amounts to anything.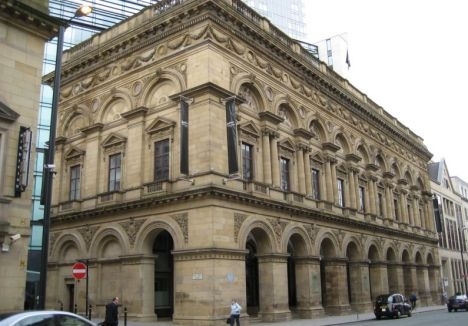 The Radisson Hotel hosted the breakfast
Back in the room at the Radisson Hotel there were a couple of interesting announcements. The biggest at 28 storeys bring the Axis Tower to go up on Whitworth Street West by the Property Alliance Group.
This is the sort of scheme that should delight Sir Richard, a sophisticated tower of high-end apartments on a gateway site into the city which you can bet will have the slickest of management companies. It has been designed by the Manchester office of 5plus Architects, RIBA's emerging architects of the year in the North West.
Johnny Caddick, one half of the Moda Living brand with Generate Land added a bit of detail to their Angel Meadows development at NOMA, probably Manchester's first official Private Rental Scheme (PRS) scheme of 450 units but yet to go to planning.
This is aimed at aspiring professionals who want a quality place to live, somewhere to show off to their mates but so high spec they probably cannot afford to buy it. A lobby like a five-star hotel, various levels of furniture fit-out, broadband, gym, cinema, meeting/dining room, concierge, gardens, laundry, cold room for grocery deliveries. The list goes on.
They want to make renting a lifestyle choice rather than a necessity. This also means people stay longer, they tell friends, a community forms so voids are less and investors are happier. The circle is squared.
Also at the residential investment breakfast and part of the panel was embattled Urban Splash boss Tom Bloxham. You have to admire his gall but there was a shuffling of feet when he joined the debate and said that what people wanted was "bloody good flats and bloody good houses. Quality, quality, quality."
They certainly do. Residents wanted that at the Urban Splash development Timber Wharf. They wanted that at the Chips development in Ancoats, where security is still abysmal.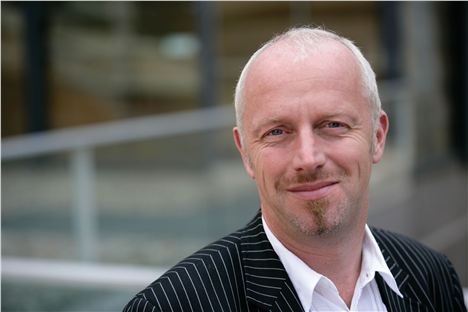 Tom Bloxham MBE, Urban Splash
Splash are about to launch HoUSe in New Islington on a plot that was originally earmarked for the self build Tutti Frutti devlopment - the inspiration for which was lifted from Borneo Sporenburg, Amsterdam. It's a twenty first century answer to terraced housing for families, modular units built in a factory and craned onto site. You buy one or two depending on your budget and need for space and stack them up.
Who is actually going to be putting them together on site they couldn't tell me yet.
That the meeting room was packed for a 7.30am start shows just how much the market has changed and just how keen people are to hook into this latest Manchester property boom.
According to Leese, 'Manchester is full' and needs 3,500 to 4,000 new homes a year to keep up with the surge in population, mainly of 25-29 year olds which is expected to grow by 40%.
Past years have seen barely 1,000 begun - but that appears to have altered almost overnight.
Steve Hogg from JLL says that nine schemes delivering 1,500 apartments are already on site with many more in the pipeline.
Leese was asked whether the 6,000 new homes planned by Manchester Life for East Manchester would skew the market and lead to an oversupply.
He said: "Go back to the figures. The agreement will deliver one and a half of a years supply over ten years. That's actually not enough. We need other people to come in and build as well.
"Not having enough good quality, well-managed housing of all tenures will hinder Manchester's economic growth."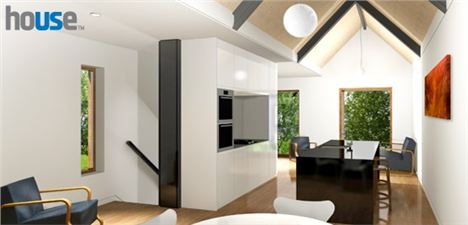 HoUSe designs
He talked about the scale of development and the ability of the aligned Manchester Place to put sites together which should allow proper communities to develop rather than individual ad-hoc blocks - 'place making' is the new buzz phrase.
Interestingly though he cited the Gay Village and the Northern Quarter as examples of places that had survived and thrived better than other areas. "Why? Because they are good places to live, they have the attributes that people want," he explained.
Ironic then, that these are the two most organic, least master-planned, most wonderfully characterful ad hoc areas in the city. Can we recreate them in New Islington and Ancoats? Can you design that character in?
Leese made short work of a resident in Great Northern Tower who claimed that the noise from pop-up bars and clubs was 'horrendous', and that noise was an issue that should be considered by the council for residents' quality of life.
His retort that cities are lively and noisy and that's the way they should be. "If you don't like noise then don't move there" got Leese a round of applause.
There is a Klondike like rush to develop, not just in Manchester city centre but on the Salford border where 5,000 new properties are in the pipeline and standards of space and quality of design and landscaping may not be quite as exacting.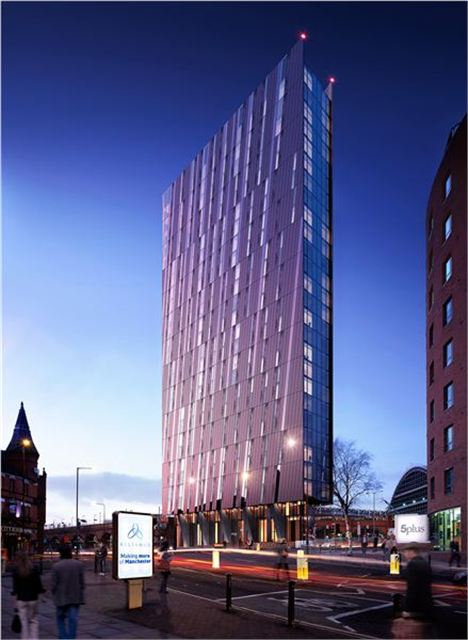 Axis Tower for Whitworth Street West
This bit of Salford should be Manchester's northern suburb, bigger apartments around green squares, low density quality family housing stretched along the Irwell or edging the canal with good connectivity to the city centre but calmer and more neighbourly with space to breathe. Somewhere to not get cross with the noise of people enjoying themselves.
This connectivity should have been gripped a decade ago. With the recent joined up thinking on transport right across the major northern cities surely Manchester and Salford should be aspirational and able to agree on how this crucial border area should be developed for the greater long term good.
Property prices in the city centre have already gone up from £300sqft to £400sqft and above since January, with rents predicted to rise another 10%. For Manchester to avoid the madness of the London market there needs to be a steady supply of new, high quality homes available to rent or to buy. Well built, well insulated and well maintained homes delivered by quality management.
Follow @jillburdett on twitter.