IF I offered you a roll of cling film, some oil, told you to lie down for an hour and you'd be a dress size smaller at the end of it, you'd call me a liar. "A healthy diet and regular exercise is the route to losing weight," would be your retort.
I know she can see my brain working out my own DIY wrap at home with Tesco's own oil and plastic cling film.
Not always the case.
Quick fixes, designed for those of us fighting to get into that little blacký dress when our big event is just days away, are a rising phenomenon in the beauty industry. Perfect for our frantic and busy lifestyles when hitting the gym three times a week and eating salad daily isn't practical.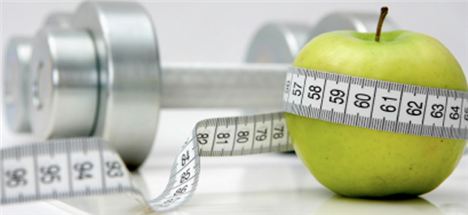 Exercise and diet are the true ways to lose weight...but a quick fix can help
I call them quick fixes because for the weight to truly stay off you will need to get that heart rate pumping and avoid MacDonalds, Almost Famous and Krispy Kremes (or whichever of your vices is adding the inches to your waistline).Yet quick fixes can be the perfect motivating start to a healthy lifestyle or a saviour when you've left it days before you need to be looking svelte.
One quick fix hitting the headlines and rising in popularity is the Shrinking Violet Body Wrap by beauty brand Tibby Olivier with Julieann Parry as its founder. She describes it as, "All I need to get into my little black dress."
I am sold.
Better yet, it requires no lifting of weights, no treadmill running and no horrific spin classes with instructors shouting out supposedly motivational messages. So happy in the knowledge that I don't require my gym kit to be up to a dress size slimmer, I trot off to Piccadilly House ready for a shrinking wrap.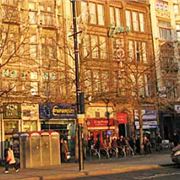 Piccadilly HouseZensational Beauty, within Piccadilly House, is a quiet and calm space amongst offices and busy workers. A difficult task to achieve a peaceful medium but one that salon owner Catherine does well. Leading me into the warm room with chilled spa music (whales, oceans, relaxing sounds...you know the drill) I'm at ease and ready to be shrunk.
"I'll just take all your measurements first so we can calculate how much you've lost at the end," she explains. "Not that you have anything to lose anyway."
Flattery aside, here is my usual disclaimer; I am not trying to lose an excessive amount of weight. More that I just want to shift those pesky few pounds that make my jeans more fitted than I would like. And I'm a lazy bugger, if I can do it minus the exercise and salads then I am all for it. Sign me up.
Catherine begins by body brushing to help remove toxins and get my circulation going. Body brushing is exactly as it sounds, brushing the skin in a brisk upward motion with a bristled brush. It's not painful but it's not comfortable, particularly across the stomach. Once I'm brushed, Catherine begins by applying the specially formulated Tibby Olivier Shrinking Violet oil.
"It works by Lipolysis, where the fat cells get turned into liquid and can be excreted through the body," explains Catherine. It's a treatment that reportedly sees results after just one session and many have dropped a dress size after one wrap.
Once oiled up, Catherine begins with the wrapping. Constantly checking it's not too tight she winds a small roll around my arm from my wrist up. "Is this just normal cling film?" I ask.
"No," she laughs. I know she can see my brain working out my own DIY wrap at home with Tesco's own oil and plastic cling film. "This is special cling film, normal cling film has plastics and toxins that are dangerous if they get into the skin."
Ah, my money saving idea is foiled.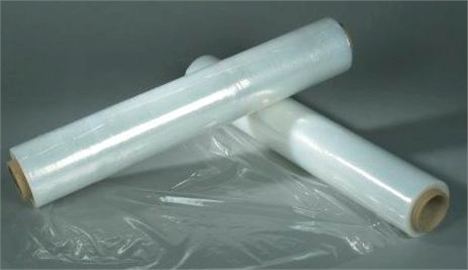 Nope, normal cling film just won't do. No DIY home efforts please.
Once each arm and leg is individually wrapped, she begins to wrap my body as a whole. I shuffle over towards the treatment bed and watch as the petite Catherine covers me from ankle to neck in tight specialised cling film. It doesn't hurt and isn't uncomfortable, more just an odd experience.
Once I'm fully covered and lay on the bed Catherine wraps me up. First a tinfoil heat blanket, and then copious blankets on top. The wrap works by keeping me warm for between an hour to 90 minutes.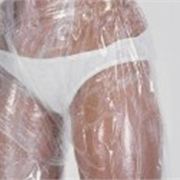 Wrap me up and shrink meI lay, coated in oil, wrapped tight in many layers of cling film and wrapped in a silver tinfoil-like heat blanket underneath the various other blankets and thought this is what it feels like to be last Sunday's roast chicken.
It's a strange feeling and one that not all are comfortable with my therapist Catherine tells me. "Some people find it very claustrophobic, especially as they can't move their arms away from their body."
Once my hour is up I am freed from my cling film cocoon and Catherine rubs in any remaining oil that my skin hasn't soaked up.
"Measurement time," she smiles. Measurements are taken for a second time from around my calves, thighs, hips, bum, waist, ribcage and arms.
"You've lost a total of 6.5 inches," Catherine proudly proclaims. I feel a sense of achievement, despite having done absolutely nothing for the past hour to have lost this miraculous 6.5 inches.
"Try and leave the solution on the skin for the next 72 hours. You can shower, but lightly. The solution keeps working so you should see further loss," Catherine tells me as I get dressed. "Avoid alcohol and caffeine, and drink plenty of water too."
My 6.5 inches loss did mean my jeans slipped on a lot easier than usual. Instead of my usual skinny jean wriggle and jump method, I could pull them on with ease.
The Shrinking Violet Wrap is usually recommended as a course of sessions, and with results seen after the first wrap alone it's easy to see why people book in for a course of up to six. At Zensational Beauty a single treatment costs £65 and a course of three £180, and a course of six £330.

Tibby Olivier's clinically proven Shrinking Violet Body Wrap
Follow Niamh Spence at @missnspence
To find out more about the Tibby Olivier brand and the Shrinking Violet Body Wrap, visit the website here.
Niamh visited Zensational Beauty, 49 Piccadilly House, Manchester, M1 2AP.
Tel: 0161 826 9233
Or email them: info@zensationalbeauty.co.uk
Their website and more information about their wraps and prices can be found here.
Find them on Twitter at @ZenBeauty_MCR