IMAGINE waking up with your eyebrows perfect, your eyes lined and doe-eyed and your pout ready to go. Or failing that, imagine having twenty extra minutes of sleep in the morning as your make-up time is cut in half.
I knew that would get your attention, as it did mine.
"I think it's definitely growing and becoming more mainstream as celebrities get it done."
Semi-permanent make-up is a growing trend and with many of us embracing it - and following in the footsteps of celebrities such as Elissa Corrigan, Nicola McLean and Catherine Tyldesley. The art of having our make-up basics already done is attracting women all over to invest and have perfect brows, eyes and lips...as well as extra time to hit the snooze button in the morning.
The woman giving us those precious extra few minutes in bed and allowing us to look beautiful in our sleep (literally) is Claire Hobson. A make-up artist by trade who four years ago stumbled across a website offering training in semi-permanent make up.
"I just fancied a change," says Hobson.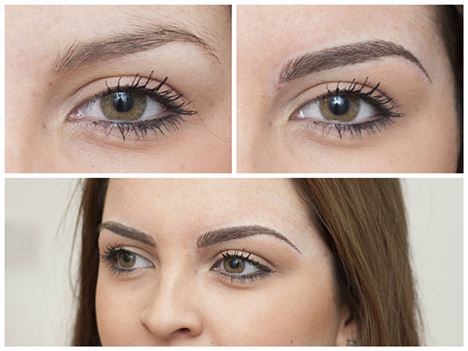 Semi-permanent eyebrows; before and after.
An excellent career move as now four years later, Hobson is a highly sought-after talent in the industry. "I'm fully booked until April and my waiting list is filling up."
Her celebrity clientele too is growing and actress Natalie Cassidy, Tulisa and members of former E4 show Desperate Scousewives are all regulars to Hobson's clinics. "I think it's definitely growing and becoming more mainstream as celebrities get it done. I've had lots of girls come in who have seen celebrities get it done and want the same look.
"I'm now at 60 clinics all over the country including London, Manchester, Leeds, Newcastle…the list goes on."
Hobson says her client demographic is varied, with many clients in their twenties but the over 50s also booking in for procedures.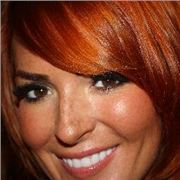 Claire HobsonThe question I'm itching to ask though is does it hurt? 
"No, we use a proper anaesthetic to numb the area. I've even had people fall asleep on me before," says Hobson. "Lips are a little bit painful but the eyebrows and eyeliner are not bad as the skin is quite delicate."
"I think about 90 per cent of my work is eyebrows," says Hobson.
Whether you blame Cara Delevigne or Keira Knightley for bringing the focus back onto our 'brows, it's clear a defined eyebrow is becoming a beauty necessity.
So what does a procedure with Hobson involve?
"For eyebrows in particular it only takes an hour and a half and the results can be seen right away. They do scab but as I do small hair strokes it's more like 40 or 50 little scabs which fall away like dead skin over a week. In terms of aftercare, it's just important not to get them wet," explains Hobson.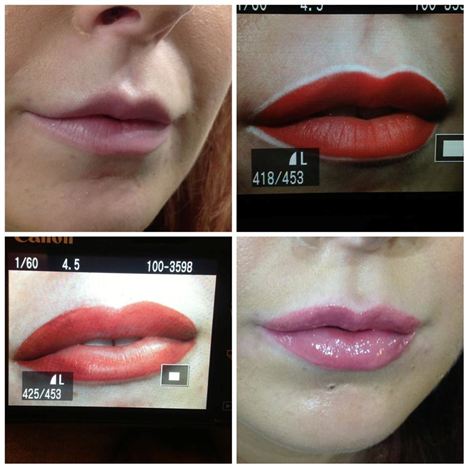 The four stages of Hobson's lip procedures; before, coloured in, immediately after and the final result.
An hour and a half painless procedure is followed up six to eight weeks later for a top up and then clients can enjoy the freedom of semi-permanent make up for years. Hobson comments, "It's there for years but does get lighter. It will need to have a colour boost appointment twelve to eighteen months later but this is at a much lower cost."
One woman and 60 clinics doesn't give Hobson much time but when she's back at her Liverpool salon she is teaching others the art of semi-permanent make up and passing on her expertise. "I teach at the Liverpool clinic and my students come from all walks of life, they're not just all make up artists," says Hobson. "They study with me on a five to seven day course and then go away and get together twelve case studies, which they're assessed on and they either pass or fail. Then it's just all about practising and getting good."
Painless, natural-looking and I get an extra twenty minutes under the duvet in the mornings? I'm sold, hit the snooze button.
To contact Claire find her on twitter: @claire_j_hobson
Claire Hobson holds regular clinics in Manchester at the Skin Viva clinic, to book an appointment or consultation contact them via their website:
or call 0161 865 1141
Follow Niamh Spence on Twitter at @missnspence