This is the second installment of our 'Rooftopping' series (you can see the first from The Midland here), in which we scale some of Manchester's most iconic buildings and get the camera out.
AS TOWERS start to scrape the sky all around the city it's good to don the hi-vis jacket and scale the mother of them all.
Nobody is alone on Manchester Cathedral tower. Here is a community of the ages
Manchester Cathedral tower was the tallest structure in the city for centuries until it was ousted by factory chimneys as industrialisation took over two hundred or so years ago (check our article here).
It was the acid rain created by those chimneys that did for the second tower on the site which had stood since 1421. The Collyhurst sandstone from which it was constructed was crumbling badly, so an architect called JP Holden rebuilt it in a much tougher yellow sandstone in 1868. He added 6m (20ft) and based his design, loosely, on the original.
Curiously, while scaling the spiral staircase of the tower the walls still appear lined with the local sandstone from a mile north. Was this recyled from the older tower?
You emerge into daylight, 41m (135ft) above the city, into a forest of finials and pinnacles. The effect is magical, a Gothic wonderland of light and detail. There are a few more steps to the flagpole and the uncontained view there.

Panoramic view from the Cathedral with the pinnacles resembling several Sagrada Familias across Manchester
What is very sweet here and a detail impossible to see from street level are the heads carved around the pinnacles on the tower. These represent faces from the long centuries the various churches on this site have witnessed. Nobody is alone on Manchester Cathedral. Here is a community of the ages, a host of Saxon, Norman, Plantagenet, Tudor, Stuart, Georgian and Victorian people.
Modern Manchester pulses below and its skyline moves and shifts pushing way higher than the tower on this ancient site. Yet having a population of its past watching over us in 2016 I find comforting. We wouldn't be here without those people having been there. No time lives in isolation, the past is always with us, almost as palpable as the present and as uncertain as the future.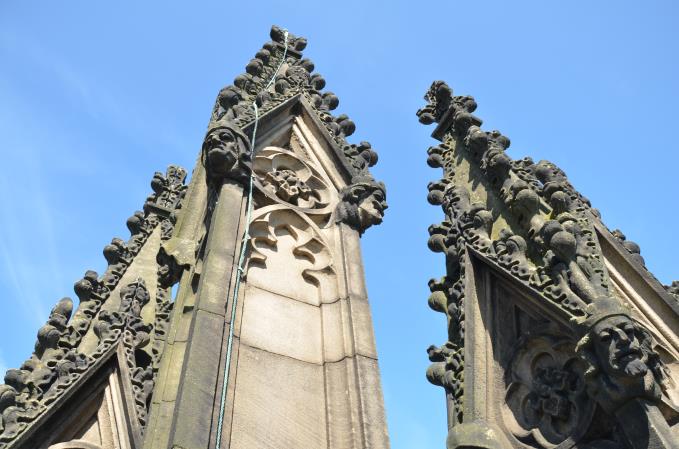 Friends from across the ages sharing the tower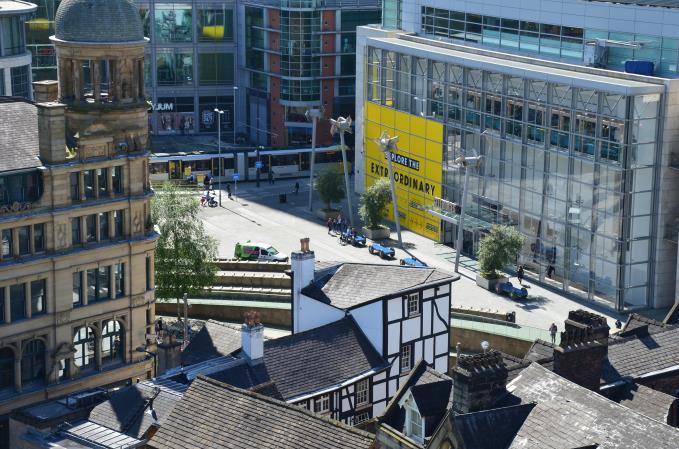 Exchange Square and tram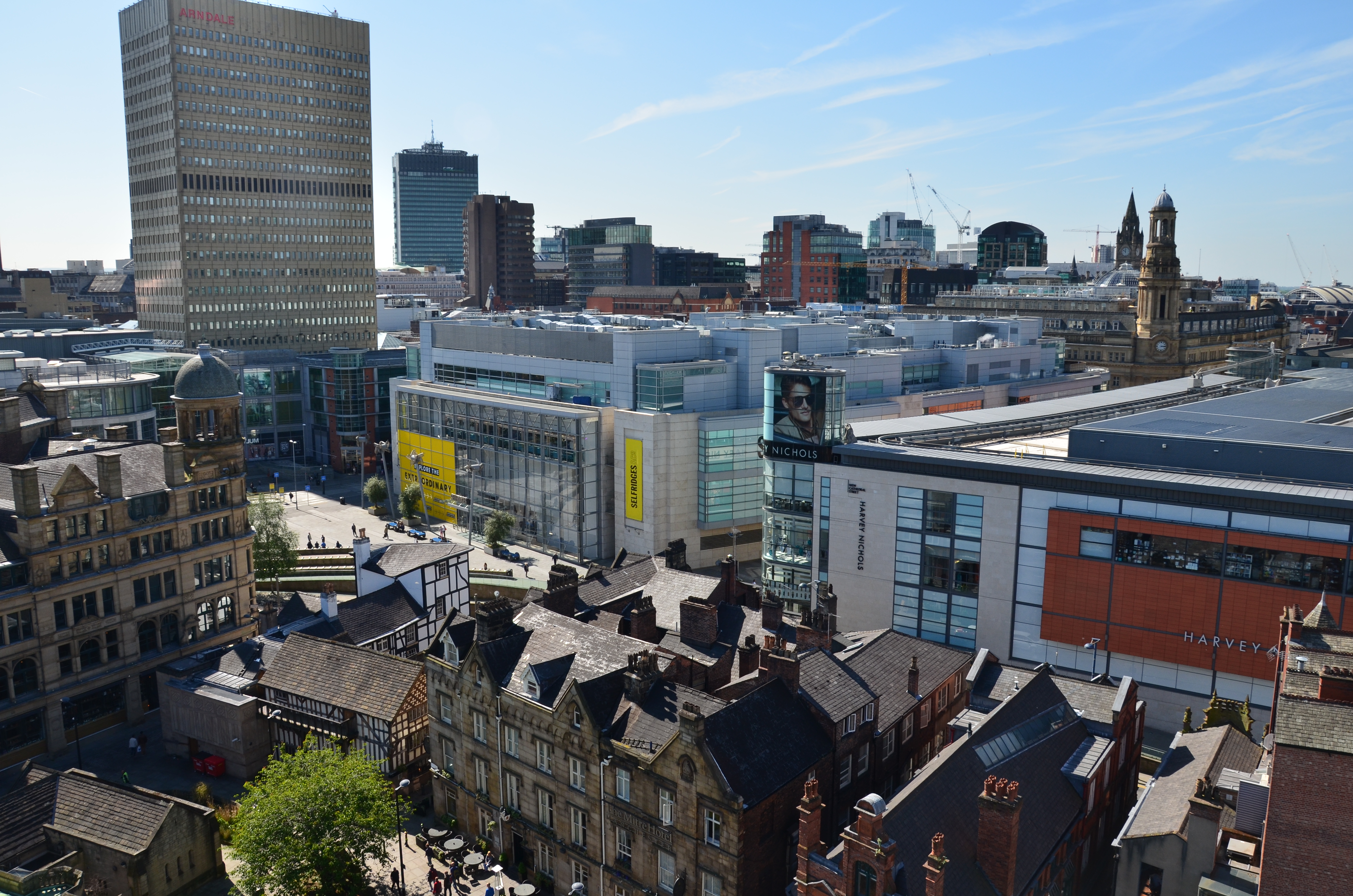 Expanded view south east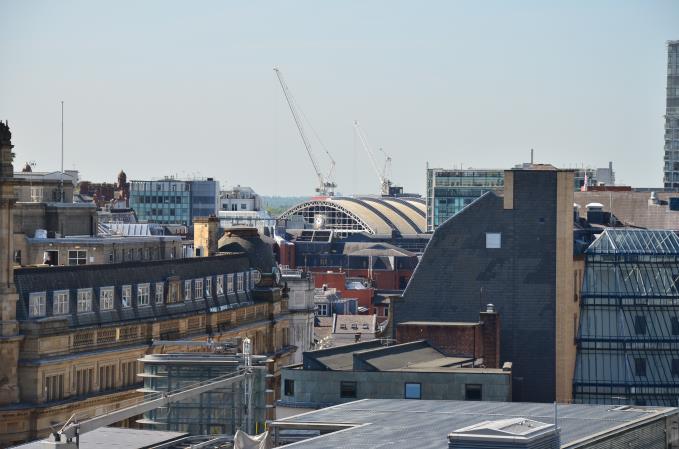 The view due south to Manchester Central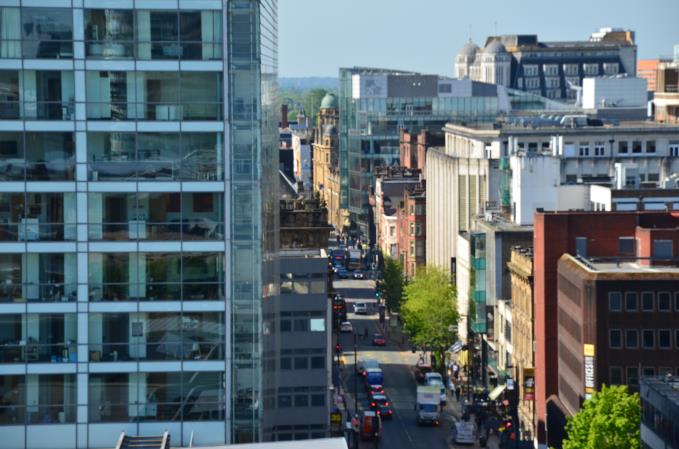 Deansgate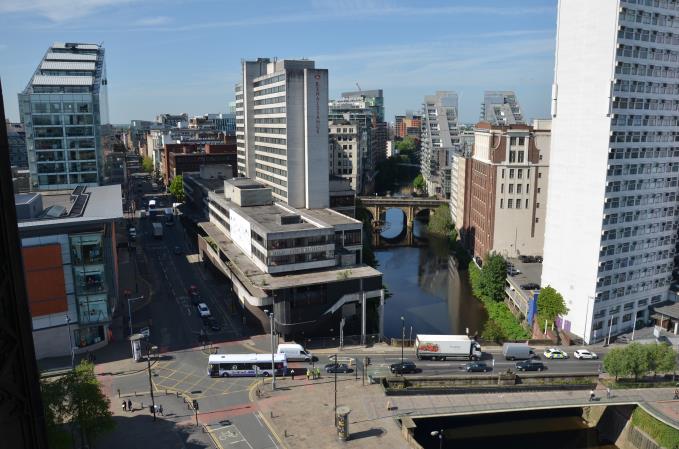 The expanded south east view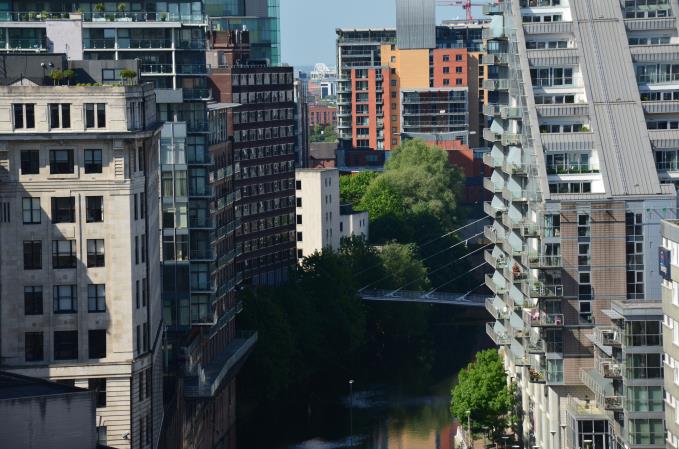 The building canyon down the River Irwell - anybody spot Old Trafford football stadium?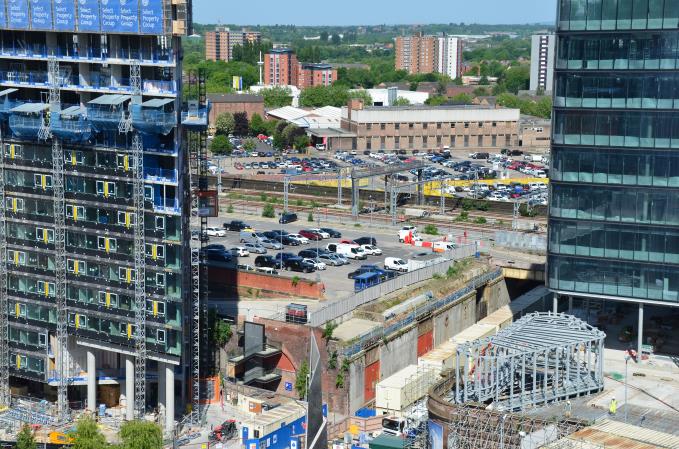 Over the river and into Salford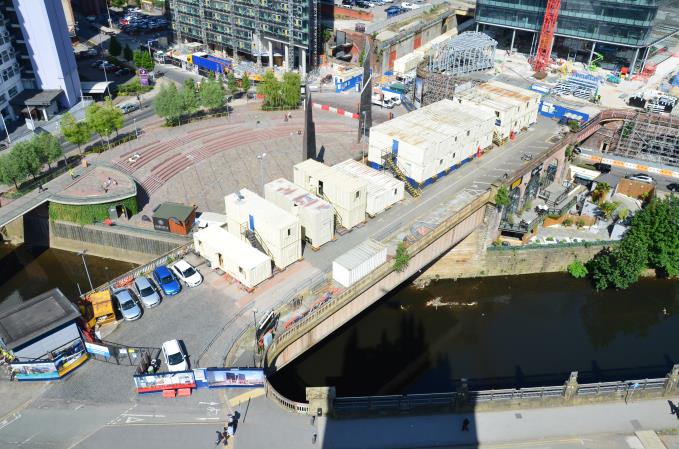 Manchester and Salford kissing at Greengate Square, with the shadow of the tower bridging the river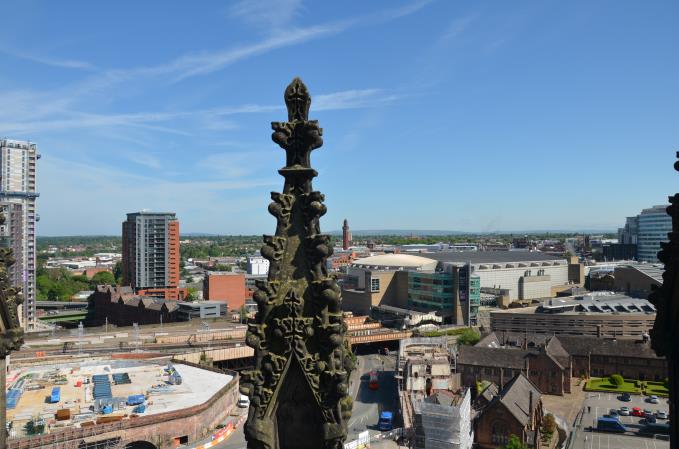 North and a pinnacle backed by Strangeways tower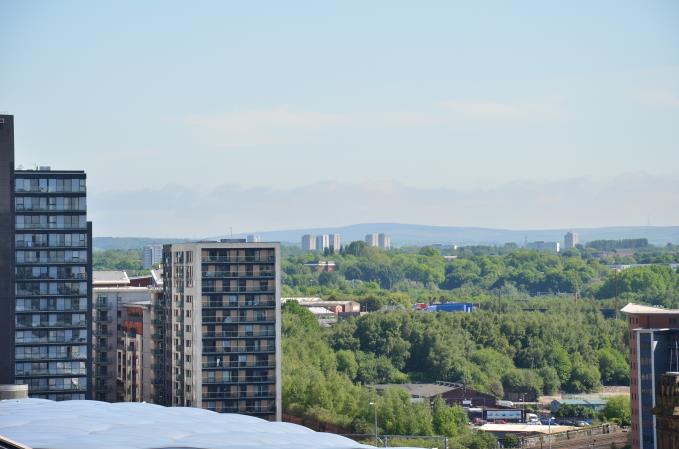 North east to Blackstone Edge in the distance. This glorious Pennine hill is 472m (1549ft)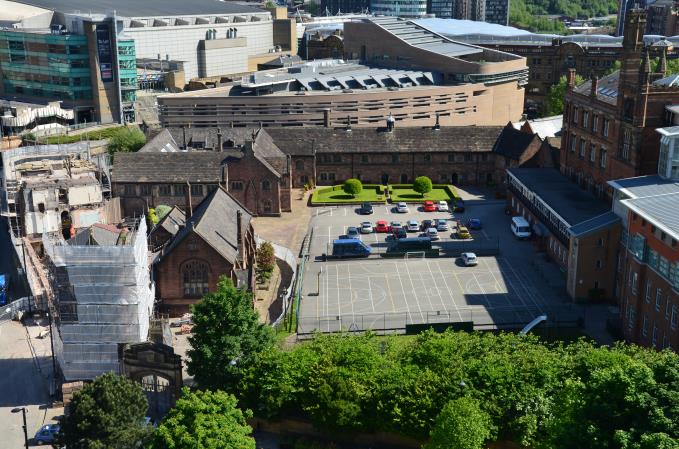 The best examples of the type and date in the country, Chetham's Library and School, originally the priests' quarters of the church, dating from 1421. Behind, the fine modern school by Roger Stephenson curls around itself like a cat, with the drab hulk of the Arena to the left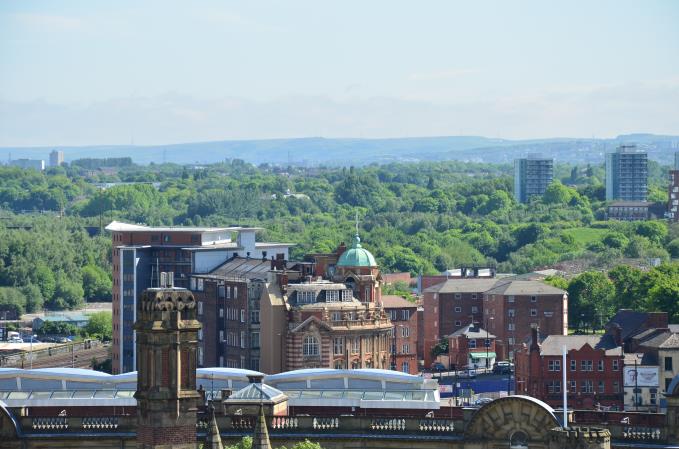 In the woods in the centre and a little beyond the flats lies the last lump of Collyhurst Quarry that supplied the stone for the original church and the much of the still surviving stone of Chetham's - see picture above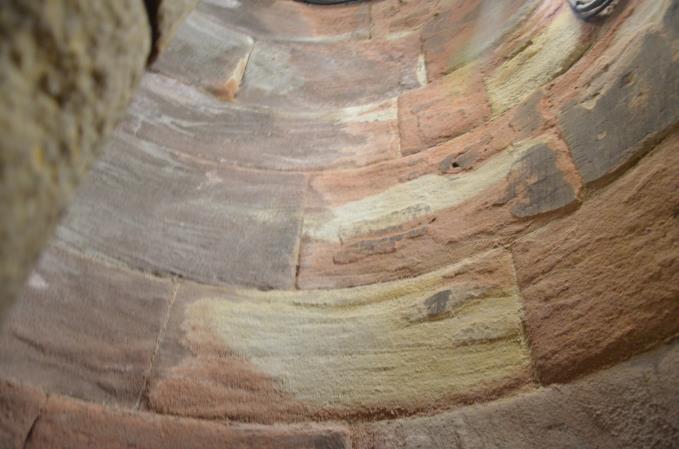 Collyhurst sandstone in the staircase up the tower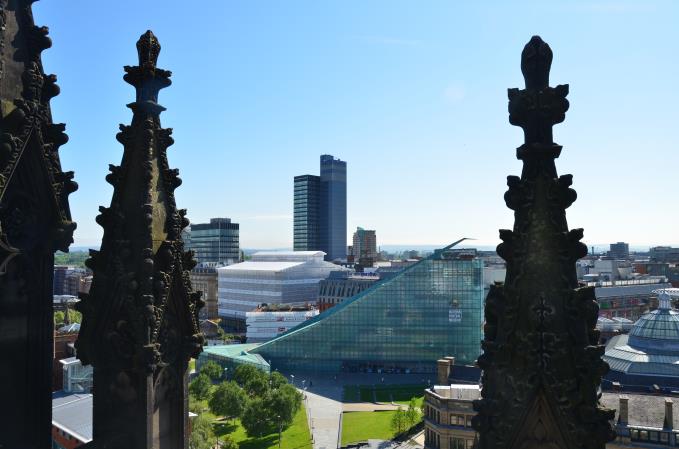 East through forests of pinnacles to the CIS Tower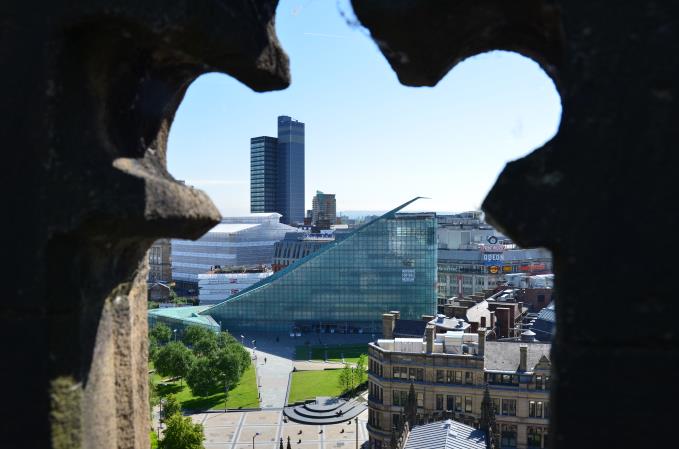 CIS Tower and National Football Museum through the openwork battlements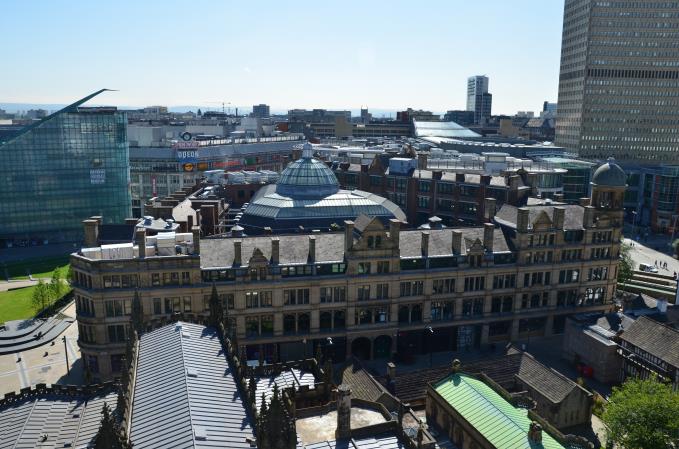 The Corn Exchange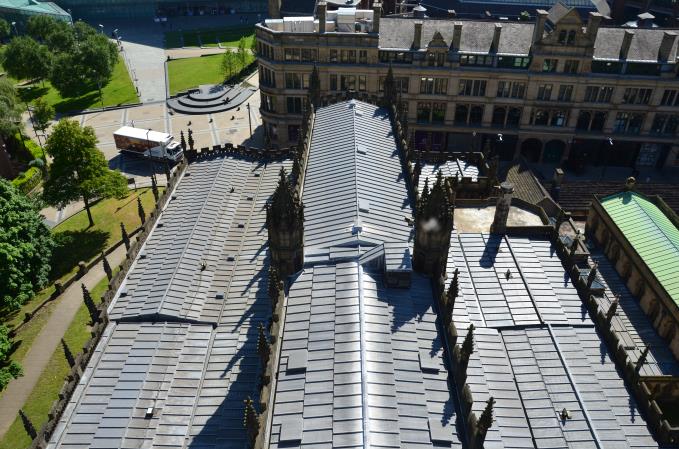 The nave and choir of the Cathedral from above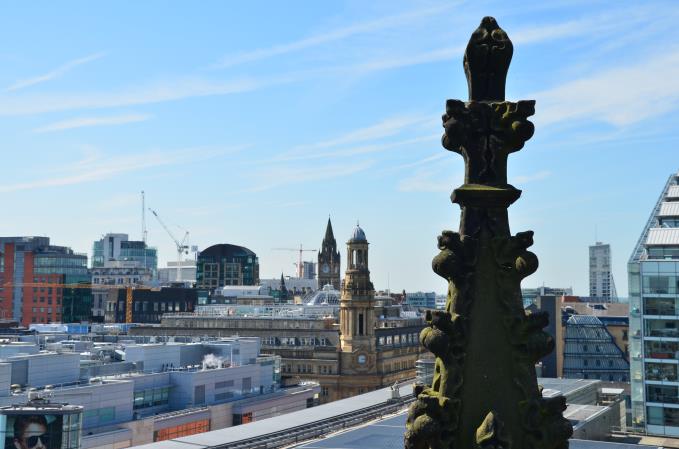 Line those verticals up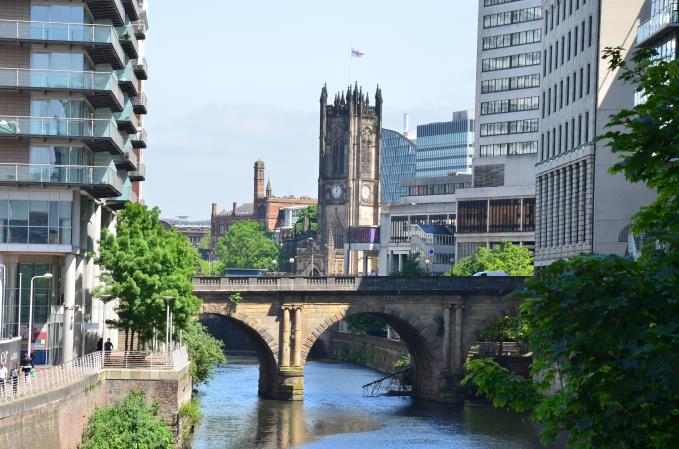 The Cathedral tower from Trinity Bridge