AT the back end of 2015, just after the Christmas peak and just before all the New Year resolutions, a flicking billboard above Chester Road read 'Yoga Could Change Your Life' (or something like that).
You don't have to be great to start, but you have to start to be great
Spotting it on my return from yet another binge I took this as a sign.
Yoga has, for good reason, long been associated with physical and mental wellness, an otherworldly sense of peace preached by bendy, righteous hippy folk who've learnt to inhale and exhale their way through their troubles. I wanted some of that.
After all, by the time I saw that billboard, in a skirt too short and the contents of my purse strewn across the back of a taxi, I couldn't have been further away from yogi bliss.
So when Harvey Nichols Manchester approached me to attend their exclusive Yoga At Dusk event with The Well Connected Group, one of the north's premier yoga retreats, I took that as a sign also.
But I've not done yoga in a number of years and I currently have the posture of a angst-ridden teenage boy hunched over his iPhone... plus I can no longer touch my toes.
My yoga partner had not done yoga since she was nineteen and kept repeating "I'm 32, I'm 32..." as we limbered up.
Through all our doubts it was easy to see how preconceptions of yoga and those 'bendy yoga type' could prevent novices from giving it a go.
"Remember when you were a child and you would never give up? Think of the toddler trying to walk, they keep trying. Adults give up, they fear embarrassment," said our yoga teacher for the evening, Charlie Morgan.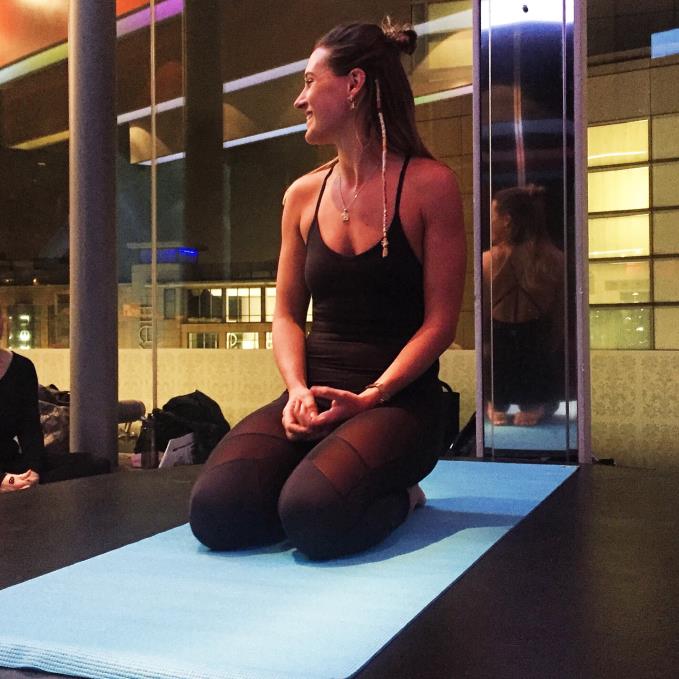 Yoga instructor Charlie Morgan teaches yoga at dusk
She's a super nimble, airy-voiced ambassador for luxury sports brand Sweaty Betty and wears a colourful hippy braid in her hair - she is, what the kids would say, 'goals'.
Morgan's philosophy for approaching yoga is a simple one, "You don't have to be great to start, but you have to start to be great."
So we started and gave it a good ol' go. I rolled around on the floor like a toddler (I think they call it the 'child's pose') and attempted a handstand with the grace of a WWE wrestler. Amongst all the giggles and awkward shuffling, you forget how equally difficult and rewarding yoga can be.
Afterwards we sipped avocado smoothies and felt chuffed with ourselves. We'd find that was the aim of the one-off event:
"We all are guilty of not being kind to ourselves. And we can live a busy, fragmented life and put a lot of pressure on ourselves," explained Nici Hewitson, owner of the Well Connected Group.
The mum of two founded the wellness company which hosts luxury all-inclusive yoga-retreats within 'breathtaking' private houses across the North after witnessing similar events down South. The event at Harvey Nichols Manchester was just a small taster of their three day retreats set in idyllic escapes around the Lake District.
"The biggest misconceptions people have about yoga is that you have to be bendy. People always like to tell me that they can't touch their toes. But these events are all-encompassing and for all abilities. It's about mental wellbeing. You feel calmer. You can improve on aches and pains. I'm careful not to advertise the retreats as a weight loss aid. It's not about being restrictive. There's lots of food – good food," explained Hewitson.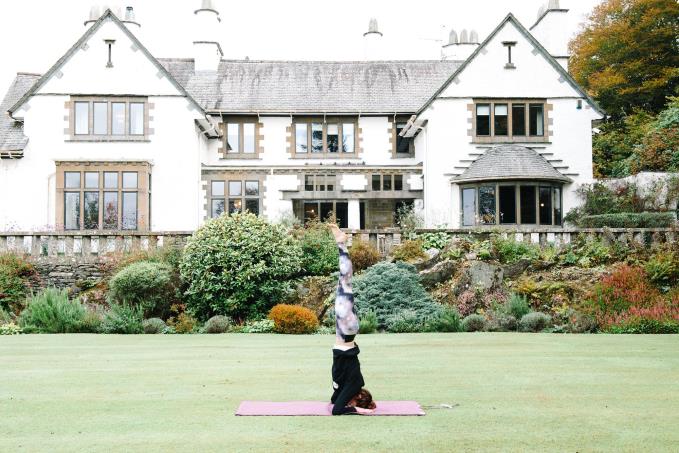 The Well Connected Group yoga retreats
However, to carry on with my new found sense of yogi positivity and join a retreat would be expensive. A stay at one of The Well Connected Group's three-day retreats can cost up to £1615 per person (though you do stay within a beautiful spa suite).
Is it worth the expense and physical pain? Well, my small introduction back into yoga left me feeling ready for a new healthy life. I wanted to buy the sexy sports wear from Sweaty Betty (again expensive at £100 for just the leggings) and douse myself in wellness products by Yogandha Oils, who demonstated the calming effects of their products on the evening. I already feel on the path to better health and wellness, but most importantly, I feel further from where I started, in the back of a taxi looking for a sign.
Find out more about The Well Connected Group and their retreats on their website.
Follow @LOreal_B on Twitter.