THE Spa Hotel at Ribby Hall Village, and the 110 acres of lustrous Lancashire countryside that envelops it, is putting on a show for me today. My Ribby Hall chauffeur takes me down a scenic route and, as if rehearsed, the sun is turned up to the highest temperature setting, ducks dawdle across lawns of pastel-coloured holiday homes and cheery Hallmark card-perfect families relax on their decks having breakfast. They've turned on the centrepiece fountain. I'm told to look out for the Ribby Hall Heron by the lilypad pond.
The picture-perfect moments continue throughout the stay and it's hard to catalogue them all
What a welcome. And the tone well and truly set for what would be two of days of uncompromised relaxation. I was at The Spa Hotel primarily for wellness, a word that is often bandied around in beauty circles these days. The idea of achieving the holy trinity of holistic, physical and mental health was my personal operative and I'd quickly learn that it's also Ribby Hall's over-arching aim for its visitors. Wellness is the core ideology at Ribby Hall, and a by-product of working with Wellness International; a consultancy group which focuses on the wellbeing of both visitors and staff. It's an adult-only spa, so that probably helps things. Whatever it is, something is working here – everyone's smiling.
Over breakfast in the two AA rosette-awarded restaurant, The Orangery, my waiter is humming along to Killing Me Softly on the radio, and we natter effortlessly about the old greats of music. He almost sashays as he serves, with a pep well and truly in his step. I wanted whatever happy pill he was on. I'd learn that many of Ribby Hall's staff are practically born and raised in the village and, while they all have opportunity to fly the nest, they return and love it like their own home - hence the smiles.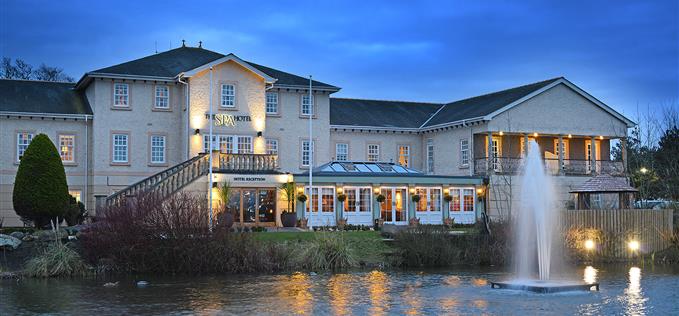 The Spa Hotel at Ribby Hall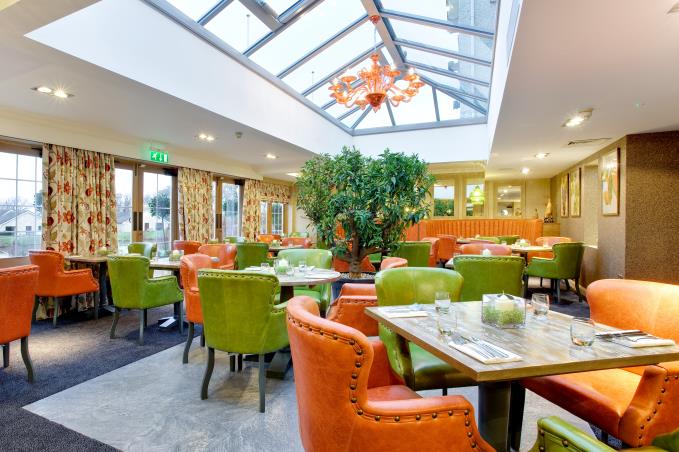 The Orangery
The picture-perfect moments continue throughout the stay and it's hard to catalogue them all; from sitting in an outdoor tepidarium while overlooking Lancashire country views, to running 5K along a nature trail before breakfast and zig-zagging through the statuesque trees.
Importantly, my stay would provide a much appreciated opportunity to exhale. Yet, while it could have been incredibly easy to just turn into my generously sized executive suite with balcony and fall into the tall, king size bed with duck feather pillows, there was an itinerary to follow; a combination of fitness, relaxation, indulging and spa-ing.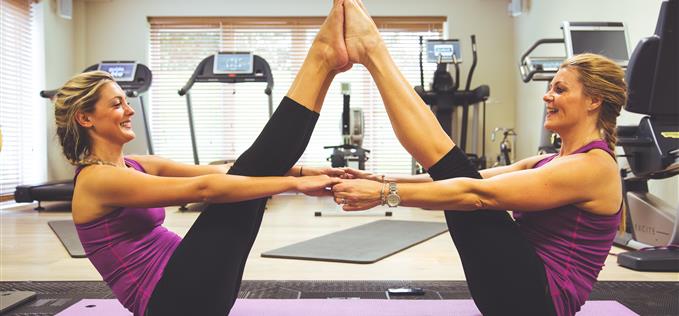 Pilates at The Spa Hotel
Pilates classes would be keeping me active on this break as a suitable wellness-orientated physical activity. Our host and instructor Natalie Westgate is one of 180 people in the world trained in 'trigger point Pilates' and we'd be strategically balancing on spongey spiked balls to increase our stretching and mobility, while also combating myofascial pain. Safe to say I never realised I had any myofascial pain – which is pain and inflammation in the body's soft tissues – yet the class successfully helped ease the world of tension kept in my lower back. I'd learn stretching, balancing, hoisting myself up on a sponge roller is just as conducive to my pursuit of wellness as laying starfish on my back with my eyes closed.
But what of the spa? What of not moving? What of lying in a Jacuzzi until you prune? Of course, that was always going to be a priority. The Spa Hotel is fully equipped for relaxation and has a glittering spa offering that features a hydrotherapy pool and an outdoor Roman bath with swinging cocoons that dangle amongst a well-kept 'Zen Garden' - there's also a outdoor cocktail bar, a welcome touch. It's blissful. They've also made ceremony out of winding down with their nine-point Aqua Thermal Journey, a treatment they're keen to sell as a method 'to detoxify, relax and revitalise'. You find yourself dipping in and out of six saunas and steam rooms – some offering aromatic cleansing, others so hot your pores are prised open. Your feet get treated to a pedidarium (mini Jacuzzis for your tootsies) before it's time to cool down with a Monsoon and plunge bucket shower. I'm unsure just how beneficial throwing a bucket of ice over my head is beneficial to my inner peace, but when in Rome…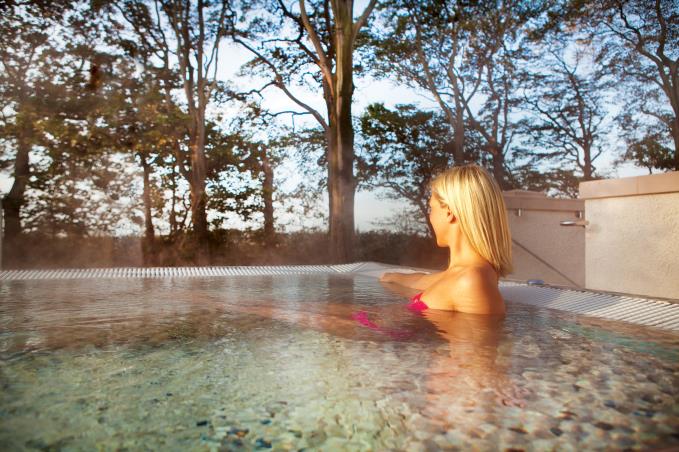 Outdoor terrace in the Zen Garden
Dry and warm, I'd find myself back in The Orangery on a few more occasions to punctuate the two days of pure indulgence with more indulgence. The Orangery proudly bears two AA rosettes and, given proximity to 'the finest' of Lancashire produce, this is hearty yet elegant food. All the stops were pulled out at dinner time. The roast lamb chump, lightly seared and delicately seasoned, was the perfect choice; paired with a pea and mint ravioli and goats curd. I was glad that health and wellbeing could include after dinner cocktails and a later night.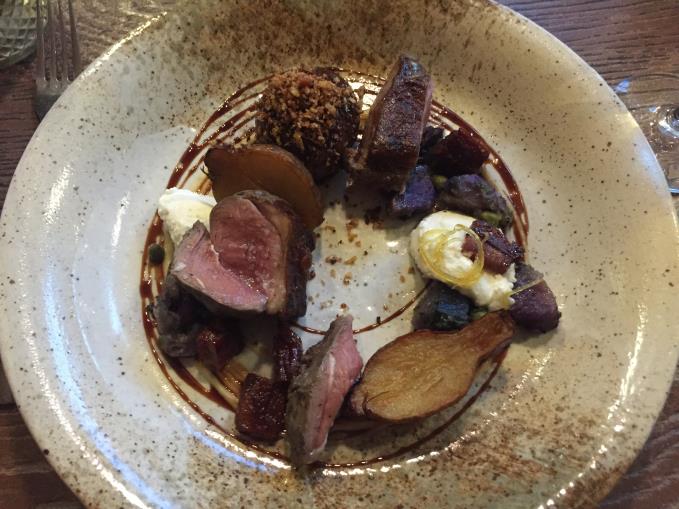 Roast lamb chump at The Orangery
The theme of wellness and wellbeing marches on, and The Spa Hotel would also be thoughtfully teaching the group how to adopt a more mindful approach to our everyday lifestyles when we left the hotel's mothering bosom with trusted beauty and skincare brands.
We'd be given an introduction to Neom Organics, a relatively new holistic London brand created specifically to help reduce stress – the ultimate modern day affliction. Somehow, a sniff of their candles, made with the highest concentrate of essential oils, could help us figure out what our bodies are craving: albeit more sleep, a little more happiness, a bit more energy, or time devoted to de-stressing. Neom also have tailored massages at the spa based on your sensory needs. I was treated to the Neom signature Happiness back massage (£37), with the aim of leaving a happier individual. With my masseuse laying on a delicate yet skillful touch, it was certainly achieved.
The Spa Hotel also works with Ishga, a skincare brand crafted with anti-oxidant packed seaweed, sourced direct from the Scottish Hebrides. Again, the brand is ethically sourced and mindfully made, a running theme with most of the products used at The Spa Hotel. Ishga, meaning 'water' in Gaelic, boasts intelligent skin healing properties, promising to both reverse the clock and potentially help tackle troublesome eczema.
Overall, the above-and-beyond hospitality is what makes The Spa Hotel at Ribby Hall the ideal place to find holistic sanctuary. In a lot of ways, by being encouraged to seek out some me time, 'wellness' began to sound less like a beauty buzzword and resonate on a much more meaningful level. After all, by definition 'wellness' is to actively seek a healthier body and mind; and by booking a stay at The Spa at Ribby Hall, lounging in the zen garden, indulging in great food and undisturbed relaxation, wellness is easily achieved. Did I find wellness? Yes - despite my brief trip, I did. And by the end I spotted the Ribby Hall Heron. He looked as content as everyone else.
For details on wellness retreats at The Spa Hotel at Ribby Hall see the website.