*****
HOME, The Young Vic and Les Theatres de la Ville de Luxembourg have combined forces to create a new production of The Emperor starring the whirlwind of talent that is Kathryn Hunter.
There is a tremendous amount of drama packed into 65 minutes
If you saw this remarkable actor in Kafka's Monkey, you will have been mesmerised: with every change in lighting, sound, and design - a flick of a wrist or turn of the head - she transforms into a brand new character, with all the personality traits entailed.
Walter Meierjohann's production focuses on the reign of Ethiopian emperor Haile Selassie through the eyes of his servants. Hunter performs all of these roles consistently, even when sat quietly listening to the powerful voice of her co-star Temesgen Zeleke. The two of them are a remarkable double act - guiding you through the horrors, the humour and the undying loyalty that accompany the denial of an unwanted truth.
Zeleke provides the narrative with real oomph; alternately acting, singing and playing live music. He works wonderfully with Hunter, and the respect they have for each other as performers is evident throughout.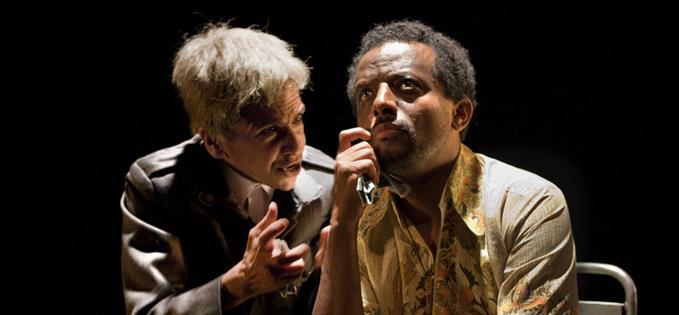 There is a tremendous amount of drama packed into 65 minutes and, at times, this is gripping, funny, and incredibly poignant. But, sadly you do not spend enough time with many of the characters. You hear a choice piece of dialogue and find yourself wanting to know more, before suddenly meeting someone else.
There's no disconcertion or confusion, however, as Hunter is such a consummate performer that she becomes your trusty storyteller-guide. You run with the concept.
HOME's stage, though, is too high - and the venue too vast - for you to completely lose yourself. The Royal Exchange Studio is the ideal space for this play, as you can imagine Hunter making eye contact with every member of the audience. Here, many no doubt feel distanced from the proceedings.
The Emperor is remarkable as a fringe piece of theatre, an hour-long intimate performance for just £10. Whilst I would love to see it again in a smaller space, this was worth seeing for Kathryn Hunter nevertheless - truly a performance to savour.
The Emperor is at HOME until 8 October
Powered by Wakelet