*****
CARRIE Cracknell and Lucy Guerin have done something very creative with their new production of the Shakespeare classic Macbeth. They have pared the text down to give it some urgency, but it's the scenes involving lengthy, yet marvellous movement that has divided audiences.
Some of the actors cannot be heard clearly and others do not annunciate with conviction
Co-produced by HOME, the Young Vic and Birmingham Rep, this may be a case of too many cooks, as there are so many ideas visible on stage, from the three witches dancing their way forward, imposing yet slow, through to the use of a microphone to deliver some of the big speeches – which resembles a drunk grabbing the mic at a corporate Christmas do.
There are many aspects that work through and when it succeeds, this Macbeth has the power to convert any young person previously bored by The Bard. Lizzie Clachan's striking set resembles something quite futuristic and conveys the right level of claustrophobia, as Macbeth struggles to make sense of what is happening. Neil Austin's lighting compliments this vision and although overused, is very filmic and cleverly juxtaposes scenes together, resembling a horror film.
Clark's unpredictable music also adds a sense of fear to proceedings, as we lurch from one crisis to another. But, in this heady and overcrowded world, there is one vital component which is lost in translation, the language. Some of the actors cannot be heard clearly and others do not annunciate with conviction. Thus, at times characters come across as petulant, as opposed to desperate and fearful as the war escalates.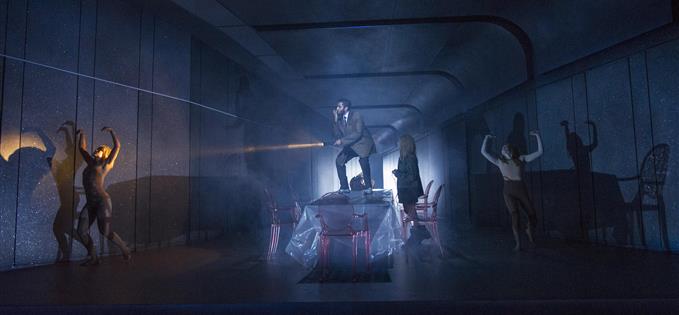 The Witches played by Anna Beatriz Meireles, Jessie Oshodi and Clemmie Sveaas work in tandem with Thomasin Gulgec and Ira Mandela Siobhan, and the scenes whereby these five dance separately yet holding the audience together are quite stunning. So much so, I would love to see a dance piece featuring all of them, as they work wonderfully well as a tight team.
Sadly, John Heffernan and Anna Maxwell Martin fail to wholly convince as Macbeth and Lady Macbeth. This is partly due to the direction though, as props seem to get in the way (the awkwardly placed microphone for one) and there is too much else to focus on, leaving the leads lost at sea. There seems to be no blood on Lady Macbeth's hands and her knowing glances and manipulative ways are rushed, so she becomes an impatient woman, who looks like she is keen to catch the bus home.
Merle Hensel's costumes reveal some of the darkness behind the original text, and it's a nice touch having Macbeth in pointy shoes (which would look more at home in Vegas) as he is reduced to a man who wants to be seen as majestic. The cardboard crown, however, does the opposite, with Macbeth looking like a child about to eat cheese strings at a birthday party.
Confused, thrilling at times and designed to convert, this Macbeth may be muddled in tone, but it certainly leaves you pondering the meaning of the text.
Macbeth runs at HOME until 6 Feb.